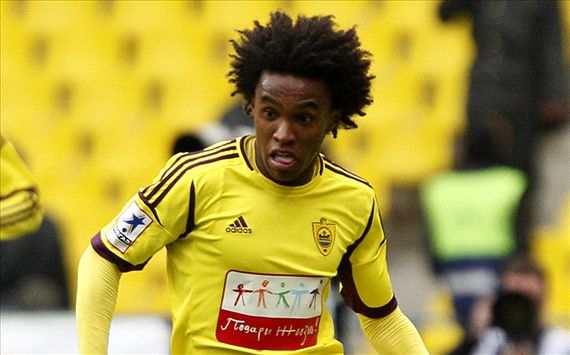 Liverpool have been heavily linked with a move for Anzhi Makhachkala's winger Willian as the Russian club are amidst a financial crisis. It is alleged that Liverpool will offer Willian a massive £110,000-a-week contract to complete an ideal summer for the Reds.
The Reds who have opened their League campaign with a 1-0 victory over Stoke last night, have been in the market for one more marquee signing during the transfer window, and have now firmly set their sights on landing highly-rated Willian. The 25-year-old has been made available for transfer by Russian club Anzhi, who are trying to lower their wage bill, and Liverpool opened talks on Thursday
Willian has already confirmed his interest in making the move, and Liverpool are ready to offer the player £110,000-a-week to make sure it happens. (The Metro)
In other news, Liverpool sensation Phillipe Coutinho has said that he is happy at the Merseyside club and that this is the best phase of his career. The pint sized Brazilian is carrying the aspirations of the club and the supporters on his shoulders and this has visibly made him happy.
The former Inter player has recently expressed his delight to be in the club.
"I can say that this is the best phase of my career," he said. "I'm fine on the field with my team-mates. I was also fine during my time at Espanyol. I've played with continuity and have had good performances. At Inter, the situation was more complicated. However, I still love the club because it opened the door to other European teams, but now I'm solely focused on Liverpool. My adaptation to the squad has been much calmer than I originally imagined. It's been important to me to be well received by the whole group. My team-mates help me a lot.", he added.
Coutinho could not hide his delight at having the highest selling shirt with his name on it for a long period of time, before finally club veteran Steven Gerrard overtook him. "I have a best-selling shirt here. It's nice to know that your work is recognised, but I only think about the team. Liverpool have a great tradition and are a 'giant' of Europe. I'm very proud to wear this shirt.  "I don't like to talk about individual goals. What matters is the performance of the whole squad. This year there are so many strong rivals in the Premier League, but our goal is always to win the title." said the midfielder.
A large part of Liverpool's hopes of finishing this season in the top four definitely rests on his shoulders and now it remains to be seen how the playmaker inspires the club in his second term.
And finally, Liverpool supporters may now live in peace as Barcelona have ended the chase of both Daniel Agger and Chelsea defender David Luiz. The Catalans were looking for a centre back throughout the summer and subsequently made bids for them, but now Gerardo Martino seems happy at the players at his disposal.
"A new centre-back? I'm happy with the team I have. There's always the January window if we need anything. Last year's problems in defence were the result of injuries. We have enough options if everybody's fit," Martni stressed in an interview.