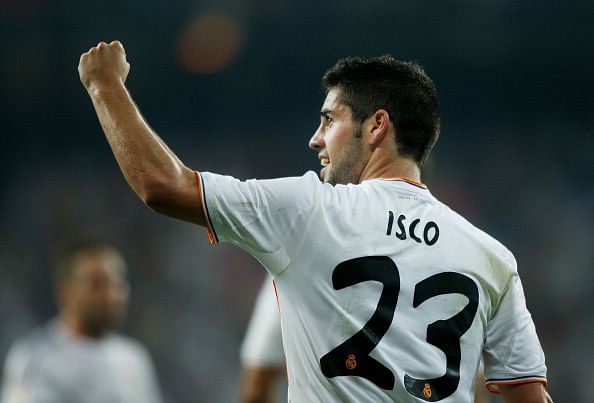 Latest reports are linking Real Madrid star Isco to Liverpool as we smell a marquee signing by Brendan Rodgers. After the departure of Suarez, there has been one huge void left in the team which cannot be filled by a single transfer as of now, which is why Rodgers has got two versatile attackers already this summer. But a third one would really help them achieve their balance and have a go for trophies this season, especially if the speculation is about Isco.
How would Isco fit in?
Isco would fit in right behind the striker and he would be a first team player without a doubt. He is a versatile attacking midfield player, with balanced physicality and top quality technique. He puts in good work rate and has unrealistic competition in his current club Real Madrid who have signed Toni Kroos and James Rodgriguez. Di Maria is yet to be sold and he is too good a player to be in the reserves or on the bench for the whole season. The target looks achievable for Liverpool and is definitely a quality one.
There have been doubts over the ability of Daniel Sturridge to continue his goalscoring form without Suarez as the Uruguayan was responsible for at least half the number of goals he scored last season, so will Sturridge still score 20+ this season or would it be a mellowed down 15-18 goals?
Even 15-18 goals a season is a very good tally but without the 30 odd goals from Suarez, Liverpool will need to compensate the tally with the help of Lambert, Coutinho, Gerrard, Sterling, Lallana and Markovic. Isco will add more quality to the list.
Coutinho will be benched if this deal goes through.
Philippe Coutinho showed a lot of promise after his transfer in the Jan window of 12-13 season. But then, last season was marred because of injuries and lack of form. Despite being a very talented and technical player on  the pitch, Coutinho has not been among the top three or five most important players for  Liverpool.
Isco's transfer would mean that the Brazilian would have to be benched and will make substitute appearances. Sometimes when we consider the growth of players, it has a negative effect on the players' growth if they are benched at such a young age when they need to be out playing regularly and learning. Coutinho has talent which he converted into decent numbers last season, but he needs to give more and perform better.
Isco's arrival will create massive competition for the number ten role while Sterling will be considered only for the wings. Most Liverpool fans might not have faced such a situation before, but if the deal comes through, they will have quality players in many positions on the pitch creating a lot of competition and depth in the team, meaning some will have to sit out games. Brendan Rodgers' tactical changes and rotational policies will have to be at work if he has to manage two brilliant youngsters Coutinho and possibly Isco.
Final Verdict: Liverpool will become dark horses for the title.
If Isco is added to the squad, the attacking midfield would have a lot of depth. He would join Coutinho, Sterling, Lallana and Markovic in the attacking department. With Henderson, Gerrard, Emre Can, Lucas and Allen already packed in the defensive side of the midfield, the team looks packed and deep.
Sturridge and Lambert are likely to be rotated. With adequate replacements like Isco who has been a proven performer for Malaga and then Real Madrid, Liverpool can match the depth of say Arsenal and can hope for a title challenge against the likes of Chelsea and Manchester City, again mounting pressure on Manchester United to sign more players to improve the team.