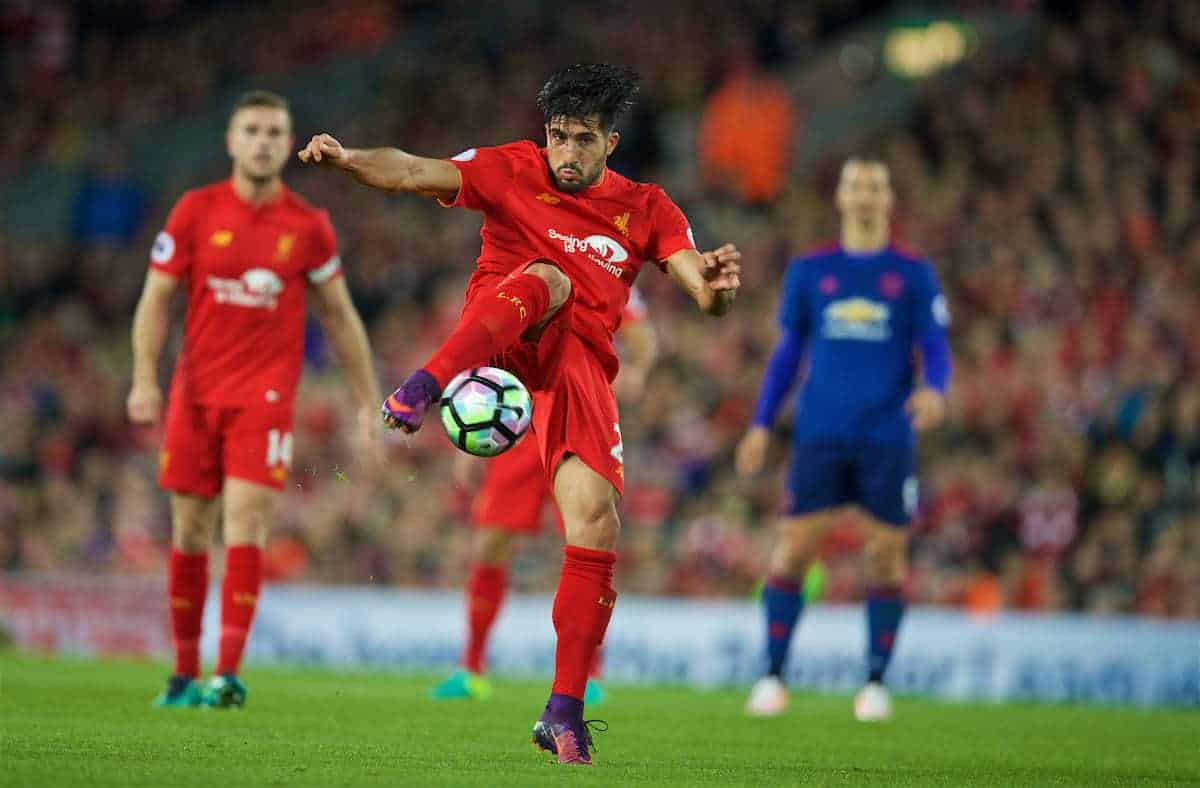 As mind-blowing Liverpool attack is, in sharp contrast, their defence is the exact opposite; mind-boggling. They have shipped in 14 at the back and scored an impressive 32 at the other end.
In their first 7 league games of the new Premier League season, they conceded 10 goals. But they have slowly become solid at the back in the last 6, allowing just 4 to enter and keeping all their 3 clean sheets within that time frame.
That major improvement has been made possible largely due to the introduction of one player into the starting XI. Since Emre Can started his first league game of the season against Manchester United in mid-October, Liverpool have gotten better defensively, and it's no coincidence.
Without the German player who began the season behind the newly-arrived Wijnaldum in the pecking order, Liverpool have conceded 1.47 per game. But have only shipped 0.67 per game with him in the starting lineup.
Can is now back into the starting XI fold, playing to Henderson's left in the 3-man midfield formation. Lallana plays on the right of the midfield and he is the main anchor that links Liverpool's midfield to attack. Can, on the other hand, is saddled with the more defensive role responsibility, providing support for the skipper and the defence.
Only the number 6 has made more tackles (4.1) per game than Emre (2.6) has. He has made more interceptions (1.2) per game than every other member of the starting XI bar Matip (1.7), Henderson (1.7) and Lovren (1.4), and in general, averages 2 defensive actions per game.
The versatile 22-year-old played a different role under Rodgers, hence his being underutilised under the Irish manager and also being more or less a supporting cast for the defensive positions as opposed to the main act. Can lined up mostly as a centre back or full back until Klopp's arrival.
The former Dortmund coach decided to put the attacking and defensive technical know-how of his compatriot to best use by deploying him in a box-to-box midfield role, and it hasn't only helped protect his defence, it has made the attack more killing.
Offensively, Can is averaging 1.7 key passes per game (11 total chances created), 2.1 shots per game, and has completed 335 passes with an accuracy of 80%.
This freedom to contribute to the attack at will while also performing his main defensive duties has seen him score twice – as many league games as he scored since arriving from Bayer Leverkusen.
His physical strength, ability to dribble (1.3 take-ons per game), make key passes and timely tackle and also retain possession have made him a very crucial part of Liverpool's campaign thus far.
With his presence in midfield, the likes of Coutinho, Mane, Firmino and Lallana are able to concentrate fully on wrecking havoc to defences without having to worry much about their defensive contributions, as Can is right there to do all the dirty work.
From Coutinho, Henderson, Milner, to Lovren, everyone close to Can's position on the right can be rest assured of the defensive support, as the youngster is always willing to give in totality, and the whole team has another engine room in this all-round midfielder.
He is no doubt another very crucial reason why Liverpool can successfully build a title charge this term and steal the top prize away come May.