Over the past twelve months, Liverpool manager Jürgen Klopp has had plenty of decisions to make regarding the club's forwards.
Christian Benteke and Mario Balotelli were offloaded to Crystal Palace and Nice respectively in the summer while English strikers Daniel Sturridge and Danny Ings have found regular first-team opportunities hard to come by, given the Merseyside outfit's current blueprint.
Considering they have looked menacing in that department without a natural centre-forward so far, it is no surprise that Belgian striker Divock Origi has been linked with a move away from the club. Juventus are reported to have shown interest in the 21-year-old despite having an arsenal of heavyweights up front, none more so than Gonzalo Higuaín.
Origi though has cleared the air on his future in England by stating he is not entirely bothered by the lack of game time for Liverpool. This approach was first brought to the table by his teammate Marko Grujic and while it is commendable to see the striker's patience and willingness to learn, his threshold may yet face a stern test should Liverpool continue to produce the brand of football they've become synonymous with.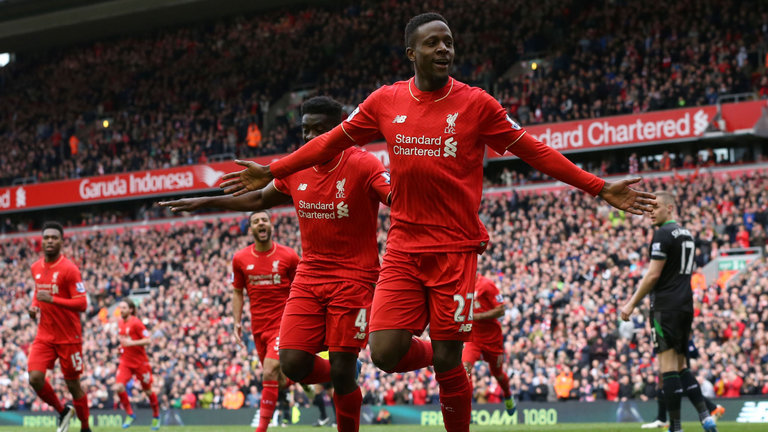 Klopp has identified his best side and opts to play them in an expansive and dynamic 4-3-3 formation. A midfield trio, designed to forfeit width for the opponents supports an offensive one stationed right ahead of them. Occupying spaces in wide areas and attempting to close players down have been deemed vital elements in the system's success as the pressure exerted by Klopp's side has been anything but segregated. Both full-backs tend to press their counterparts high up the pitch, preferably within their own half and constant movement off the ball by players situated in the middle makes life very difficult for the opposition. As everyone is required to pull their own weight in that regard, it is hard to see Origi beginning games, given the instant impact made by Senegalese hitman, Sadio Mane.
Origi possesses a good degree of aerial ability, which can be harnessed should the current layout fail at any stage of the season. So far, there has been precious little for Klopp to worry about with respect to that, though as Liverpool now appear to have an identity and look well drilled for the first time in years. A player like Origi may seem more suited to the crossing game and that is probably interpreted as Klopp's backup plan, at best.
In a system involving three attacking players with the False 9 agenda prominent, Origi is viewed as a square peg trying to fit a round hole. Simply put, he does not fit Klopp's set-up and in all likelihood, cannot help expedite his side's endeavours to the same degree as Mane. His situation appears to be unfolding the same way as the departed Benteke and by the looks of things, he may never make the desired impact at Anfield, despite having scored ten goals last season. Uncertain times lie ahead for the young talent.