2 years, 31 goals, 68 appearances and 100% dedication from the young and talented 24 year old. These numbers define Javier Hernandez aka 'Chicharito', the little pea. Star striker for the current league leaders Manchester United and a member of the Mexican National Team. One of the very few players who has what it takes to bring his team closer to the silverware through his constant devotion to the wonderful game. All you United fans must know that when Chicharito steps onto the pitch, late in a trailing game, he will get the job done!
Potentially speaking, almost half of the European clubs were after the Mexican, turning down high end offers to make the £7 million move to Old Trafford two years ago. He is the first Mexican player to join the ranks of the Red Devils. Ever since, there has been a dip in the development peak curve of his United career. In his debut season in 2010, he made 45 appearances from which he scored 20 goals and provided as many 10 – 15 assists. It definitely was a promising start to an illustrious career ahead for Hernandez, which saw him win the Sir Matt Busby Award for United Fans' Player of the Season. Manchester United have since been grooming this future Mexican great!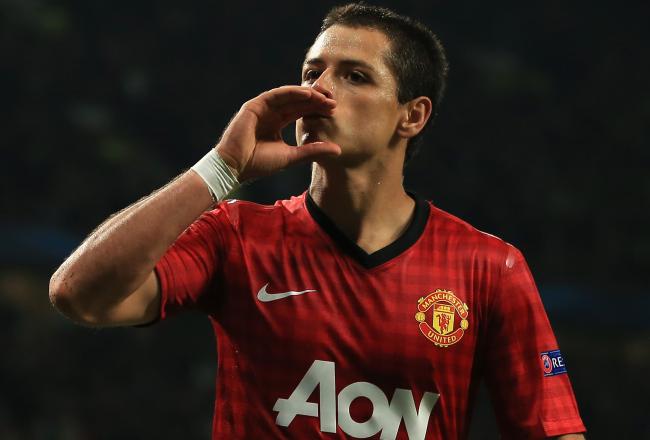 Turning back pages to when Sir Alex was made aware of his rising stardom in late 2009, he immediately dispatched a scout to assess his performance. Getting back positive results initiated United to make a bid for the striker. His selection for the 2010 World Cup squad for Mexico only added more speculation to quicken the signing process. His value in the market has soared to about £18 million, with keen interests from Real Madrid and Inter Milan, implying his experience gained at Manchester has been on the upward scale.  
Taking a look at his display in the field, he is typical 'goal-poacher', meaning most of Hernandez's goals are of close range coming off from assists provided by his teammates. His style of play even prompted Sir Alex Ferguson to compare him to United legend Ole Gunnar Solskjaer, who is best known for his injury time winner in the Champions League Final against Bayern Munich in 1999. Both players are known to score in dire times, more specifically, during the closing minutes of an 'almost' lost game.
Hernandez feels comfortable playing here at Old Trafford. Speaking about his move to United, "My expectations are to do the best I can personally, to work, to learn, and to win many trophies. I just like to enjoy myself on the pitch. I want to win every day and I hope I can do great things. Sir Alex is a great person and probably the best coach of all time. All my impressions of the team, the atmosphere at the club and the city are incredible."
An important aspect to note is that Hernandez has been coming on as a substitute for 70% of his appearances. His footy skills and quick thinking, coming late into the game has won him the unofficial title, 'Star Sub'. His stamina and speed are also quite a wonder. In the recent Boxing Day match against Newcastle United, must've run about 20 miles! Controlled aggression and fair attitude has also won him praise from experts around the world, terming him as a 'gem of a player'.
It is spectacular to note that from his 13 appearances this season, the ball has found the net 8 times along with providing brilliant passes to edge his team forward. He has a good awareness which pulls him through tricky situations, slowly nudging his way towards the goal.
Sir Alex believes that Javier is the perfect example of a footballer to the youngsters. His unchanging strive for improvement and display on the field has been part of his defining character. He has the potential to go a long way, seeing as he is an important asset to United. Climbing up the ranks of football, Javier Hernandez will continue to blaze his way up, soon to become one of United's legends in the making!