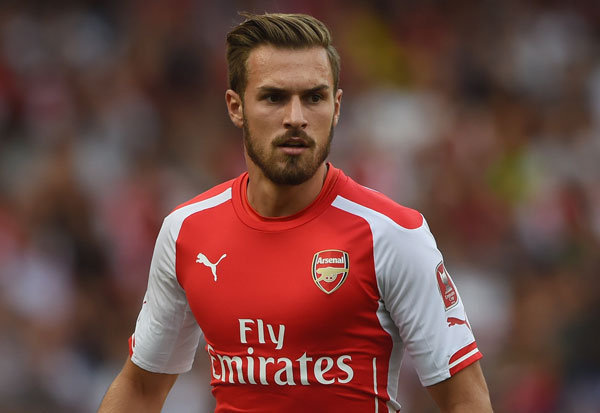 Versatility seems to be the most important facet of a football player's career and that is certainly the case for a lot of Arsenal players. Theo Walcott, Aaron Ramsey, Alexis Sanchez and Santi Cazorla to an extent all can play in multiple positions which gives Arsene Wenger various combinations to put out for his team.
Aaron Ramsey has often been set out as a right-sided attacker, well at least from last year instead of playing him in a midfield which only has two open spots; Wenger has played the Welsh international in an advanced position. Ramsey though would have been more comfortable in midfield but it is his work rate and running apart from his attacking instincts that has provided Arsenal with a bit of balance.
News though hasn't been good for Arsenal in terms of keeping players fit. We all know the issues that plagued their season last year and this time around it hasn't started too promisingly. While Jack Wilshere seems to be on the treatment table on a regular basis, Ramsey was the latest player to hit the doctor's chambers when he tore a hamstring in the 2-0 win over Bayern Munich. A hamstring tear could rule him out for more than a month but Arsenal have a lot of options to use in that role.
Options a plenty but who to start with
The one player who would have been a sure-shot in that right winger role is Theo Walcott but with the English attacker now playing as a striker and doing extremely well, that option might be limited. Of course Arsene can go back to playing Olivier Giroud, he did score against Bayern but most would argue that Arsenal do have a greater potency and fluidity in attack when Walcott leads the line and that he should continue in this particular role, especially when he seems to be enjoying the added pressure of being the main striker.
Santi Cazorla would be a great option to play down the right but his legs aren't what they used to be, plus he does seem to be having a really good time in the midfield alongside Francis Coquelin. Speaking of players losing their legs, Tomas Rosicky could be a viable option but his injury record hasn't been that great in the last couple of years.
The player who should be taking this role is an English youngster. Alex Oxlade-Chamberlain has been biding his time in the Arsenal team and this could be the chance for him to shine. He has made 12 appearances for the Gunners this season and seems to be improving his game. He needs to make this chance count, after all, when Ramsey does come back from his injury, he would be slotted back into the starting line-up. Blessed with pace and ability, Oxlade-Chamberlain has all the tricks up his sleeve to be a success in the Arsenal first team. He has a number of games to prove his value to the team and maybe lockdown that right-sided role all for himself.