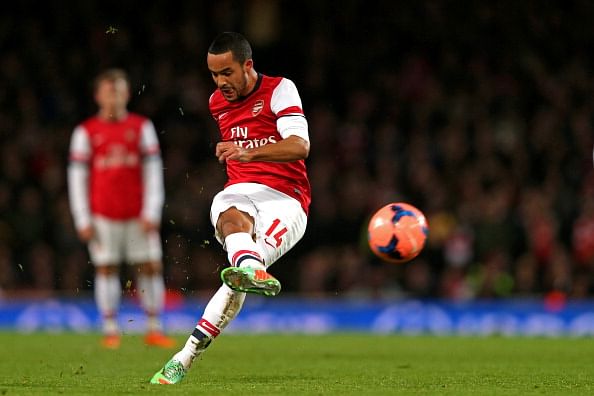 Arsenal fans finally had one piece of good news after Theo Walcott finally took the field against Burnley as a substitute after a prolonged period out with an ACL injury. The Anterior Cruciate Ligament is the most important and powerful ligament which is the most important in terms of movement & stability and a ACL injury usually means that a player is out for a period of 6-9 months. We the Arsenal fans last saw him in that ill fated match against Tottenham Hotspur where the Gunners eventually ran out 2-0 winners. Now with him coming out of injury once again and looking as sharp as ever, which none of the fans expected to be honest, we at Soccersouls predict the strongest Arsenal lineup now that Theo Walcott is fit.
Goalkeeper and Defence:
Wojciech Szczesny, Calum Chambers, Per Mertesacker, Nacho Monreal and Kieran Gibbs
With Mathieu Debuchy a long term injury and even Laurent Koscielny looking like a medium term injury casualty, Arsene Wenger does not have a lot to work with in his defence. We expect the centre back pairing of Per Mertesacker and Nacho Monreal to start with Kieran Gibbs to provide support as the left back. Calum Chambers will be the one providing support to Theo Walcott on the right flank once he is fully fit to start. The Pole Wojciech Szczesny will be the one starting in goal for Arsenal.
Midfield:
Mikel Arteta, Aaron Ramsey, Jack Wilshere, Alexis Sanchez, Theo Walcott
Now this is a team which has some serious pace. Also while Mesut Ozil is injured at the moment, the moment he comes in he will have a field day with the oppostion defences with his passes as Theo Walcott and Alexis Sanchez will be the one running in to get at the end of his passes. We expect Mikel Arteta to provide the sole defensive cover in a 4-1-4-1 formation. The two central midfielders will be Jack Wilshere and Aaron Ramsey for the moment. However the major change once Theo Walcott is fit to start will be in the wings. To accommodate Theo Walcott, the red hot Chilean will have to start at the left hand side of the midfield. There is no doubt that the right hand side of midfield is Sanchez's favourite position on the field but we have no doubt that the duo will cope as we expect them to often interchange their position on the wings.
Forward:
Danny Welbeck
Danny Welbeck means just more pace upfront. The front three of Danny Welbeck with Theo Walcott on the right and Alexis Sanchez on the left has some ridiculous speed not to mention skill and passing ability that can cut open any team.