The time has flown past since a docile looking, spectacled, young and a lanky Arsene Wenger won the Gunners the Premier League title during his debut season way back in 1998. Fast forward four years, Arsenal had accomplished something that no one else had in the English game- the Invincibles had been crowned and Arsenal had become the only team in the history of the English game to have played out an entire season unbeaten. Arguably, Arsene Wenger is the best thing that has happened to Arsenal.
Knock, knock Arsenal fans, if you were in a state of trance, it's time for you to come back to the present. If, by any rare chance, someone would've expected Arsenal to kick on and do greater things after the Invincibles were crowned, nothing of that sort has actually happened. In fact, after being crowned the Champions again in 2004, Arsenal have never been what they once were. Dashes for the top four and consistent failures to compete for the title have reflected a clear decline in the legacy of this once great football club.
Consecutive Champions League defeats to the likes of Dinamo Zagreb and Olympiacos have left Wenger's men staring at a group stage elimination as two games against Bayern  Munich await. Although, the Gunners currently stand at 4th in the Premier League, but performances haven't been gratifying enough. FA Cup wins have acted as a temporary sedative to the ailment, but permanency has ceased to crop up.
It's been 19 years since the Frenchman took over the reins from Bruce Rioch. He's won 3 Premier League titles and 6 FA Cup titles and has played a decisive role in producing players such as Thierry Henry, Robin van Persie, Patrick Viera and the likes but does his presence at the club still give the thrills to the Arsenal fans, as much as Louis van Gaal's gives to Manchester United or Jose Mourinho's gives to Chelsea?
The whole point of managing a club for almost 20 years is winning them the Premier League and making them far bigger a club than they were when he came in. Arsenal finished 5th the season( 1995-96) preceding to the one when Arsene came in. And the whereabouts of Arsenal have been around 3rd or 4th, showing the fact that Wenger's reign has seriously lacked sustainability and after a star player has bid adieu, the club has been left in tatters, to say the least. And rightly so, the club has struggled to replace the likes of Patrick Viera, Thierry Henry, Alex Song, Cesc Fabregas, Robin van Persie, Samir Nasri ever since they left. The last 4 ended up winning the respective titles after they left, including Emmanuel Adebayor.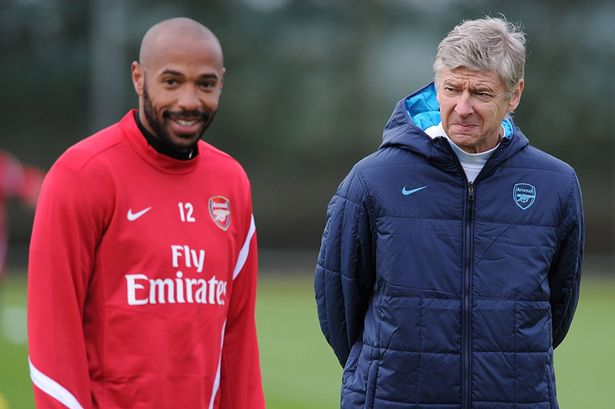 Sir Alex Ferguson's era at Manchester United hardly had periods like the ones Wenger's has. Whenever United went through a transition period, they made sure that they challenged for the title despite that, unlike Arsenal who just manage to make it to the 4th spot and never came out of that muddle.
After the 2010 period, there's been a sour reluctance in Wenger for spending money. With the prime example being the previous  summer, when he signed just a single player that too Petr Cech, despite knowing that they needed a centre-half, a holding midfielder and a quality striker. He knows what he wants, but he's averse to spending, despite having money in the vault, as evident from their big-money capture of Mesut Ozil back in 2013. And not to forget, ticket prices at Emirates are the highest in the country and Arsenal have arguably got the largest fan base in the whole world. It's not the question of spending in a wild manner, or in the manner Manchester United did last season but spending a tad sensibly.
Although, Wenger's side have earned a knack for playing attractive football that lifts you out of your seats, but the defensive part is something that always lets them down, big time. The lack of a defensive midfielder allows their defense to be breached easily and excessive emphasis on amusing passing drills has been detrimental to their performances. Arsene's training drills hardly consist of zonal marking and defensive drills and more so, Arsenal were long been linked with players like Sami Khedira, but a deal never materialized.
Arsenal's players are the said to be the most injury prone host of players in the world. It's not just the case this season, but it's been a similar rocky journey for 2 seasons now. There's a worrying problem in his training regime and his method of using players and how he trains them for games. Arsene Wenger has got to improve, but this improvement has to come quickly. Arsenal are showing signs of usual mediocrity season after season and Wenger is the only one who can be blamed for that. He has to learn from his mistakes and although, he isn't someone who is known to do that, but he has to, if he desires to stay on.