Tough times are going on for Arsenal. They are out of the FA cup, they are struggling in the premier league with 3rd place (11 points off leaders Leicester City) and have been knocked out of the Champions League by defending Champions Barcelona. Well, that has been the Arsenal of the past few years and the chances of winning any Silverware are looking very bleak this season. This has made the fans calling for Wenger to leave.
Well not everything is his fault. Most of his players have not performed consistently in all the matches and his talismanic midfielder Cazorla has been out injured for quite some time. But most of the blame can also be put on the British contingent of Arsenal. The British players have not at all produced good performances this season and that's one of the main reasons why Arsenal are struggling.
Let us have a look their performances of the British core players of Arsenal.
Alex Oxlade-Chamberlain
Supposed to be a great talent, but Oxlade-Chamberlain has had average performances this season. In this season, he has made just four appearances in the Champions League and 22 appearances in the EPL. His appearances in the EPL have improved over the season. He made 23 and 14 appearances in the 2014/15 season and 2013/2014 season respectively.
In the Champions League game against Olympiakos he produced his best performance of the season. He was good on the ball and passed it around with good success rate. However, he failed to replicate the same against FC Bayern Munchen in the home game at Emirates. Oxlade-Chamberlain has failed to score in this season's Champions League and has created two chances and registered no assists. The Englishman has completed 68 passes and has a pass accuracy of 83%.
Out of the 68 completed passes, 62% were forward passes. Despite the poor season he is still expected to come good and become one of the good mid-fielders that England can produce in the coming years. At a young age of 22, he possesses good control over the ball and is good going forward. Maybe in another two years he will become a great footballer but in the current season his performances have been just average.
Aaron Ramsey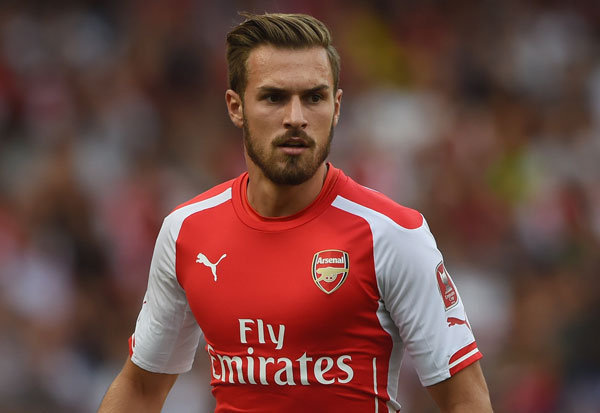 In this season's EPL, Ramsey has made 25 appearances and missed just a few matches with injury. He has had a decent season so far and hasn't had the high performing season as expected of him. He has featured in the Champions League five times this season and arguably his best game was against Sunderland where he was everywhere for Arsenal. He created chances, was good in attack and fell back and defended well when needed.
He however hasn't produced the kind of form he had produced in the 2013/14 season. Ramsey has scored five goals in this season's EPL and has created 32 chances and registered three assists. Ramsey has completed 1444 passes this season and has a pass accuracy of 86%. Out of the completed passes, 70% were forward passes. At just 25 years of age, the Welshman is expected to become better. Maybe next season Ramsey will produce a kind of performance that all Arsenal fans will remember it for a long time.
Jack Wilshere
Jack Wilshere broke his fibula during pre-season training in August, and was initially expected to be out for a month. However, in September, he underwent surgery on his leg and was ruled out of action for a further 3 months. Wilshere stated that he was working to regain fitness in February 2016. He has had a career which is marred by injuries and he has admitted to being frustrated by his injuries. Despite that he is still motivated to return to the pitch.
A player of huge talent and prospect whose career has been badly affected by injuries. Many tipped him to be the best Central Midfielder that England will produce since the days of Scholes. Despite being always an England coach favourite he has made just 2 appearances for Country. Last season he made 14 appearances for Arsenal in EPL and scored 2 goals. He had created 16 chances and had an average pass accuracy of 84% and maintained a shot accuracy of 67%. He is still 24 and has long way to go in his career. Let's hope that 2016/17 is injury free and we get to see the best of the Englishman.
Kieran Gibbs
This season Kieran Gibbs has made just 14 appearances in EPL compared to 22 appearances last season and 28 in the season before last. He has also featured in the Champions League five times. His best game of the season was against Bournemouth where he was still average. His performance against Crystal Palace was arguably his worst where he was absolutely owned by the opponent attackers. With the departure of Clichy, it was expected that he would step up and rule the left back position but he still hasn't done it yet. You expect a full back to put beautiful crosses from the wings and create a number of chances for the team. Gibbs has just created one chance this season and has no assists to his name.
Kieran Gibbs has just won eight tackles this season and had a success rate of 47%. He has made just 11 interceptions, 15 clearances and one block in the whole season. Arsene Wenger seems to prefer Nacho Monreal over the Englishman even though Monreal is 30 years old and Gibbs is four years younger to him. Gibbs' performances have been meagre this season and I expect him to show better glimpses of his talent next season and become the first choice left back in the team.
Theo Walcott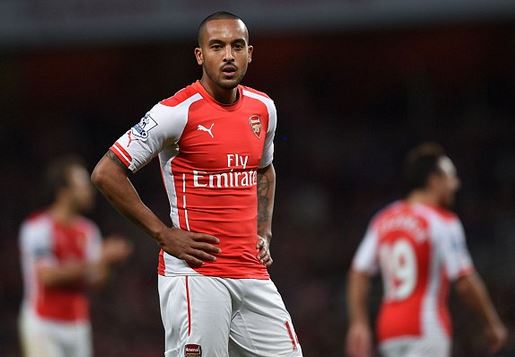 The "Next Thiery Henry" for many. He just couldn't live up to expectation. The season he had in the 2012/13 season was one to cherish for all Arsenal fans. He was young; he was running like a bullet and was scoring goals. A distant image of what he is now. He is no longer a sure starter in Arsene Wenger's team. This season Walcott has made 22 appearances in EPL and has made five appearances in the Champions League. His best game of the season was against Leicester City where the Arsenal faithful appreciated him for stepping it up in such a big game. His performance against Newcastle United was arguably his worst where he was just off during the whole match. Same thing happened in the away game at Old Trafford where he didn't do anything in the whole match.
In this season's EPL,Walcott has scored four goals and registered two assists to his name. He has kept a shot accuracy of 60%. After all the conversations with Wenger a couple of season's back about wanting to play in a striker position and not on the wings any more, he actually couldn't step up to that role when he was finally given the chance. Well he is just 26 and has a good numbers of years left to his career. Let's just hope he has a stellar of a season next year.