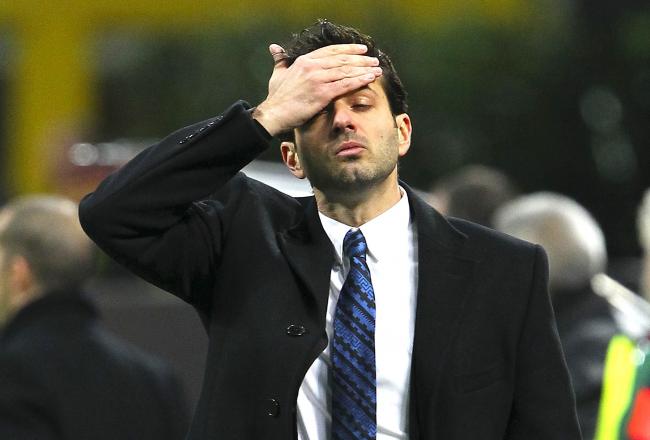 When Massimo Moratti announced that Andrea Stramaccioni would continue on as the manager of Internazionale on a permanent basis for the 2012/2013 season, no one could blame the Inter faithful for feeling optimistic. The young manager had a successful spell with Inter's Primavera the season prior, leading them to the NextGen Series title with impressive displays. But, it was his form since taking over first team affairs from Claudio Ranieri in March 2012 that had the Inter fans in high spirits, winning the Derby della Madonnina and finishing in 6th place in the league, despite a dreadful campaign with the departed manager. The opportunity was earned, and after a summer of movement in personnel both in and out of the club, spirits were high at the San Siro, with no one challenging the view that Inter could be a team to look out for in Serie A's upcoming season.
The personnel changes which took place in the summer were necessary, not just for Inter. Juventus had won the Scudetto the previous season without losing a single game; someone had to topple the Turin giants. Money was spent, with Rodrigo Palacio moving from Genoa for €10.5 million, and goalkeeper Samir Handanovic signing from Udinese for €11 million. More cash was spent when Alvaro Pereira joined from FC Porto in a €10 million deal, and Fredy Guarin's move made permanent, so ambition was evident for the Nerazzurri leading up to the opening matches. Adding in deals for Antonio Cassano, Matias Silvestre and Gaby Mudingayi, along with disposing of some "dead wood", also help set up a promising Serie A campaign.
Cue the start of the Serie A season, and the 7th October derby match with neighbours Milan. No one has to guess the importance of these fixtures; the fans eagerly anticipate them, the TV channels build them up weeks in advance and the players know exactly what a win, or defeat, can do for morale. All eyes were on Cassano after he made the switch from Milan to Inter in the summer, but it was a Walter Samuel goal after 3 minutes that gave Inter the lead.  Robinho, Bojan and Riccardo Montolivo all tried to level for the Rossoneri, but failed and after 90 minutes, Inter's desperate defending paid off as they came away with a 1-0 win, making it 9 wins in the first 11 matches in the league. But, perhaps more importantly for the fans, the result left their city rivals flagging in the bottom half of the league. A promising league start and Lombardy bragging rights secured.
This promising start continued with 4 more wins in both league and Europa League. Then came Juventus at The Juventus Stadium; a fortress for the Old Lady, who were on a remarkable 49 game unbeaten run in the league. In the build-up, Juventus were hot favourites as a result of their current run, managing to dig out results when needed and an ability to simply not get beat. Andrea Pirlo was commanding matches, Arturo Vidal was shining and the back four looked shatterproof. Despite Juve taking an early lead through Vidal, Inter outlined their Scudetto credentials by coming back to secure a 3-1 win and end the impressive 49 unbeaten run by Juventus.  It was an eye-catching result which once again gave the Nerazzurri cause for celebration and great hope for the remainder of the season.
Building on these impressive results was imperative, and consistency would be required to push on towards the second half of the season. But a bad run of results would arise, with only 2 wins in the next 6 matches in all competitions. An important 1-0 win over impressive Napoli at the start of December would be a minor lift, as this was followed by sporadic results both at home and away, with Inter ending 2012 with a 1-1 home draw with Genoa. January's transfer window looked key to Inter's second half of the season.
January 2013's window saw Tommaso Rocchi and Juan Pablo Carrizo arrive from Lazio, as well as Atalanta's impressive Ezequiel Schelotto. Former Fiorentina player Kuzmanovic also joined from Stuttgart and Mateo Kovacic joined from Dinamo Zagreb; all this was a clear indication that Stramaccioni believed his Inter side were not too far away from the required form to get consistency and results. The decision to offload Wesley Sneijder was also a clear indication of Strama's desire to get the correct blend of players in the dressing room at the San Siro, with growing reports that the departing Dutchman was becoming detrimental to the morale of the Nerazzuri. Season 2012/2013, part two was about to begin, with no one quite knowing if this Inter side were actually capable of finishing the season in the Champion's League spots.
Results continued along the same, unpredictable path in 2013, with January seeing only 2 wins in the 6 fixtures, including a Coppa Italia Semi-final first leg defeat to Roma, who would eventually go on to take the tie and march on to the final. January ended with a 2-2 home draw with Torino in the league, and mutterings of discontent could be heard around the San Siro. This would not be helped with an embarrassing 3-1 defeat away to bottom side Siena at the start of February, meaning Inter had failed to win on the road since November; a worrying stat for a side that started the season with such promise. February also included a 4-1 hammering at the hands of Fiorentina at the Stadio Artemio Franchi, underlining Inter's fragility in defence.
By March, Inter were still in the battle for third place, despite some frankly awful results and performances. They also had reached the third round of the Europa League, drawing Tottenham Hotspur, so all was not lost for the season. The matches against Spurs would go a long way to actually determining how good this Inter side were, as the Serie A campaign had its ups and downs. Spurs, driven by the outstanding Gareth Bale, were chasing Champions League spots in the Premier League, so it would be a fascinating encounter at White Hart Lane for the first leg. Not many would have predicted the 3-0 victory to Tottenham, especially in the convincing fashion it happened, but for many it was the lacklustre performance from Inter that caught the attention; no invention, no flair and worryingly, no fight. The return leg, for many Inter fans, was a mere formality; get it out the way and concentrate on the league campaign. However, Stramaccioni's men totally outclassed Andre Villas-Boas' Spurs, and won the match 4-1; of course, being eliminated with the away goal scored by Emmanuel Adebayor in extra time. It seemed harsh in Inter, but this result over two legs just underlined the type of season it had been so far.
As well as the Europa League elimination in March, Inter's league form continued once again down a troubled path with two home defeats to Bologna and Juventus. A win over Catania away was the only league points picked up in March, and worrying home results were to continue into April. Although a 2-0 away win at Sampdoria looked impressive, this was followed up with a 4-3 home defeat to Atalanta, then a 2-0 away defeat to Cagliari. Goals were being leaked, and not many scored, and Palacio was being relied upon too much; one of the only players who would end the season with any credit, perhaps along with Fredy Guarin. Any chance of silverware was put to rest as AS Roma completed the task started in January with a 3-2 win in the second leg of the Coppa Italia, and in the last game of April, a dogged Palermo managed a 1-0 to take them out of the relegation zone. This dealt Inter's chances of European football in 2013-2014 a huge blow as they lay seventh in Serie A, and with Napoli to visit the next week.
The Napoli game became a must win after the devastating Palermo result. Seventh place was not nearly good enough, and the prospect of a season with no European football was lingering. An Edinson Cavani hat-trick took his tally to 33 for the season, and Inter slumped to a 3-1 defeat. To say the season fizzled out would be an understatement, with another 3-1 defeat next for Inter, this time at home to Lazio, followed by a drab 0-0 affair at Genoa. The last match of the season ended with a humiliating 5-2 home defeat to Udinese, giving them the final automatic Europa League spot and dooming the Nerrazuri to ninth place-their worst league position since 1994. Nothing more than a dismal end to a dismal season.
The season started with great hopes for a young manager who was building a new team, but the stats cannot lie. With Inter winning only 16 times, and losing 16 times, all with a goal difference of -2, it is the worst end to a season since in nearly 20 years. The forwards did not do enough, despite the efforts of Palacio, and for large spells were not all available through injuries. The defence was abysmal all season, littered with individual errors and bad decisions. Although the number of injuries was abnormally high throughout the season, it does not account for a ninth placed finish; there were more underlying issues in terms of the performances and tactics, as the home form towards the end of the season indicates. As a result, another manager casualty as Strama parted company with the club, making way for former Napoli coach Walter Mazzarri, who guided Napoli to second spot in Serie A. A talented manager, for sure, but it seems he will have a great task on his hands to make these Italian giants, giant once more.