New Arsenal manager, Unai Emery, has quite a task ahead of him. With the summer transfer window up and running, he will be a busy man. His second signing is expected to be Steven N'Zonzi, who reportedly has a release clause of £25m.
It goes without saying that Arsenal have lacked a midfield powerhouse since Patrick Viera's departure. As far as the current set of players are concerned, the Gunners have Mohammed Elneny who is decent enough, but he is not the world-class midfield enforcer the club are in dire need of.
Meanwhile, the likes of Granit Xhaka, Aaron Ramsey and Jack Wilshere all suited to playing attacking roles. Thus, due to a significant shortage of depth and quality, a player like N'Zonzi could be a great signing for the Gunners.
Here are two ways the Gunners can lineup with N'Zonzi.
4-3-3
This formation would suit Arsenal in the big games. There will be plenty of pace on the counter-attack and the team will be well-balanced.
Steven N'Zonzi (CDM)
N'Zonzi will be at the base of the midfield in a holding role. His duty will be to collect the ball from the centre-backs and play it forward to either of the midfielders beside him. More than anything else, the player will be key from a defensive point of view.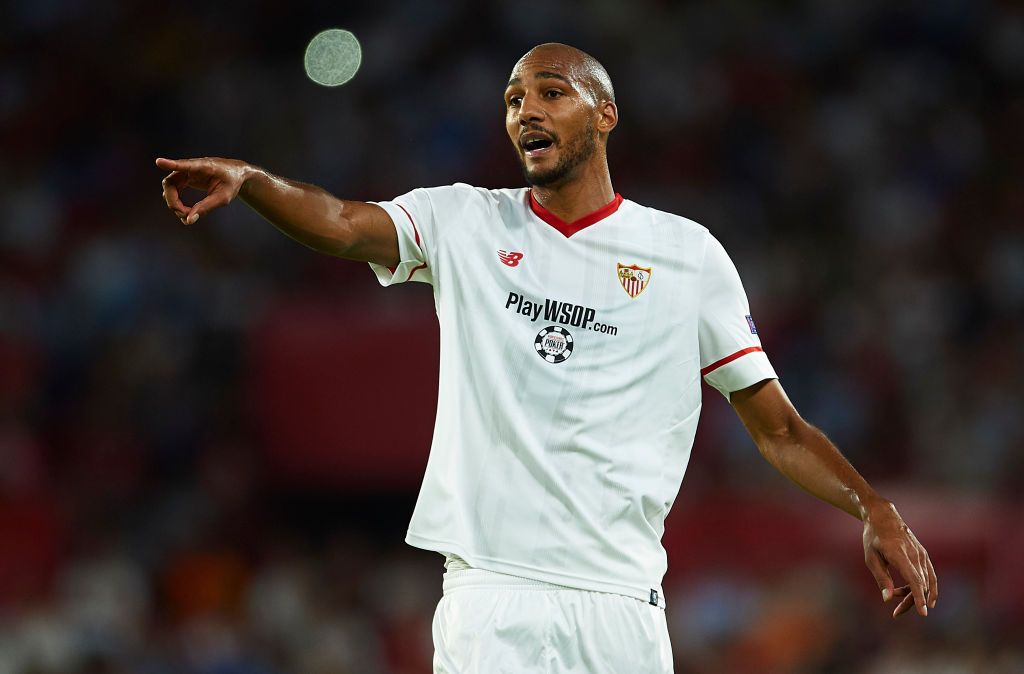 Aaron Ramsey (RCM)
Ramsey will play his usual role, which will involve making late runs into the box and finding spaces to exploit. His passing, movement and finishing will be key.
Granit Xhaka (LCM)
Xhaka is probably the best passer of the ball at Arsenal right now. He will be the creative midfielder as his vision and technique could help the attackers up front.
Pierre-Emerick Aubameyang (LW)
Aubameyang could play on the left-wing and drift inside. His pace and movement will be crucial in the final third.
Alexandre Lacazette (ST)
Lacazette's job will be pretty simple. He will have to hold the ball, make runs, position himself well and get on the end of passes and crosses to score. He came into his own during the second half of last season and a big campaign is expected from the Frenchman next term.
Mesut Ozil/Henrikh Mkhitaryan (RW)
Either Ozil or Mkhitaryan could be deployed on the right-wing. Both players are capable of dropping deep to build up play alongside the likes of Ramsey and Xhaka. In addition to that, Ozil and Mkhitaryan have excellent vision and are well-known for their deadly assists.
4-2-3-1
This formation will allow Mesut Ozil to play in his preferred No. 10 role and it will be useful when Arsenal aim to dominate possession.
Steven N'Zonzi (CDM)
N'Zonzi's role will be fairly similar. He will have to stay back and protect the centre-backs and distribute the ball to the more creative midfielders.
Granit Xhaka (CDM)
Xhaka will play alongside N'Zonzi and in doing so, the player will be able to make use of his long-range passing abilities.
Henrikh Mkhitaryan (RW)
Mkhitaryan will be useful with his pace and penchant for scoring goals. He is great in one-on-one situations against defenders and his crossing skills are quite impressive.
Mesut Ozil (CAM)
Ozil is the creative fulcrum for Arsenal right now. He will thrive with runners ahead of him and it will also help him unleash his creative side.
Pierre-Emerick Aubameyang (LW)
Aubameyang is a potent goalscorer and his dribbling skills are top-notch as well.
Alexandre Lacazette (ST)
In a formation like this, Lacazette is bound to thrive. With the likes of Aubameyang making forward runs, he can drop deep to link up the play too. Moreover, the likes of Ozil and Mkhitaryan will create plenty of chances for him to score.