"You are very different now, since you've played for England – you never used to be like this."
Mark Clattenburg has come under investigation recently for the quote used above on Southampton's captain Adam Lallana. The Saints see the quote as "abusing and insulting" and although the referees' governing body has cleared Clattenburg of any wrong doing, Southampton will push the case further, do they have a point? In my opinion they do.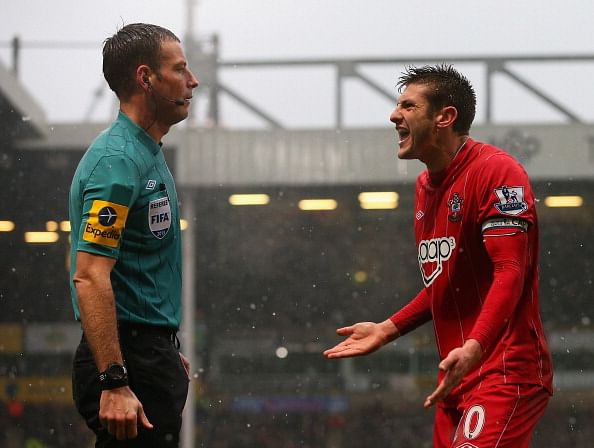 This isn't the first time Clattenburg has said something out of context in a football match, In a match between Bolton and Manchester City in December 2009, Clattenburg sent off Craig Bellamy for two bookable offences — dissent and diving. At half-time, he allegedly said to members of the City staff: 'How do you work with Craig Bellamy all week?' Comments like that could either be viewed as a joke or 'banter' but when the job of a referee is to ensure fair play is being issued to both teams, saying comments like that are going to get people aggravated.
The comment Clattenburg supposedly said was used after Adam Lallana felt he was denied a penalty when his cross struck the arm of Everton defender Antolin Alcaraz. After complaining excessively that it should have been a penalty, the referee then said this to Lallana. A game in which Southampton were losing 2-1 to Everton and with the game running out of time, how would Clattenburg like Lallana to respond to him? The way football is currently, incorrect decisions can cost the club millions, that's not to say Lallana was complaining for that reason however but the pressure to play in the Premier League will get a reaction for incorrect decisions, something which Clattenburg should know all about as he's been officiating in the League since 2004.
With the Professional Game Match Officials Limited (PGMOL) reviewing the complaint given from Southampton and has cleared Clattenburg claiming there is 'no case to answer.' Southampton should agree with the decision and move on but they claim they want to forward the incident and until the matter is resolved they do not want Clattenburg to officiate any of Southampton's games. This is the wrong path to go in my opinion, if a decision is made, it's final and pursuing it any further will only damage the club, but the PGMOL should have dealt with the original situation as what Clattenburg said is issue of concern.
The referee in any sport is there to be the decision maker between the two and deciding each situation fairly and unbiased, in what Clattenburg has done is opposite of either. What he has said to Lallana is an insult; clearly not a joke given the situation and that shows an unfair attitude towards that team.
Pundits have had their view on the situation and claimed that if a player can insult the referee, why can't they do the same? That's the reason why, a player does not dictate what happens on the pitch fairly, the referees job is to do that and when they are saying comments like that to players then they are not doing their job correctly.
That's not to say a referee shouldn't be able to say anything on the pitch but when what their comments are going to effect the game then they shouldn't say anything at all. Another issue is that if a player insults an official, they can be warned, yellow carded and the worst case scenario, red carded. We have seen many situations where a player has been cautioned for insulting a referee and they are dealt with, why is this situation any different?
After the situation, PGMOL should have put Mark Clattenburg in 'smaller' games as a sign of punishment and to give him reason not to behave like that on a football pitch, but with his latest game being in charge of the biggest F.A cup tie of the 3rd round, Arsenal vs. Tottenham Hostspur it leaves people wondering when does the protection of referees become too much?