The 2014-15 season should have had Hector Bellerin worried. It was the season when Arsene Wenger splashed £12million on a French regular Mathieu Debuchy, and £16million (club's then transfer record for a defender) on an unproven English prodigy, Calum Chambers. Both were right backs by trade. With Sagna departing to Manchester City, Bellerin's hopes of increased game time looked to be squashed by Arsene's transfer decisions. However, destiny had different plans.
On January 11, 2015, Arsenal's 3-0 win against Stoke City was soured by a freak touchline tackle. Arnautovic mistook the football game for a UFC middleweight title bout and decided to send Debuchy flying to the advertisement hoarding with a mindless shove. The Stoke City winger was left unpunished by FA while Debuchy had to spend 3 months in the hospital, treating a dislocated shoulder. The shove battered Debuchy's shoulders and also Arsene's title push.
With Arsenal's perennial injury curse striking again, Wenger was already thin on defensive resources; a story that recurs almost every season at the Emirates. Calum Chambers looked more assured while providing defensive cover in the centre than on the wings. Arsene's SOS call was answered by a then 20-year-old Spanish right-back – Hector Bellerin.
The History
Hector Bellerin was poached from Spain's famous La Masia academy at an age of 16. Just like any La Masia graduate, there was an air of expectation when he was signed along with fellow Catalonian Jon Toral in 2011. However, not much was heard about Bellerin for the next 3 years. He played mostly for the youth teams and also had a short spell in the Championship with Watford. But everything changed for the club's then third-choice right-back in 2015. Deployed at the critical right back position, replacing a regular French international, Bellerin passed his big test.
Blessed with natural pace and flair, Bellerin quickly won the hearts of the Emirates Faithful. A series of stunning performances from the young Spaniard meant that Debuchy's injury had a much lesser impact than expected. He was awarded Arsenal's young player of the year award and was the prime reason why Debuchy was relegated to the bench in the coming years.
Bellerin started his career as a winger before being remodeled as a right back at Arsenal (thanks to Steve Bould). And it's not hard to see why La Masia coaches wanted him in midfield. With pace to burn, Bellerin is capable of providing telling crosses and making darting runs forward. Also, the extra pace helps him to track back and that helps immensely in Arsene's defence system where fullbacks spend most of the time in the opposition half, sharing a joke and a drink with the opposition keeper.
Though slender, it is rare to see Bellerin get bullied, except for a few occasions. But that is expected from a player who is still so young. Immediately after the season, the vultures came circling and the inevitable 'return to Barcelona' rumours surfaced. The Emirates faithful already had seen their most famous La Masia recruit forego the captain's armband and fly back to Catalonia.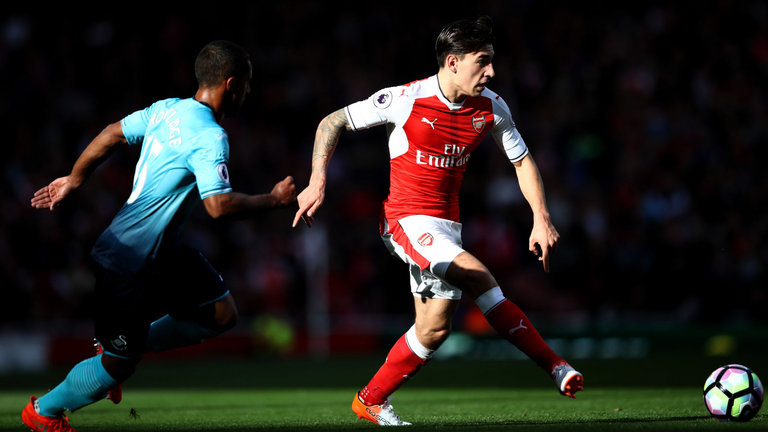 Barcelona were trying desperately to replace Dani Alves and a Barcelona reunion seemed imminent. However, the £21.2m rated Spaniard came out in public and squashed the rumours by pledging his loyalty to Arsene and Arsenal.
The 2016-17 season was quite different though. Bellerin, the now first team right-back had a significant loss of form. His loss of form converged with another perennial defensive crisis at Arsenal and again the Gunners looked defensively weak midway through the season. The critics started getting louder and Bellerin was eventually dropped.
Jenkinson and Gabriel could hardly replace him. However, Arsene found a surprise replacement in Alex Oxlade-Chamberlain to take up Bellerin's role when he switched to 3-4-2-1. Alex grabbed his chance with both hands and became the first choice right wingback. However, Bellerin reminded Wenger of his quality when he started Arsenal's final league game and the FA Cup final. He also scored a wonderful goal in the former fixture.
Again, the inevitable Barcelona rumours re-surfaced when the 2016-17 season was complete. Bellerin again took Twitter to squash the rumours. Being assertive and confident, and by not being unequivocal about his loyalty, Bellerin is adored by the Arsenal fans. Arsene's new switch to the 3-4-2-1 plays right into the strength of Hector, where a lot of marauding forward runs are demanded. Having built his skill in Premier League, success in La Liga is no guarantee, as his compatriot found out after leaving Emirates to Camp Nou.
Also, if he decides to ply his trade with Barcelona, it would make more sense to reach there as a world class matured defender, which he still isn't. Any mistake in Barcelona shirt will quickly relegate him to the bench and may stall his progress. With the gaffer who rates Bellerin so high, Bellerin can expect to be a regular in the team in the coming years. It would make no sense at all to leave Arsenal at this point, where his form is shaky. An unsuccessful spell in an alien environment would severely impact his push to the national team, with the world cup so close. With the new TV money flowing in and the stadium debt wiped out, Arsenal can richly reward Bellerin soon with a new contract.
He has risen through the ranks, and he must stay at Arsenal.
Player value taken from transfermarkt.co.uk