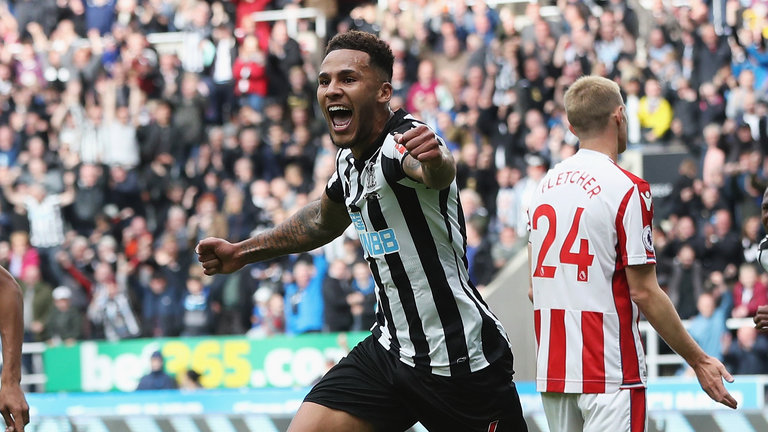 How Does Jamaal Lascelles Compare To Other Top Defenders In The Premier League – Analysis
Since time immemorial, defenders have been vastly underrated when compared to strikers or midfielders. Teams lacking strong defenders have always failed to perform well. The biggest example of a team failing due to a lack of strong central defence is Liverpool. They have it all – a strong attack, a capable midfield and yet they are struggling because of their frail defence.
In fact, a strong back line is the essence that holds any team together – and central defenders are definitely the most important. Of late, one defender has caught the fancy of a lot of clubs and pundits. Newcastle United's young 23-year-old captain Jamaal Lascelles is being widely regarded as one of the most exciting defenders in the Premier League.
Under Rafael Benitez's watchful eye, Lascelles has developed rapidly to establish himself as an exciting young centre-back. Physical prowess has never been an issue for the 23-year-old. He's strong, fast and extremely athletic. Rarely does he ever get over-powered and there is no limiting as to how much he can develop under Benitez. More than anything else, his impressive numbers further illustrate his capabilities.
He has a pass success percentage of 74.9% per game. He is aerially strong as well, having won 2.7 duels per game so far. Lascelles has also managed to score two goals for the side in 7 appearances across competitions for Newcastle this season.
However, he did receive two yellow cards over that time, which could be a problem in the future but that is something Benitez can most certainly deal with. Let's take a look at how Lascelles fares against some of the other central defenders of the top teams in the Premier League.
1. Lascelles vs Virgil van Dijk of Southampton
Possibly the most sought-after player in the summer, Virgil van Dijk is touted as one of the best central defenders in the league. When compared to Lascelles, the Saints man definitely has better numbers. In 6 appearances across all competitions for Southampton this season, he has a pass success percentage of 86.3%, having won 6 aerial duels. He did not score any goal, so that is something to note. He did pick up one yellow card though.
2. Lascelles vs Phil Jones of Manchester United
Phil Jones has been a rock at the back for the Red Devils. He has established a strong partnership with Eric Bailly and the duo has truly impacted the club's performance on the whole. Having said that, Jones has a 93.3% pass success percentage. He has won the same amount of aerial duels as Lascelles, which is 2.7 in 7 appearances for United across competitions. However, Jones hasn't scored a goal, while also avoiding yellow cards.
3. Lascelles vs David Luiz of Chelsea
It is quite a known fact that David Luiz struggles when it comes to aerial battles, having won only 1.3 of them. Nevertheless, he enjoys a pass percentage of 84.9% in 6 appearances for Chelsea across competitions, but has not scored any goals. Discipline is a long-standing issue with the player and it is baffling to see that he has already picked up 4 yellow cards.
4. Lascelles vs Joel Matip of Liverpool
Liverpool have been coping with their defensive issues ever since the season began but Joel Matip has been one of their better performers. He has a pass percentage of 85% in 9 appearances across all competitions for the club, having picked up only one yellow card in the process. On an average, he's won about 2.4 aerial duels per match.
5. Lascelles vs Toby Alderweireld of Tottenham Hotspur
Toby Alderweireld is another central defender who is very weak in the air. In 9 appearances for Spurs this season, the player has scored a goal and has also provided an assist, while recording a pass percentage of 84.2%. On 3 occasions he's received a yellow card, and has an aerial duel average of a mere 1.6.
6. Lascelles vs Shkodran Mustafi of Arsenal
Mustafi is not enjoying his best form for Arsenal at present. Having appeared 6 times for the club across all competitions, his numbers do not look all that impressive. Granted he has about 87.1% pass accuracy, the player has not provided a single goal or assist. Aerially, he has won 2.8 duels per game and hasn't received a yellow card yet.
7. Lascelles vs John Stones of Manchester City
John Stones' numbers certainly portray him as one of the strongest defenders. He has a whopping 96.3% pass percentage in 8 appearances across all competitions for Manchester City. He has also won 2.1 aerial battles per game so far, and has also picked up one yellow card. Regardless, Stones seems to be the most accurate among all the other options.
Verdict
Numbers may not amount to everything but they are still a solid proof. And from what we have seen, Lascelles has to work on his accuracy. Offensively, he has fared better than a lot of the Premier League's top defenders, which is certainly an asset. The fact that Lascelles is aerially sound is also an advantage for Benitez. Going forward, if he can control his discipline and work on his accuracy, Lascelles can easily overtake the best in England.