No Aguero, No Problem! – Three Ways How Manchester City Can Manage The Absence Of The Argentine Hitman
Sergio Aguero has been an integral part of Manchester City for years now. Flashes of his blistering pace and creativity up front come to mind when one thinks of his time with the club – which has come to a temporary end. Sergio Aguero met with a near-fatal car crash where he luckily escaped with not-so-serious injuries. He is expected to be out for 2-4 weeks.
City have been largely dependent on Aguero to spearhead their attack, but with the inclusion of Gabriel Jesus in the squad, Man City's dependency on the Argentine has reduced significantly. He is still important to the club, but how can the Citizens manage the absence of Aguero? Let's have a look at three ways at how Manchester City can manage without Aguero.
Relying Solely On The Services Of Gabriel Jesus
Pep Guardiola is a smart man who never makes uncalculated moves. He was probably aware of the consequences with respect to Aguero when making the purchase, and yet decided to go with it anyway. If anything, Aguero has been quite loyal to City, making it highly unlikely that he would leave as soon as a young striker like Jesus joined the club.
The situation presented a perfect opportunity for both players to benefit from each other wherein Jesus could learn from Aguero while also providing competition. Jesus is regarded as one of the most lethal young strikers and is believed to be quite happy at Manchester City. In the absence of Aguero, he will have to carry a lot of responsibility but the youngster has proven time and again that he is capable of doing it.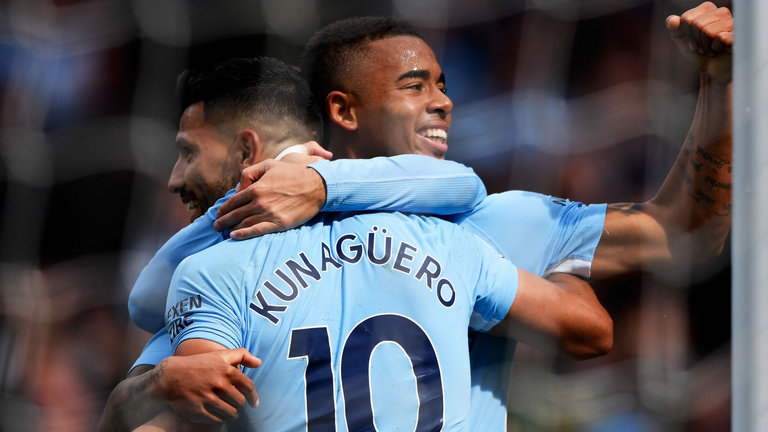 Besides, the match against Liverpool was enough proof that Jesus has learnt a lot from Aguero. Both players linked up beautifully to decimate the opposition defence as City romped away to a stunning victory. Moreover, playing without Aguero can certainly catapult Jesus to greater glory.
Playing A False 9
Popularised by Barcelona under Pep and Spain at the European Championship in 2012, a false No. 9 position essentially refers to a striker who drops deep into the space between the defenders and the last line of midfielders instead of leading the line, with central midfielders moving beyond him if required. Kevin De Bruyne seems like a natural fit for the position at City. He has been involved in almost all their attacking plays up front this season, and the player could certainly add a lot of value if he does play as a false 9.
He is incisive, creative and can be extremely speedy as and when required. Even David Silva could fit into that role considering he has dabbled with it while playing for Spain. Both are extremely intelligent footballers and Guardiola would have no hesitancy in turning to either if he wanted to use that system.
Using A Flexible Front Line
Manchester City are known for their variety of options in the attack. Be it Raheem Sterling or Leroy Sane, the club have managed to come out on top several times even while playing without a recognised striker. Infact, Silva, Sane and Sterling have often taken up such positions.
They will still have Jesus as the primary option but whenever the need for squad rotation arises, Guardiola can be happy with the squad depth he has up front. With so much energy and quality among his attackers, the manager may choose to trust his players to move between roles and make it difficult for opposition clubs to identify exactly who they are defending against.