World Cup holders Germany can boast of the fact that they are well-endowed in terms of talented players at all levels of football. Following a poor 2006 World Cup at home, Germany had to do something to stop the run and produce some fine quality youngsters. The German FA didn't fail in their pursuit of this as considerable work was put in and youngsters such as Julian Draxler, Mario Gotze, Andre Schurrle have come through the ranks and made big career moves.
Julian Draxler, who started out his career at Schalke is a 23-year-old midfielder that has an array of skills that can trouble any defence on his good days. One can gawk at the fact that he is still 23 as he has been around for a long time now. He made his debut for Schalke at the age of 17, which made him the 4th youngest to take to the field as a substitute. A week later, he made his full league debut, becoming the 2nd youngest player to feature in a Bundesliga game. The future definitely seemed bright for a young Draxler, who was clearly enjoying his time at the Veltins-Arena.
Champions League appearances against Manchester United came next for the young German, as he announced himself on the world stage. Over time, he became a vital part of Schalke's success and was heralded as Germany's next big talent. Following 6 relatively successful seasons at Schalke, he made the move to fellow Bundesliga club Wolfsburg, despite interest from the Premier League and Juventus.
His first season at Wolfsburg was quite successful, although his team finished 8th and failed to qualify for Europe. Draxler had a hand in their European success, though, as the team reached the quarter-finals of the 2015/16 Champions League and even threatened to eliminate mighty Real Madrid from the competition with a 2-0 first leg win, but they succumbed to the pressure in the away game and lost 3-0.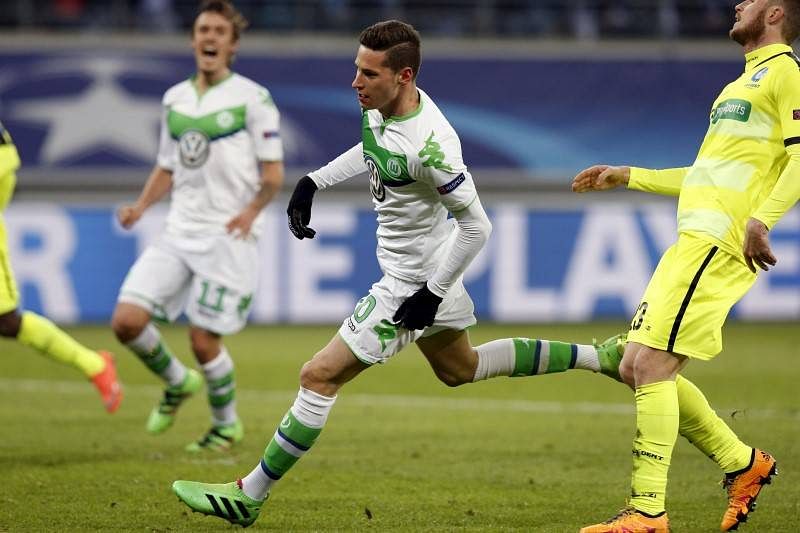 Prior to his move to Wolfsburg, Draxler was extensively linked with a move to Arsenal, where Arsene Wenger is considered to be a huge admirer of the midfielder. The German might have opted to stay in his homeland for a while longer, but for how long can he avoid testing himself in the Premier League, where many of his compatriots have been successful off late. And right at this very moment, the French manager has been handed a huge boost regarding his pursuit, as Wolfsburg sporting director Klaus Allofs has revealed the Bundesliga club may consider letting the 23-year-old go if any tempting offer is received.
Draxler's team have made a poor start to the league this season as they find themselves in 14th place, a far-cry from their performances in the past.
Such bad form has seen several of their players linked away with moves and Draxler too, has reportedly come under the Arsenal radar again. Undoubtedly, Draxler would fit in easily at Arsenal. Standing at 6'2, he has the skills to slot in at any position that Wenger is likely to play him in. He can easily play off the wings or even influence a game centrally, something he has done at both Schalke and Wolfsburg.
Recently, Aaron Ramsey played out wide for Arsenal against Manchester United and it was a shocker of a game for the Welshman as he struggled to impose himself. The emergence of Alex Iwobi is exciting, but it is perhaps too soon to depend to such a large extent on a developing talent. Hence, Arsene Wenger must make a move in the transfer window and sign a midfielder in Draxler's mould or Draxler himself.
Why do Arsenal need him –
Julian Draxler is a versatile character that can play in a number of positions and that would certainly add a lot of depth to Arsenal's squad. Wenger's team have been well renowned for playing an attacking brand of football that includes quick interchange of passes and this is something that Draxler can do, as he has shown in the Bundesliga and 2 major international competitions for his native Germany. Arsenal currently have 2 German starters in stars Mesut Ozil and Shkrodan Mustafi and joining them in London would be a huge incentive for Draxler, should Wenger decide to make a move for him.