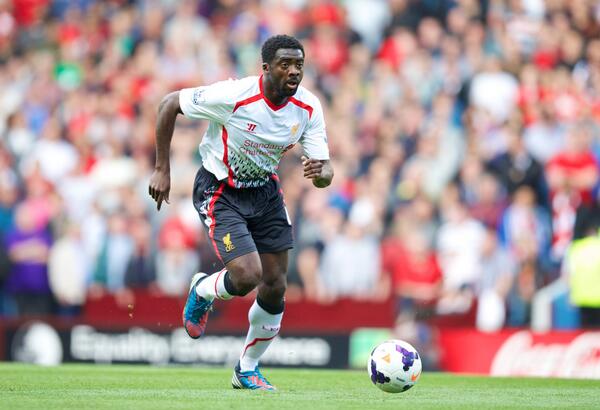 Following the 1-0 aftermath at the hands of the Saints at home on Saturday , Liverpool is looking forward to the return of Luis Suarez as a remedy for the  team. Kolo Toure believes that the comeback of the Uruguayan front-man shall prove to be beneficial and it shall give the team a ready boost, as the side gears up to face Manchester United in the "Capital One Cup Tie" on Wednesday.
"United is the ideal game to pick us up. What a game to play. It has come at the right time after this setback. We need to focus on that now." Says Toure

"Suarez's return is going to be massive for us. He is a fantastic player – a top striker who can score a goal at any time. He will strengthen the team. Daniel Sturridge has been playing so well for us and the two of them will be a very strong partnership. I'm sure Suarez will be ready to be thrown back in.

"You saw from his international appearance the other week, in the first game he had played for a while he scored twice. That just shows how strong this guy is. He has been very difficult to defend against in training. He is a winner. He's always working hard and fighting.," said the Ivorian Defender, as he anticipates the team up of Suarez and Daniel Sturridge soon.
It is alleged that Luis Suarez will walk into the starting XI straight away for that encounter, after manager Brendan Rodgers pointed to his return as Saturday's only positive. The last time Suarez played a competitive match in England, things went ugly and after an extended summer holiday, Suarez will return to the action on the biggest of stages as they take on fierce rivals Manchester United and he will likely face Patrice Evra with whom he has had some troubles in the past.
In other news, Liverpool defender Mamadou Sakho bid an emotional goodbye to the Paris Saint-Germain supporters at the Parc Des Princes. The defender after playing for the Reds on Saturday flew back to Paris to witness his former side take on AS Monaco. Sakho addressed the home fans before kick-off and got emotional and hinted that he might one day return to the French capital.
"I am very proud to be back here." said Sakho. "I remember when I was young and up there in the stands. I walked onto the pitch with pride. I have now turned a page. This is my town, I am at home. I wish the best for the club and it's exceptional supporters. I have just one phrase: The story is not over."