Diego Forlan Corazzo is probably the best footballer that Uruguay have ever produced. Forlan enjoyed every bit of his illustrious career with roller coasters of emotions and joy on and off the pitch. He followed the footsteps of his ancestors (his father and maternal grandfather were both footballers) by opting to choose football as his career. He was born on 19 May 1979 in Montevideo to a former player and Uruguayan international Pablo Forlan.
In his youth he loved playing Tennis but later decided to take on football as his career but it wasn't easy at the start when he first came to France for a trial with a French club AC Nancy. He spent several months tirelessly training with them but was left disappointed when the club rejected him and he had to return back to Uruguay. Lets look at the contributions he made to all the clubs he played for and of course his national team, Uruguay.
INDEPENDIENTE
He had already played for other South American clubs before joining Independiente where he caught the eye of many European clubs when he scored 40 goals in 91 appearances for the club.
MANCHESTER UNITED
Eventually he was to be signed by English club Middlesbrough for £6.9 million but the money was to be paid in several installments. Forlan went to England in order to negotiate with Middlesbrough but a last minute twist saw Manchester United buying Forlan for £6.9 million in a single installment + a hefty fee for the Uruguayan. The move to Manchester was like a dream come true for the Uruguayan who was expecting to fulfill the expectations of Sir Alex. But that was not going to be easy considering the standards of the English premier League and Manchester United and he found it hard to adjust to it. He stayed at United from 2001-2004 but could not replicate the form he showed at Independiente scoring just 17 goals in 98 matches.
VILLARREAL CF
He then moved onto Spanish club Villarreal CF which turned the fortunes of his career. He scored 58 goals for them in 128 appearances from 2004-2007 and the spell with the Spanish side helped him to grow more as a footballer.
ATLETICO MADRID
After that he was a wanted man for many clubs and finally he signed for Atletico Madrid for a massive fee of £21 million. He had immense pressure on his shoulders as Fernando Torres had just left the club and now Forlan had to take up the goal scoring duties and in his first season with them he managed to get them to qualify for the Champions league after a long and hard decade and soon became a favourite amongst the supporters. In his third season with Madrid, Forlan won the UEFA Europa league scoring twice in the Final against Fulham earning him the Man of The Match Award and went on to win the UEFA Super Cup by beating Inter 2-0. He ended his career with Atletico scoring 96 goals from 197 matches.
INTER MILAN & INTERNACIONAL
In 2011 Inter sold their striker Samuel Eto'o and bought Forlan as his natural replacement. No financial details of the contract were released but it was expected that the striker would stay there for 2 years. Nothing went well for him there and soon he terminated his contract with Inter and joined Internacional where he currently plays but is hardly noticed.
INTERNATIONAL CAREER
Forlan made his International Debut in 2002 and since then, he has been a revelation for Uruguay. He is the most capped player in Uruguay 's history with 93 caps and is also the highest goal scorer for his country with 33 goals. The worst moment in his international career came when he missed a crucial deciding penalty against Brazil which eventually knocked Uruguay out of the Copa America Semi-Finals in 2007. Later, he managed to get Uruguay reach the Semi-finals of the 2010 FIFA World Cup and was also awarded the Golden Ball for being the best player of the tournament.
AWARDS AND ACHIEVEMENTS
CLUB – Premier League, F.A Cup, F.A Community Shield, UEFA Intertoto Cup, UEFA Europa League, UEFA Super Cup
NATIONAL TEAM – Copa America
INDIVIDUAL – Pichichi trophy(2 times), European Golden Shoe (2 times), EFE trophy, 2010 Fifa World Cup Golden Ball.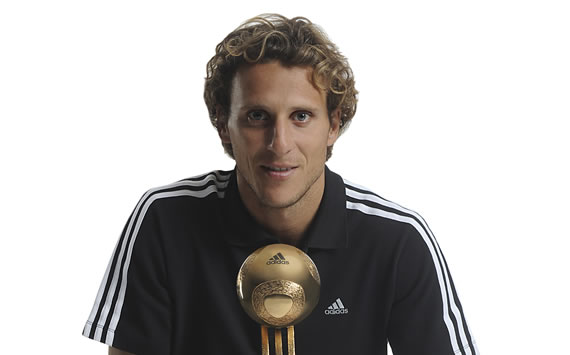 Forlan was a born Striker who had an inherent sense of opportunities for goal, he liked to play in the hole and support the midfield and make opportunities for others and take them as well. He possessed leadership skills and was a big motivator for the whole team. Even when down he found that extra bit of spirit that could change the course of a game. Humble and kind, he never got himself into controversies and stayed disciplined on and off the pitch. He is a true legend, a legend who should never been forgotten but now is completely lost!