The Merseysiders used to be considered as one of the traditional big 4 clubs, until some years ago. And it is no coincidence that their fall from the top and European football came at a time when they chose to go on a selling spree, cashing in on some of their most prized and valuable players.
With some of them still around, Liverpool could have gone ahead to win a first Premier League title or at least, remain a top 4 side.
Here are 3 of those players Liverpool should have never sold.
Luis Suarez
It's almost very certain that the first non-European to win the PFA Player of the Year award could have helped Liverpool to a first ever EPL title if he had remained at Anfield till date.
He had come close in the 2013-14 term after scoring 31 goals in 33 league appearances, only for the Reds to fall short of the prize by 2 points behind Manchester City with 3 games to go.
While there were some uncertainty surrounding his future at Anfield, the willingness and eagerness of Liverpool to always take advantage of selling their star players once the buy-out clause is met is more or less responsible for Suarez's sale in the long run.
Wenger offered to pay £40 million + £1 (£ 40,000,001), just a pound more than the player's release clause in August 2013, and while Liverpool were rightly irked with the Frenchman's decision, they showed no little hesitation when Barcelona came flashing £65 million in their eyes a year later.
Since Suarez left, no striker/player in the Reds Jersey have come close to even bagging half of the league goals he scored in his last season, and getting such a prolific goalscorer remains a struggle for the club.
Fernando Torres
El Nino's sales highlight the many issues Liverpool have always had as far as the philosophy of their once-active transfer committee goes.
Upon arriving Anfield from Atletico Madrid prior to the beginning of the 2007-08 season for £20million, the Spain international lit up the Premier League with his goalscoring exploits, bagging 38 goals in 57 appearances over the course of his first 2 seasons.
With such form, Torres' long-term suitors and admirers since his Vicente Calderon days, Chelsea, came back calling. Both the player and Liverpool denied the Blues any chance and hope of landing his signature whatsoever.
With the player claiming it would take many years before he leaves Liverpool, while the club's co-owner at the time Tom Hicks, also made very strong claims of how he wouldn't let the fans' favourite leave for any price.
2 and half seasons later, a British world record of £50 million was all it took to test Liverpool's resolve. And since the Atletico striker left, both club and player have been a shadow of their former selves.
Javier Mascherano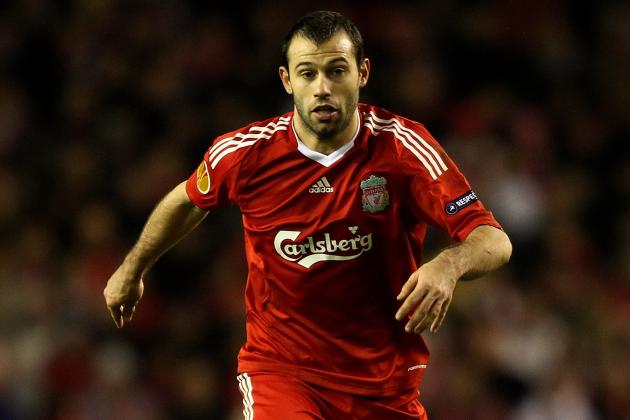 It was at Liverpool that the Barcelona man established himself as a defensive solid rock, and the Catalan club continues to reap where they haven't sowed, channelling the Argentine's strength and experience to their backline on a constant basis.
On another note, considering that they paid £17.25m for his signature in the summer of 2010, Barcelona actually sowed well after all, and have since gone ahead to appreciate his worth by extending his contract twice.
While Liverpool stalled in extending the contract of the Argentine powerhouse after spending 4 seasons and subsequently sold him, Barcelona's gesture towards his excellent services through handing him improved offers is his 7 seasons at Camp Nou is a lesson Liverpool can learn a lot from.
He remains a player that Liverpool should never have sold.