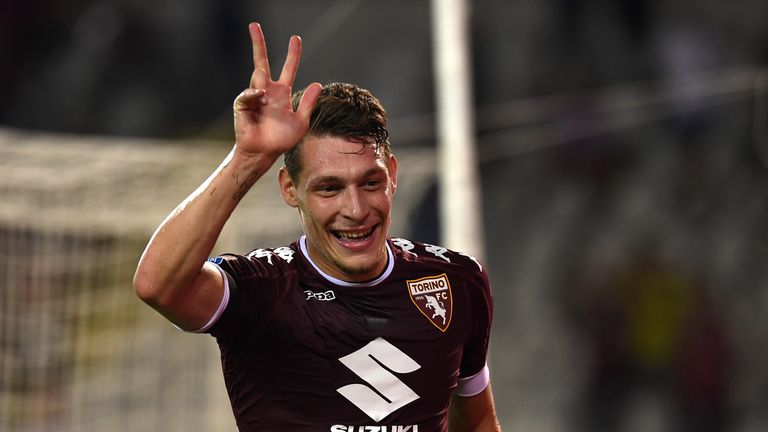 Every single team is looking to improve their roster for this upcoming half of the season, especially in the Premier League, where half a dozen sides are fighting side by side to earn the major distinction, and this second half of the year promises to be one of the most entertaining and disputed of the past few years.
One of the teams who is looking to keep the momentum going is Arsene Wenger's Arsenal, a side that has only lost one game this year, and since then they own a 15+ defeatless game streak, completely trashing opposing sides while being pretty decent on the defensive end of the ball as well.
So it's only natural to think that the French genius is going to look deeply into Europe to find another gem during this upcoming transfer market, and several rumours are starting to become stronger by the day as January approaches.
One of the rumours that have been getting more echo from the media and the fans is the one that links Italian wonderboy Andrea Belotti with the Gunners, as the striker is catching the attention of some of the biggest teams on the world right now.
Arsenal is currently looking for another striker, as nobody really trusts Olivier Giroud to be a consistent scorer, and there are serious concerns about Lucas Perez's and Theo Walcott's durability and ability to keep healthy through the years.
With that being said, Arsenal are then only left with Alexis Sanchez and with European games to play along, the team really needs a new reliable striker and alos, Alexis has been stalling his contract extensions talk and rumours will not take long to state that he looking to make a move to another team as soon as he has the chance to do so.
Having said that, signing Belotti could be one of the smartest things to do for the Gunners, as they've strucked out a dozens of times while trying to sign other players like Edinson Cavani and Alexandre Lacazette, so they could have better luck with a guy with a lower profile but the same kind of scoring talent.
Belotti is only 22 years old, so you know his peak and prime are yet to come, but he's already shown some outstanding scoring ability with Torino, earning a call to the Italian national team, where he scored a couple of goals against Liechtenstein.
The youngster has scored 8 goals to go along with 4 assists in 10 matches this season at Serie A, and his current value of 15 millions (according to Transfermarkt) make it a huge bargain for the Gunners if they decide to make a run at the Italian striker.
However, there's probably going to be a huge bidding war, as Liverpool, Borussia Dortmund and several other teams are also reportedly following Belotti's steps, so Wenger would like to work fast in order to become the frontrunner.
Belotti could be a great addition to Arsenal's current roster, and he could provide a lot of help off the bench during this second half of the season while he settles to be the starting striker.