Sir Alex Ferguson's tenure as manager may have been the greatest in United's history but a simple look at the season following his departure would tell you the ingenuity of Sir Alex Ferguson. Sir Alex possessed an incredible amount of charisma that he made a United team sans Mata, Fellaini and Januzaj win the premier league with eleven points over their closest rivals.
He pulled together an average team, as evidenced this season and worked wonders. When he decided to leave, no replacement would be good enough. In fact, the word replacement would be an overstatement. It wasn't possible to replace sir Alex Ferguson. Manchester United, who full well knew about the above, chose to find solace by appointing David Moyes as the successor of Sir Alex Ferguson.
While David Moyes was a good manager, he didn't have the man-management skills of Sir Alex and that was clearly visible in the fact that the team started falling apart. As the players started performing poorly, one player eclipsed all others in doing that. As you may have guessed, it was none other than Patrice Evra.
If there was one position in the team that needs an immediate replacement, it is the left back occupied by Evra. Long past his glory days, Evra has been a shadow of his former self and is widely criticized for his ineffective defending. So much was the criticism that David Moyes was scolded for not playing Alex Buttner against Bayern Munich in the second leg.
Although Evra gave United the lead, he was directly responsible for two of Bayern's three goals and as a consequence, United lost the tie. As the day passes, the calls to replace Evra are strengthening and it looks like Evra would find his way out of the club.
As the left back position is up for grabs, Manchester United are looking for a proper replacement who would do justice to his inclusion. Evra, more or less, for the last two years has been thrown to the wolves. Although his work ethic hasn't reduced, the quality of his performances has drastically reduced.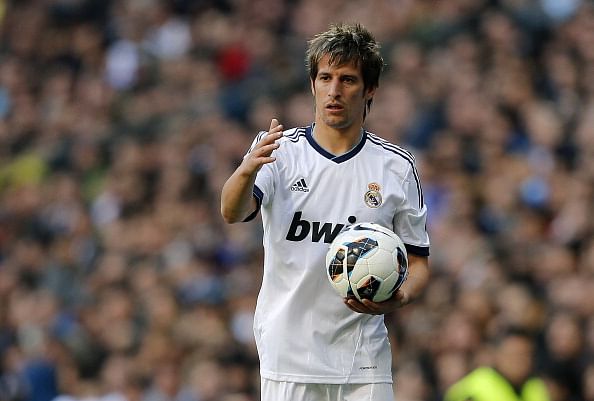 One of the first names that popped up for the left back position was Fabio Coentrao. The Real Madrid and Portuguese star, who had often been second in line to Marcelo was potentially looking for a move away from the Bernabeu and United came calling.
However, despite the melodramatic narratives of the press during the deadline of the summer transfer window, the move never materialized. While the team had really missed out on a necessary signing, the rumours never stopped.
Fabio Coentrao, has been a very good player for Real Madrid ever since his move in 2010 and it is sad to see him play second fiddle to Marcelo. And United have had a taste of Coentrao's ability. Last year, when United faced Real Madrid in the Champions League, Coentrao put in a masterful performance from the left side of defense.
Coentrao, like most others of his generation possesses a very good engine and is capable of running for the entire ninety minutes. But, to his bad luck, playing time has been hard to come by at the Bernabeu.
This entire season, he has made just eight appearances in the league and five in Europe. For a player of his caliber and determination, this sum is not nearly good enough. While the above information would suggest Coentrao is ready to leave Real Madrid, the question remains, should Manchester United buy him?
At the present situation, I being a United fan would go hands down to say that Manchester United fetch a decent left-back no matter who he is. The position has been so weak that the team's are deeply influenced by the lack of quality there. While having lack of quality is one, making sure that the player is a liability is another. Evra has been so bad that it seems safe to play without him. In such a despicable situation, Fabio Coentrao seems a very likely and plausible option.
His meager appearances and lack of reputation has greatly sized down his market value. It has been reported that he is available for £10m, at the most. Considering he is 26 and in his prime, that is a throw away price. While the reports of Luke Shaw at £27m do seem prospective, his big price tag puts a great deal of pressure on United's budget.
Coentrao, being Portuguese has a natural flair for attacking and contributes very well going forward. Having a strong left foot, he can put in good crosses while at the same time retreating and helping the midfield.
Unlike Evra whose pace was rather low, Coentrao has that in abundance and taking on skilled right wingers shouldn't be much of a problem for him. His performance against Robben in the semifinals of the Champions League this year showed that he has what it takes to keep one of the world's best right wingers quite.
With United's wing play looking weakened, adding Coentrao could bring much more flexibility and an option to play from the left side. To conclude, not only would Coentrao be an economical buy, his age suggests he would become a vital member of the squad and play an important role in Manchester United's rise from the downfall of this season.