Following Loris Karius' horror show in the Champions League final, Liverpool are reportedly in the market for a new goalkeeper. The Reds have been linked with several custodians and Stoke City's Jack Butland is the latest name in that list.
The England international, who has been a constant fixture for Stoke, has travelled to Russia as the Three Lions' backup goalkeeper for the World Cup. Butland usually finds himself among the best shot-stoppers in the Premier League as he finished the 2017/18 season with the most number of saves.
Despite all the qualities Butland possesses, he might not be what Liverpool need to solve their goalkeeping woes.
Not an upgrade over Karius and Mignolet
Butland plays for a team, which got relegated from the Premier League last season. And despite his impressive number of saves, he did let in 6f goals. Also, the fact that Stoke city are defensive team helps Butland in making a lot of saves in that system.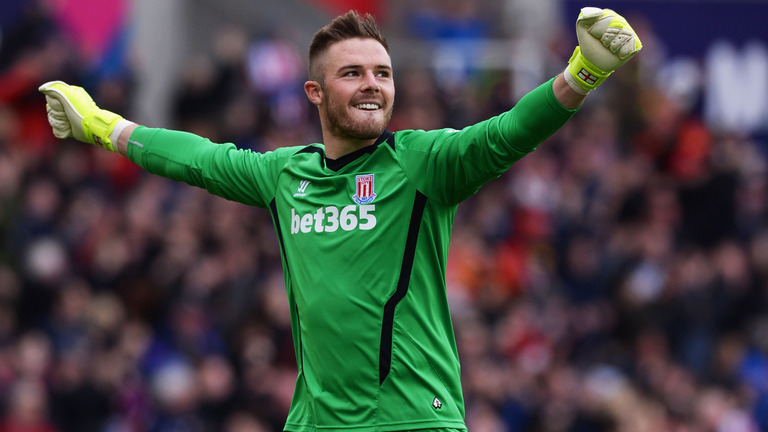 In an open system like Liverpool's, Butland will get exposed to shots from dangerous positions and open spaces. Thus, Butland is not an upgrade over Karius and Mignolet.
Injury Record
Butland endured a horrific injury which threatened his football career. The Englishman dislocated his ankle in March 2016, and it kept him out of action for more than a year. Such long-term injuries can ruin any footballer's career. However, Butland did very well to come back strongly from his lengthy injury layoff.
Even in November last year, Butland fractured his finger which ruled him out for almost 2 weeks. The 25-year-old has a worrying injury record and it's something Liverpool should consider before making a move for him.
Better options are out there
Jack Butland is a good goalkeeper but if Liverpool are looking for a custodian, who would make the starting XI week in and week out, they should go after a bigger name.
Although the likes of Jan Oblak and Alisson would cost the Merseysiders huge amounts of money, they are the type of goalkeepers, who can really make the difference in crucial moments.
Liverpool should look to sign an elite goalkeeper, who can single-handedly win matches for his team. Thus, Jurgen Klopp should spend big to land a world-class goalkeeper in the summer.