There is nobody in the world of football who manages to divide opinions as much as Wayne Rooney. The Englishman has been no doubt one of the best players to have graced the Theatre of Dreams, but there are many who feel he has failed to fulfill his potential.
But the fact remains that after 12 years at the club, Rooney has given his everything for the Manchester United shirt and deserves to go down as a legend for the club.
There have been rough patches along the way, there have been plenty of misdemeanours as well, the two transfer requests come to mind. But irrespective of everything, Rooney – who earns £300,000 a week – has always given his 100 percent each time he has been called upon and has made every Mancunian proud.
Let's take a look at five things that make the United and England captain a legend in his own right:
#1 All competitions at club level conquered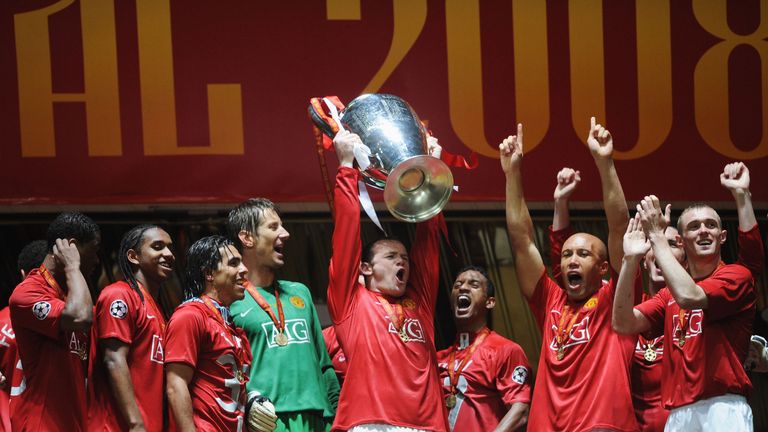 Wayne Rooney, with Manchester United, has won every title, every competition at the European club level, except for the Europa League.
The United captain has five Premier League trophies, all of which he has played a key part in. The Champions League victory in 2008 in Moscow will always a remain highlight of his career. He also has won the League Cup twice in 2005-06 and 2009-10, while he managed to get his hands on the much eluded FA Cup trophy last season as United's captain under Louis Van Gaal.
And add to that four Community Shields and one FIFA Club World Cup, it makes for a trophy cabinet that would make many envious.
#2 On the cusp of becoming United's leading goalscorer
Wayne Rooney is only one goal away from equaling Sir Bobby Charlton's record of 249 goals for Manchester United. Having already overtaken the United legend's total for the England National Team, the current United and England skipper, in his 536 appearances, has managed to score a whopping 248 goals and with two more goals, he will soon become United's leading goalscorer ever.
From his brilliant start against Fenerbahce, when he announced himself to the world in his very first Champions League game by scoring a stunning hat-trick in his debut at Old Trafford, to the famous volley against derby rivals Manchester City, he has scored plenty of important and breathtaking goals for United.
And when he reaches this huge milestone, which should not be very far given his sudden upturn in form after a poor start to the season, he will surely etch his name in the annals of history at United.
#3 Always a Team Player
Never to shy away from a responsibility, Wayne Rooney has always stepped up for the team's cause. From playing as a second fiddle to Ruud van Nistelrooy in his early days at United, to being under the shadows of Cristiano Ronaldo, and then leading United's attack through the late 2000's and the early part of this decade, Wayne Rooney has done everything that has been asked of him.
He even started playing in a deeper midfield role over the past few seasons to make up for his loss in pace as age caught up with him, while this season again he has shown his versatility, playing in a No. 10 role, or out on the wings while leading the line at times under Mourinho.
He may have had a period where he seemed unsettled at the club, but he always has put the team's needs ahead of his personal preferences. A true team man.
#4 The Never Dying Spirit
Throughout his glittering career, Wayne Rooney has never had it easy. Always under the microscope, always under constant criticism, he has had to endure a tough time. He has always had a point to prove to his detractors who seem to be around the corner at every moment.
But he has never backed down from the fight. Each time it seems that the burden or the pressure is getting to him, he bounces back and proves he is a class act.
Injuries seemed to have slowed him down, and his age caught up to him, but never one to give up, the former Evertonian reinvented himself as a midfielder. There have been barren spells, goal droughts throughout his career but he has always emerged as a stronger player from each bad spell.
Even this season, the critics were having a field day, owing to his poor start, but once again with his performances, Rooney has shown his value to this team. He may not be the player he once was, but the attitude he brings, the passion, the fire in him is inspiring, to say the least.
#5 Longevity
It's easy to forget how long Rooney has been around at Old Trafford. Having signed in 2004 as an 18-year old, for the highest ever fee paid for a player under 20 years at that time, 'Wazza' has played with the likes of Roy Keane, Edwin van der Sar and Paul Scholes, to players such as Anthony Martial, Jesse Lingard and Marcus Rashford.
In that time, he has seen his former teammates and Manchester United legends such as Ole Gunnar Solksjaer, Ryan Giggs, Gary Neville, Roy Keane, et al., retire from the game and eventually went into management.
Since his arrival in 2005, Rooney has played with numerous strikers. Ruud Van Nistelrooy, Cristiano Ronaldo, Dimitar Berbatov, Robin van Persie, Radamel Falcao, the list just goes on. Summer signing Zlatan Ibrahimović went on to say that, "The perfect partner for a striker is Wayne Rooney. He works not only for himself but for the striker and the whole team," describing his partner in crime.
Rooney has continued breaking the goalscoring charts and having represented the club for over 500 games and scored almost 250 goals, he is nothing but a United legend.