Here are the five players on whom England's World Cup chances hang in the balance as the Three Lions book their tickets and get their boarding passes stamped for destination Brazil.
Steven Gerrard: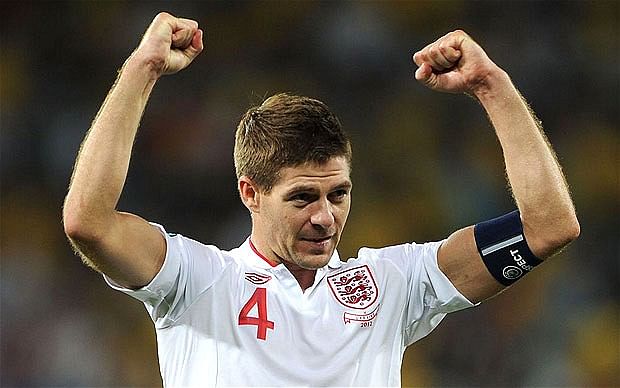 The English captain will in all probability play in his final major tournament and the Liverpool skipper is expected to hold fort in midfield for the national side. Gerrard will don the quarterback role for England, slotting in between the center backs, trying to dictate the play from the deep as he would be looking to pick out passes alongside Jack Wilshere or Jordan Henderson the centre of the park. His defensive contribution, though will come under the lens with the 34 year might be left exposed by Uruguay and Costa Rica's fast counter attacks. Against Italy too, as the Euro 2012 clearly depicted he could be relegated to an anonymous role given the Azzurris' brilliance.
Gerrard stands as the last man in England's golden generation, which has under performed time and again. While, he might have slipped in the title race, his performance against Peru is a testament to his desire to help his nation to win a major competition.
Raheem Sterling:
What a season this has been for the youngster. The 19 year old is set for new £100k-a-week contract at Merseyside once he returns from Brazil. The teenager's meteoric rise from the hands of gossip mongers to winning an International call up, this season will see him earn a huge 1,700 per cent pay hike just 18 months after signing a deal with the Reds.
There are enormous expectation on Sterling given that he will definitely be handed a vital role in the team, be it in the starting XI or an influential sub. And after showing immense tactical flexibility on playing in either wings and also on the top of Brendan Rodgers' flexible 4-4-2 diamond, expect Sterling to cause problems to Italy and Costa Rica with his direct running and intelligent movement off the ball. Sterling, who started in the middle against Peru moved to the left wing as the game progressed and in fact his versatility has left England manager Roy Hodgson with a headache as he admitted that he doesn't know where to play Raheem Sterling in the team.
"I'm not even certain I want Raheem Sterling to have a best position necessarily. I'm happy with what he's done all year and happy he seems to bring it to an England shirt as well, so that's very positive,"

"But I'm not prepared to say as yet what my prototype team is and whether he's in it. What you can say is that in those areas we have enormous competition." concluded Hodgson.
Gary Cahill:

The 28 year old Englishman was the focal point for Chelsea's parsimonious defense in the 2013-14 campaign and is also expected to lead the line at the back for the national side. Cahill and Jagileka will have to lead the line at the back in the absence of big names like John Terry and Rio Ferdinand but England can afford to remain calm given Cahill's brilliant season with the Stamford Bridge outfit. He is a brilliant defender who doesn't commit into challenges and has good recovery skills which will be central to the Three Lions' encounters in the Group stages against the mighty Italians and the dangerous Uruguayans.
The defender who will be lining up in his first International competition for his national side has claimed that he his happy with his defensive partnership with Everton ace Phil Jagielka.
"I think we've got a good understanding, which comes from playing a few games together now, as it always does. You don't all of sudden hit it off straight away.

"I feel we hit it off quite quickly and there is definitely an understanding in each other's game.
Daniel Sturridge:

For the first time, perhaps, it would a Liverpool striker who could grab all the attention in the World Cup finals as Daniel Sturridge looks to be in the form of his life. As the goal against Peru suggested, the 24 year old Reds' striker who scored 21 goals and grabbed 7 assists in 29 games, will lead England's charge up front. However the lack of experience to deliver in big occasions might count against him while he also looks lost when isolated by a tight opposition defensive unit who allow very little space.
Wayne Rooney:
The recent talks of Rooney 'ought to be dropped' can however take the back seat as the Three Lions enter Brazil with huge expectations, but little realistic dreams of going on to win the coveted trophy. The Manchester United talisman will no doubt have huge pressure to perform in Sambaland but make no mistake the talent that the 28 year old has at his disposal, he can change any game by the scruff of the neck. Rooney is expected to form a fostering partnership with Sturridge up front as  Hodgson is expected to name a 4-4-2 setup. Could this be Rooney's tournament? I for one feel it's a no brainer, who knows lesser expectations sometimes create the greatest of inventions.