Barcelona were lucky enough to leave Anoeta with a point as Sociedad's unbeaten home  record since 2007 against the underwhelming Catalans stood.
After missing a couple of chances in the 1st half, with Barcelona creating none, the hosts weren't going to be denied any longer after the break, and Willian Jose was quick to head a rebound beyond Pique's reach after a Stegen's initial save for his 7th La Liga goal of the season.
Barca immediately hit back, as Neymar and Messi combined to draw the Camp Nou outfit level a little less than 6 minutes after going behind. Bar a Neymar free kick, the visitors couldn't test Sociedad's goalie afterwards.
While the Mexican international Vela, came close to handing his side a 4th consecutive La Liga win over the defending champs at Anoeta on 2 different occasions, with only the crossbar, the upright and a wrong offside call saving the visitors from a deserved loss.
So how did Barcelona perform at the jinxed ground?
Ter Stegen
Unconvincing!
Some nervy short and long passes from the German who also did nothing to come near saving Vela's efforts.
Rating : 5/10
Sergi Roberto
Wasn't a great performance from the makeshift full-back, with his defending and attacking leaving a lot to be desired.
Barcelona definitely needs a proper right-back. Perhaps, El Classico will help them with a crucial decision-making.
Rating : 5/10
Pique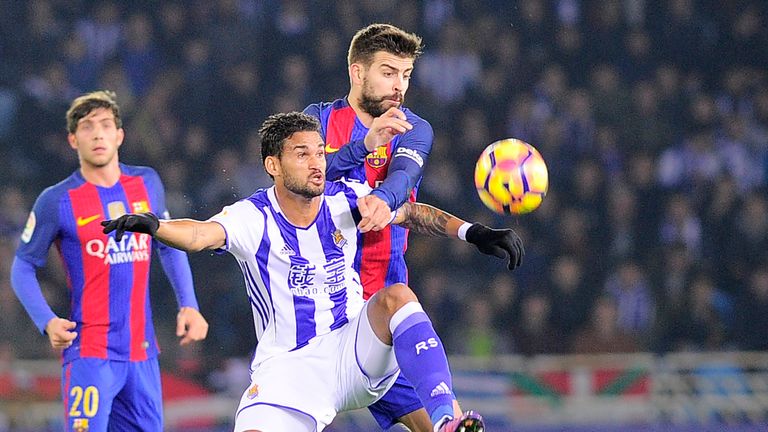 Picked up a knock to his ankle in the first half and forced himself to remain in action due to the lack of quality option on the bench.
And it didn't help as he failed to mark his man in the build-up to the hosts' goal, while he could only bundle a simple clearance into his net seconds later.
Rating : 4/10
Mascherano
His worst display in the plethora of bad performances he has had of recent.
Vela's speed was too much for him to handle, and he failed to do better with a poor interception in build-up to Sociedad's goal.
Rating : 4/10
Alba
The last of Barcelona's quality defensive dying breed. Shook off a knee injury to give his best to a shaky defence, and made a great interception in the closing minutes of the game.
Rating : 7/10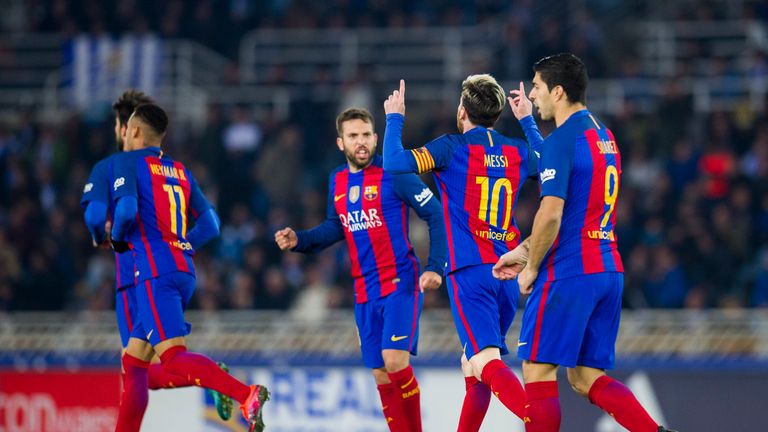 Rakitic
A poor first half saw him get withdrawn for the 2nd, as he looked to be out of sorts with his passes and positioning.
Rating : 5/10
Busquets
A combination of the good and bad from the once-very-reliable defensive midfielder.
Looks unable to return to the peak following a series of below-par performances.
Rating : 6/10
Gomes
Probably Barcelona's worst signing over the summer.
Just couldn't produce anything worthwhile with his performance in the heart of the midfield.
Rating : 5/10
Neymar
Wasn't in his best form, but did brilliantly well to beat 2 defenders before teeing up Messi for the equaliser.
Also came close to scoring with a great free kick.
Rating : 7/10
Suarez
Hasn't quite been in great form in front of goal of recent, and despite not seeing much of the ball, his lack of offside awareness saw him waste some good Neymar passes.
Rating : 5/10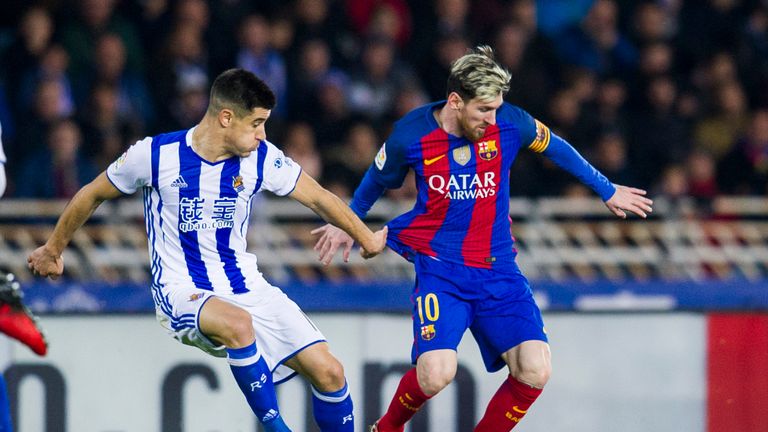 Messi
Took just a moment of genius from the reigning best player on the planet to help Barcelona get into the game. Was thoroughly marked by Sociedad's defenders all day.
Saved Barcelona's for the umpteenth time.
Rating : 8/10
SUBSTITUTES
Denis Suarez
Had a chance to put Barcelona in the lead after replacing Rakitic but played a weak shot at the goal after rounding up Rulli.
Was one of the best players of the night and looks like a better option ahead of the currently fit attacking midfielders for the Classico.
Rating : 6/10