Final Score: Everton 0-2 Manchester United
Manchester United beat Everton 2-0 in the Premier League earlier in the day to seal 3 points and leapfrog Chelsea to occupy the 2nd spot in the points table once more. Goals from Anthony Martial and Jesse Lingard ensured that the Red Devils walked away with a victory.
Jose Mourinho's men have been subjected to a lot of backlash after their lacklustre display against Southampton. In the initial stages of this game, United looked drab once more but the second half saw a miraculous change as both Martial and Lingard got their names on the scoresheet.
Let's take a closer look at how each player fared against the Merseyside club.
Manchester United Player Ratings
David De Gea – 7/10
De Gea did not have much to do between the sticks but his distribution was a bit off. However, he will be happy to have embarked on the new year with a clean sheet.
Victor Lindelof – 6.5/10
Struggled on occasions against Yannick Bolasie and Aaron Lennon but he was quite decent otherwise and put in a good shift at right-back to fill in for the suspended Ashley Young.
Phil Jones – 7/10
Jones made some good clearances and was one of United's better defenders. He linked well with Rojo to put up a resilient display.
Marcos Rojo – 7.5/10
His display against Burnley was quite poor but against Everton, he did quite well and kept threats posed by Niasse at bay.
Luke Shaw – 7.5/10
Shaw put in a reassuring display and provided ample support going forward. He even made a crucial clearance towards the end of the game.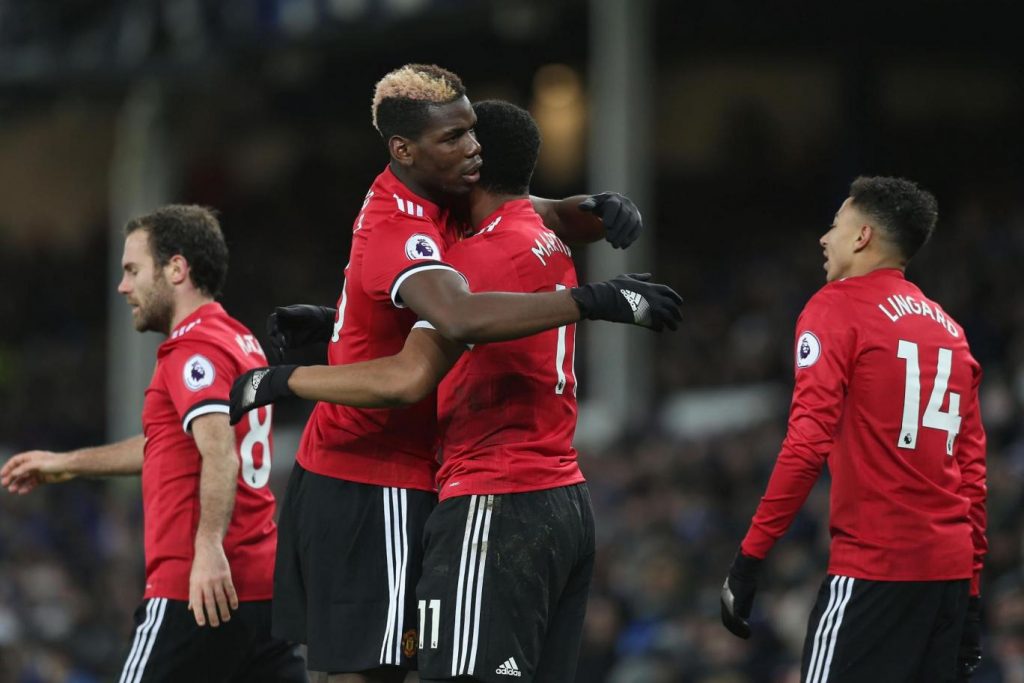 Nemanja Matic – 5.5/10
Matic looked exhausted and one cannot blame him. He needs to be rested and that was clear in his lack of movement on the field.
Ander Herrera – 6/10
He lacked composure initially but then went on to do better as time wore on.
Paul Pogba – 8/10
Pogba was the captain and he definitely played like one after the break. He got forward and played a key role in both goals.
Juan Mata – 7/10
He lacked power in the first half but was quite influential after half-time. He even got close to scoring but the ball hit the post.
Jesse Lingard – 8.5/10
Lingard was a fantastic player for a good majority of the game and created a lot of gaps for his teammates and ultimately scored a goal as well.
Anthony Martial – 7.5/10
Scored a brilliant goal and did well in the second half as he played as the central striker.
Subs:
Marcus Rashford – 6.5/10
He livened things up to an extent and brought some energy into the game.
Daley Blind – N/A
Came on with barely 3 minutes to full-time and did not have much time.
Axel Tuanzebe – N/A
He came quite late and could not do much.