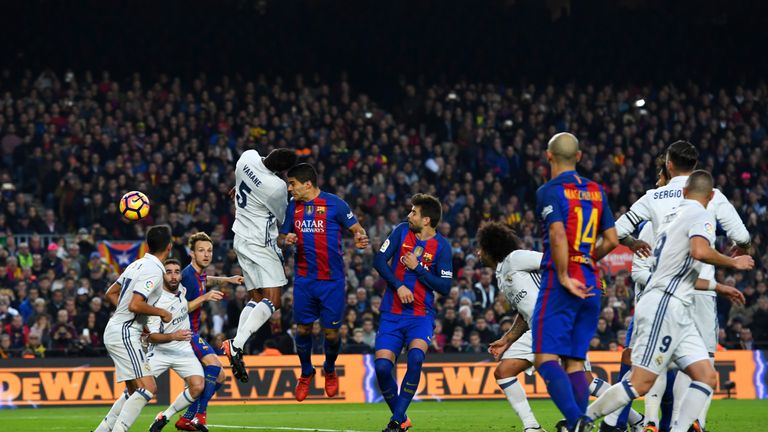 Barcelona only have themselves to blame for not closing down the gap between them and Real Madrid to 3 points after watching the capital club come back from behind to secure a point at the death.
A dour first half saw the hosts produce nothing meaningful, but Suarez's goal just 8 minutes after restart brought Barcelona back to life.
Neymar and Messi wasted a sitter each, and that came back to haunt them, as Ramos headed Modric's free kick into the hosts' net just at the very end of the Clasico proceedings.
How did Enrique's men fare in the game that failed to live up to expectations?
Ter Stegen
Did well to pull some decent saves the few times he got called into action, but didn't serve the ball well despite his reputation.
Got beaten by Ramos' header, but it wasn't a fault of his.
Rating : 8/10
Sergi Roberto
Put in a great display at the back and quite surpassed expectations.
Didn't do really excellently well the few times he went forward but stood up against Marcelo and duly kept the Brazilian in check.
Rating : 7/10
Pique
Impressive defensive performances that reminded us of the old Gerard Pique.
Could have capped a great outing if only he made good use of his height and jumping powers just when Barcelona needed it most.
Rating : 8/10
Mascherano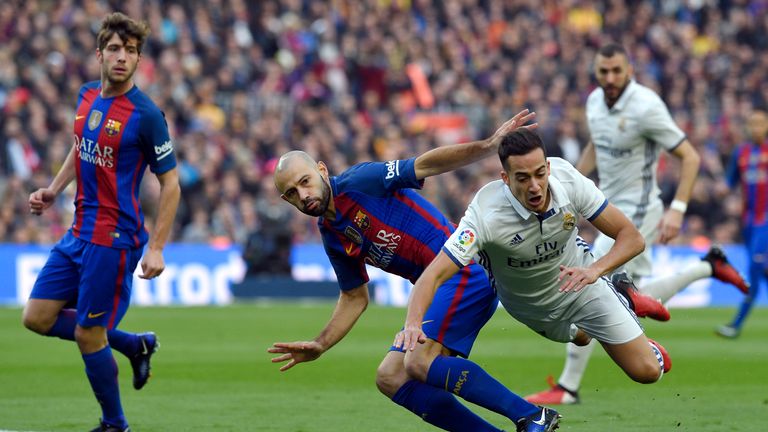 Almost conceded a penalty after appearing to trip Vazquez minutes after the game started.
But hardly put the wrong feet forward afterwards as he successfully pocketed Ronaldo all game.
Rating : 8/10
Alba
Intercepted a Ronaldo header that appeared goal bound just a few seconds before Madrid's equaliser and also challenged Benzema when the French man had only Stegen to beat.
Did well going forward as well.
Rating : 8/10
Rakitic
Couldn't do much to influence the game as expected, and was withdrawn for Iniesta who provided the spark Barcelona's midfield had lacked all game.
Rating : 6/10
Busquets
Unarguably his best performance in a Barcelona shirt in a while.
Completely closed down the midfield against Madrid in the 2nd half and took one for the team when it mattered most.
Rating : 9/10
Andre Gomes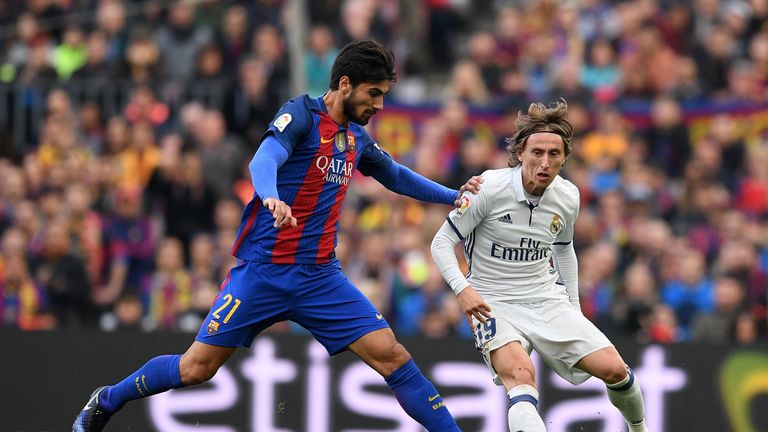 Unassured display again from the Portuguese midfielder who did nothing to note upon moving into the middle.
Too early to conclude he is bad business for Barcelona?
Rating : 6/10
Messi
The Argentine has now gone 6 consecutive games against Madrid without scoring and blasted the only clear opportunity he saw following a fine Iniesta lay on wide.
Rating : 7/10
Suarez
Didn't do anything worthwhile save his goal.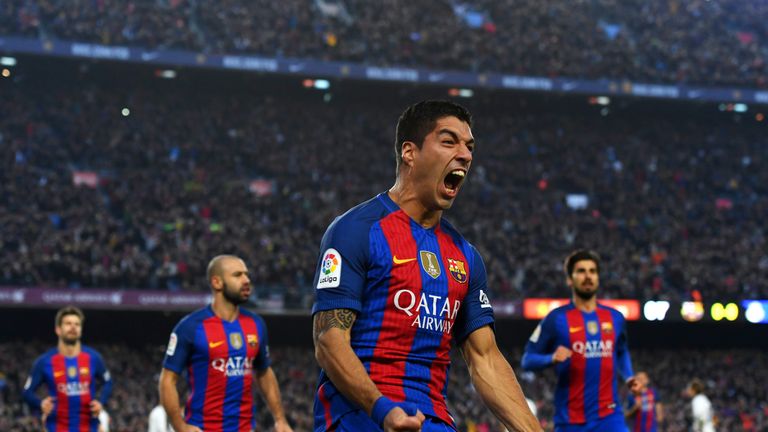 Rating : 7/10
Neymar
His free kick gave Suarez the goal but the Brazilian should have done better when he had a clear chance to put Barcelona into a comfortable lead.
An exquisite piece of stepover sent Carvajal packing, and all the Olympic gold medalist had to do was to score from a yard, but he could only send his shot into the stands.
Rating : 7/10
SUBSTITUTES
Iniesta
Changed the course of the game, as he brought verve to Barcelona's midfield.
Barcelona would have done much better if he played more minutes.
Rating : 8/10
Turan
Gave Real Madrid a needless free kick that resulted in the equalising goal.
Rating : 4/10
Denis
Had no time to do anything.
Rating : Unavailable