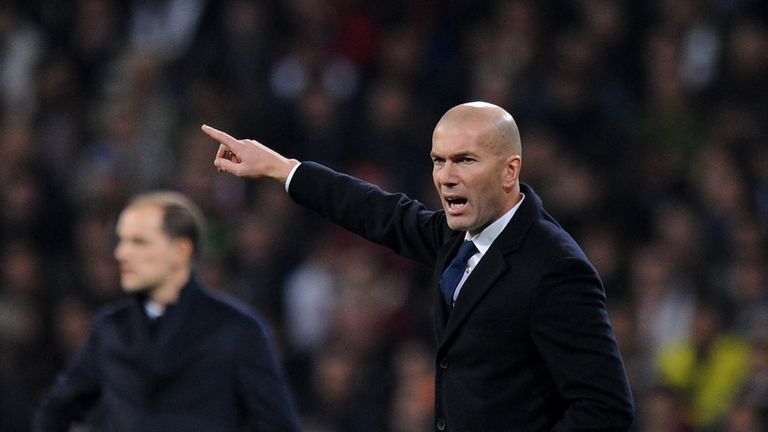 Real Madrid could only finish as runners-up of Group F after watching Borussia Dortmund come back from 2 goals down to earn a draw at the Bernabeu on Wednesday night.
The Germans were topping the Champions League group with a point heading into the game, but Madrid overtook them temporarily as Benzema bagged a brace to land his 49th and 50th goals of the continental showpiece on his 88th appearance.
However, Madrid-target Aubameyang launched a comeback for the visitors with a goal on the 1-hr mark. Saves from Weidenfeller, an off-the-line clearance by Reus and Ronaldo's striking the foot of the post combined to deny Madrid of a chance to extend their lead.
Following on Marcelo's error, Dortmund bounced via Aubameyang and Reus to snatch an 89th-minute equaliser.
Which players performed best and otherwise?
Navas
Got called into action to keep Schurrle's free-kick away from entering and also denied Pulisic at close range.
Couldn't have done anything to prevent Dortmund's goals.
Rating : 8/10
Carvajal
An impressive display from the Spaniard all game, as he dominated his flank and supplied Benzema with a superb cross for the first goal.
Was lucky not to have seen his push on Aubameyang result into a penalty in the closing stages of the game.
Rating : 7/10
Varane
Kept up with Aubameyang's pace for much of the game but wasn't near the Gabonese when he raced down the right flank to assist the visitors' equaliser.
Rating : 7/10
Ramos
No late minute heroics from the skipper this time, and was well beaten by great pace during build up to Dortmund's 2nd goal.
Rating : 7/10
Marcelo
Blasted some efforts wide at the other end and wasn't convincing with his defending.
Saw Mor steal the ball from him, giving the Germans the opportunity to break away to land a blow on Madrid's top spot dreams right at the end.
Rating : 5/10
Lucas Vazquez
Took charge of his wing quite well, but appeared not to be in sync with Ronaldo as his efforts to play passes to the Portuguese were either too late or too early.
Rating : 7/10
Casemiro
Brought the midfield solidness and did a lot of defending to keep Dortmund from carving up as many chances as they would have loved in Madrid's half.
Rating : 8/10
Modric
Commanding display in the heart of midfield for the Croatian, but once misplaced a pass at the edge of his box that might have cost Real Madrid dearly in the first half.
Rating : 8/10
James
Saw Weidenfeller thwart his efforts on more than 1 occasion as he could have gotten on the scoresheet as well.
Supplied an accurate cross that met Benzema's head for Madrid's 2nd goal.
Rating : 8/10
Ronaldo
Was unlucky not to have found the net for his 500th club goal after beating the German goalie with a well-placed tame strike that could only hit the post.
Rating : 8/10
Benzema
Contributed a lot in the final third and was in fine form to bag a brace that put him amongst the category of just 6 players to have scored 50 Champions League goals and more.
Rating : 9/10
SUBSTITUTES
Kroos
Came on to get some match fitness.
Rating : N/A
Morata
A very late substitute as Zidane searched for a late winner.
Rating : N/A