Ouch! – The Frustration Of Watching The English National Team Play
England is a proud nation and a nation that loves our sport. But we love no sport like we do football, and most of our lives revolve around the sport; our friends, emotions for the week and sense of pride, all come from the "beautiful game." But yet, as a proud Englishman myself, I feel frustrated by the English National team. It seems backwards and nonsensical at times. For a nation that won the 1966 World Cup and ranked 13th in the FIFA World Rankings currently, some basic aspects are being missed. So this is why the English National team frustrate me and Gareth Southgate needs to do something to get England back to its former glory.
Lack Of A Leader
England need a powerful Lion to lead them, a man with experience, ability, no fear, and most importantly, somebody vocal, who can both rile up or calm down their team in equal measure. England do not have that right now. The captaincy has changed so much over Southgate's reign, with Kane, Cahill, Rooney, Henderson and Hart all wearing the Armband for the 3 Lions. We need a consistent leader who would be the first name on the team sheet. So a player with both leadership qualities and football ability is the need of the hour.
Say what you want about Rooney, but he could do that. He was the man the likes of Rashford, Barkley and Lingard looked up to. Compare him to a player like Henderson and the difference is staggering, I doubt Henderson will excite a young player, like how Rooney did. Even Cahill isn't good enough. He may be Chelsea's captain but he looks like a fish out of water in this leadership role. At times, he has lapses in concentration and makes stupid mistakes in key areas – definitely not someone a young player would want to look up to. Kane, in time, could fill in this leadership role we need, but he needs time to develop and learn; for the present day, without a pre-set leader, England look like a handful of Kittens rather than a Pride of Lions.
The players
The day the squad comes out for the next set of international fixtures there is a buzz in the air among the journalists, fans and players. The players and fans will be refreshing their news feed until the announcement. But imagine their disappointment and disbelief when they see Jake Livermore, Phil Jones and Defoe in the team! It made me angry.
Jones is technically poor and uses a combination of prayer and reliance on other players to see the game through, and when the man you are relying on is Gary Cahill, as an England fan, you begin praying. But of course, Gareth Southgate states "that he (Jones) is one of the best England defenders around," really Gareth? Do you want to borrow my glasses?
Jermain Defoe himself is enjoying an 'end-of-the-career renaissance'. Playing reasonably well at Sunderland, his form allowed him to jump ship to Bournemouth after Sunderland sunk to the Championship under David Moyes. Yet, his ageing legs and style of play make him ill suited to England. But, of course, he is included in the team!
What does he add to the squad? And what does he gain? The answer to both these questions is nothing! A young English player like the 6ft 3in, 19-year-old Tammy Abraham (who is a regular at Swansea) would gain more from being called up to the senior squad and would add a new dimension to England's game than a 34-year-old 5ft 7in striker, who cannot even get into the Bournemouth team due to weight issues.
But Jake Livermore takes the biscuit – a man who cannot even get a regular spot at Tony Pulis's West Brom is included in the lineup. He is a man who was tested positive for Cocaine in his last England call up over 3 years ago; a Tottenham Hotspur and Hull City Castoff. If he can get into the England team, then anybody can. So readers get the boots out, you could get a call up soon! A danger only to the team he plays for, Jake Livermore is a man England fans will hope they don't see in an England shirt anytime soon.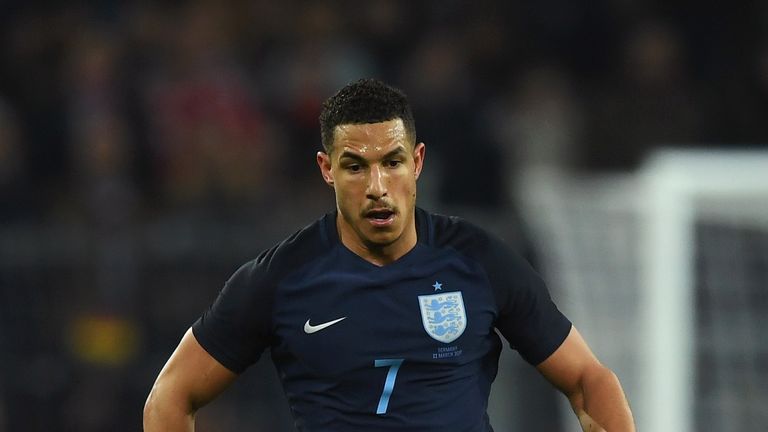 The Formation And Tactics
A formation is pivotal to a team's performance, and it gives each side a sense of identity. Over the years, formations have changed from the 2-4-4 in Victorian times to a less gun-ho 4-4-2 we saw in more recent years. But of course, the Lions don't have a regular formation. Southgate has toyed around with a difficult and a mentally taxing 3-4-3. This is arguably one of the hardest formations to play, due to the reliance on 3 natural defenders with 2 wing-backs. England, at the best of times, usually have 2 half decent centre-backs. So playing this formation against Euro 2016 runners up France was suicidal. And my point was hit home, with England losing 3-2 to Les Bleus.
Southgate has a plethora of fast, technically gifted wide men including Sterling, Lingard, Oxlade-Chamberlain and Welbeck to name a few. He also has in his Arsenal, a lethal 6ft goal-poacher in Harry Kane – a match made in heaven. So all England have to do is cross the ball. What do the Lions not do? Cross the ball. Instead, the team play ball to feet and try and rely on the brilliance of Alli, Rashford and a handful of others to get the goals. NO! At least Southgate is learning, dropping his 3-4-3 in favour of a 4-3-3, which still is not what we need.
We are a proud nation. England is the birthplace of Football. It was created by the local schools all the way back in Victorian times and it was popular among the working class and simple people. We are not over the top and technical, but simple and highly effective. Southgate, please experiment with a classic 4-4-2. Stop playing Rashford as a winger. He is an out and out centre-forward and I will fight both Mourinho and Southgate who seem to think otherwise.
Play Kane and Rashford up top, with the technical ability of Deli Alli in midfield patterned with a more defensive partner in Dier or Henderson. Then deploy the power of Chamberlain on the Right and the Pace of Sterling on the left. This will allow the crossing I was talking about. If we need a more attacking stance, the formation could adapt to a 4-2-4. If England get overpowered in midfield, it can be adapted to a 4-2-3-1. Simple, effective, adaptable and deadly evident in Leicester City's title win with this formation.
Will I stop watching England? No! As much as I hate some aspects of the team, I love England. I really think Southgate can thrive too as he is only the 2nd manager to both play and manage England. Not to mention he brings the youth through from the Under-21's which is all but overshadowed at times by his other questionable decisions (*cough* Jake Livermore). For England to thrive once more and regain the dominance of the sport created by the English, the Lions will have to show their teeth and prove that England does still rule the waves.