Exceptional Salah, Impressive Henderson – The best and the worst-rated players as Liverpool thrash Watford 5-0
You tell the headline, he'll tell the story. Mohamed Salah was yet again in the middle of things, as he scored four and created one for Roberto Firmino, which in turn, saw Liverpool beat Watford 5-0. Right from the first minute, the Reds saw more of the ball and undoubtedly, were quicker in moving it forward. Salah opened the scoring with a beautiful piece of skill just after three minutes, netting with his right foot.
On a night when Liverpool are relentless, one can hope for a lethal counter-attacking goal to take place and that's exactly what happened against Watford. Mane set Robertson free with a delightful out foot pass, which was then crossed to the onrushing Salah for him to kill the game before halftime. Firmino's flick was sweet and beautiful to watch whereas otherwise, the Reds only kept attacking with flair and intent.
Danny Ings tested the keeper twice and proved to be a fine substitution. For the Hornets, apart from a Pereyra free-kick which struck the post, and a feeble Richarlison header, there was absolutely nothing to show. They tried to force a move but were mostly outnumbered in midfield. The Mo-Das touch worked wonders yet again at Anfield.
Here are the Liverpool FC players' ratings –
Loris Karius: 7/10
Apart from one easy grab, Karius had nothing to do. His distribution was accurate and alright.
Joe Gomez: 8/10
Gomez's delivery and the whip in his crosses were both top notch. Defensively, he was fabulous and applicative.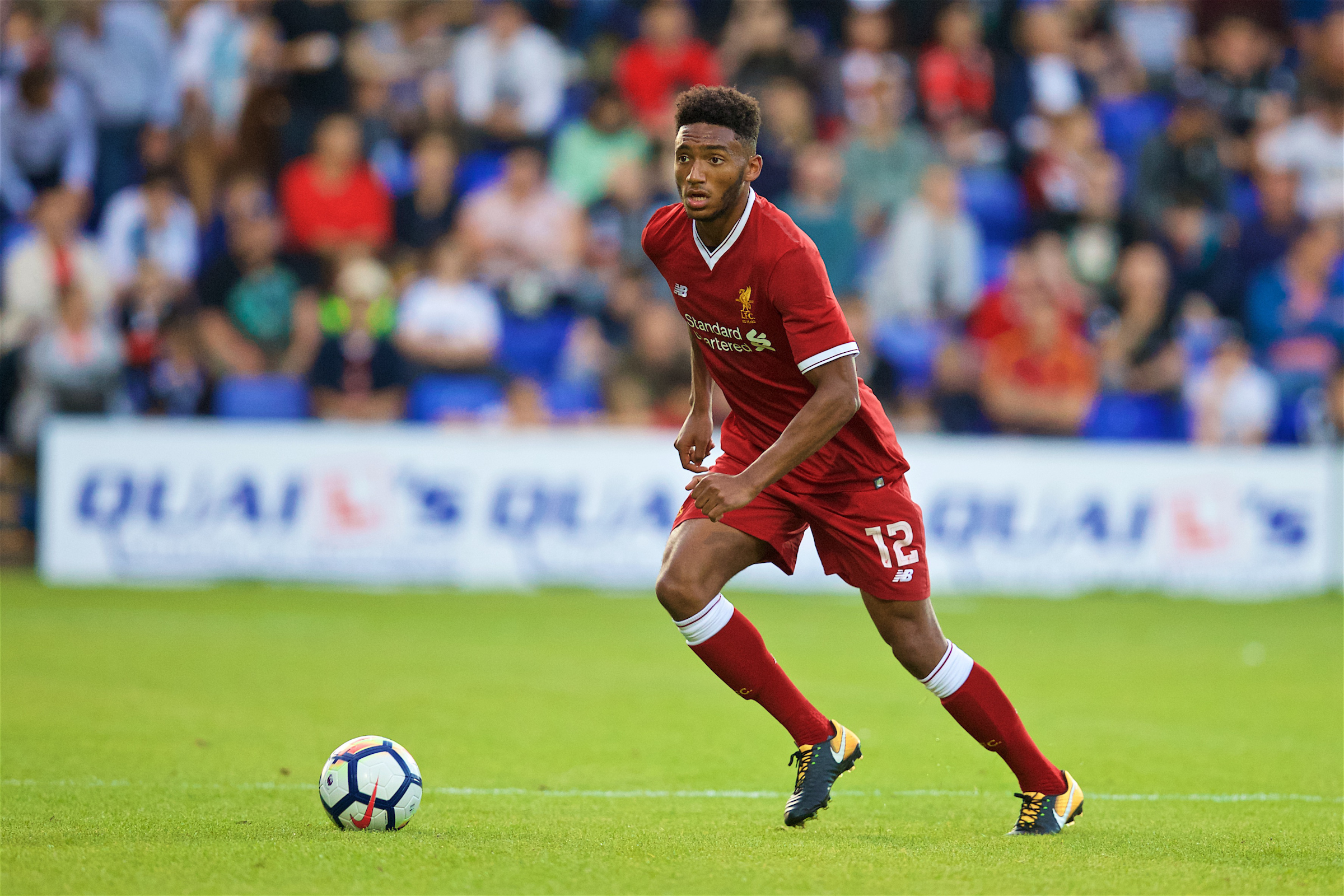 Virgil Van Dijk: 7.5/10
Not much to do but regardless, was majestic at the back alongside Matip. As expected, Van Dijk was unbeaten in the air.
Joel Matip: 8/10
Matip was quick to cover ground and space. He challenged well and blocked shots and crosses.
Andrew Robertson: 8.5/10
Robertson's aggression and intent were clear as he tried to choke Watford down the flank completely. Yet again, the youngster showed sharpness in his delivery with a peach of a pass to Salah for the second goal.
Emre Can: 6/10
Unlucky to have been subbed off. In his short spell, Can looked a bit unsettled.
Jordan Henderson: 9/10
Henderson absolutely cruise-controlled the midfield. His presence, positional sense and defensive contribution were unmatched. Apart from that, he sprayed passes all around the pitch. Henderson's over-the-top passes and through balls were a treat to the eyes.
Georginio Wijnaldum: 6.5/10
Allowed Robertson to press forward and attack, by sitting deeper. He held off challenges and kept the flow of the game going. Despite a fine display, he was the least attractive of the midfielders.
Mohamed Salah: 10/10
Absolutely no words to describe the Egyptian. He was in top form, running down all channels, working his way past the defence, wrong-footing the defenders and scoring various stunners. While one had craft and skill in it, the other had the sheer strength to hold off Doucoure's challenge. One was a poacher's finish whereas the other proved how sharp and clever his movement is. He has already surpassed Luis Suarez in his best season for Liverpool and seems unstoppable.
Sadio Mané : 8.5/10
Was made to perform the playmaker's role, and boy, he performed. Mane was directly involved in two goals and despite starting in a deeper role, he carried the ball forward brilliantly. He set players free and sent Watford packing for sure.
Roberto Firmino : 8.5/10
Worked harder than anyone else, ran the extra yard, scored a beauty and always looked around for either the full backs, Salah or Mane.
Substitutes –
James Milner : 7.5/10
Enjoyed total control in midfield, set up for the forwards superbly and never stopped running. Played a hand in two goals, which only speaks of the midfield's dominance.
Alex Ox-lade Chamberlain : 6.5/10
A satisfactory performance. Showed good feet and kept the rhythm going.
Danny Ings : 8/10
Provided extra energy going forward. He responded to through balls, controlled it well and took his shots away brilliantly. An assist to his name for the 5th goal.