Robert Green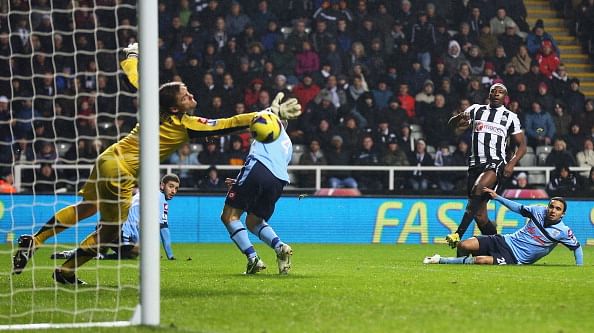 Robert Green has just played 12 international games for the country. After a disastrous World Cup performance in 2010, Green has found it hard to make it to the national team squad. The last time he played an international game for England was way back in 2012. Also, he had lost his place at Queens Park Ranger to Brazilian goalkeeper Julio Caesar, who mostly started for the club. After Julio Caesar left the club for good this season, club manager Harry Redknapp handed over Robert Green the responsibility of protecting the club's goal. The 35-year-old custodian has so far delivered well for the club. He has pulled off some impeccable saves and is the best English goalkeeper in the league by all means right now.
Calum Chambers Gary Cahill Phil Jagielka Leighton Baines
Calum Chambers impressed everybody last season while playing for Southampton. The young English defender, who can play in any position in the defense was bought by Arsene Wenger this season to improve his squad depth. Calum Chambers was never considered as first team player by Wenger until Mathieu Debuchy got injured in the very beginning of the season. Since the young defender has broke into the first team and grabbed quite a few eyeballs with his matured game. Roy Hodgson has surely got a great prospect in his hand.
Gary Cahill and Phil Jagielka has been the standout performers for their respective clubs as well as the national team for quite some time now. After the retirement of John Terry, Cahill has been the pillar at the English defense. Jagielka too has done well for both country and club. He too has been the standout defender for his club.
Leighton Baines has always been a superb full back. Irrespective of being a fantastic prospect from the beginning of his career, Baines had never switched loyalty from Everton. Due to the towering presence of Ashley Cole, Baines could never make it to the first XI of England. Since Cole's retirement Hodgson has had no hesitation in promoting Baines to the starting lineup. Leighton Baines has so far played superb football this season for the Toffees and has provided a number of assists.
Raheem Sterling Jordan Henderson Stewart Downing
Raheem Sterling is the brightest prospect in the English football right now. Under Brendan Rodgers, this English winger has blossomed superbly. He has an intimidating pace, impeccable skill and ball control and also has the potential to score goals. He is undoubtedly an asset to any team and has the capability to grow into one of the best players in the world. Sterling has played quality football so far in this season. Although, his performance has not been up to his standards, which he had set for himself last season, he is still the best wing option in England.
Jordan Henderson is another fantastic prospect for England in the central midfield position. He has a superb vision and his passing ability is intimidating. Central midfield has been a position of concern for Roy Hodgson since the retirements of Steven Gerrard and Frank Lampard. Henderson can be a permanent solution to the English manager's problems. Henderson has performed decently in this season and has done fairly well than his closest competitor Jack Wilshere. This is the reason we have opted for Henderson.
Stewart Downing's career took a different high this season after Sam Allardyce switched his postion at West Ham United. Downing has moved to a more central role and has performed brilliantly. He is one of the best English midfielders in the Premier League this season. He has scored 5 goals and 7 assists so far for his team.
Wayne Rooney
None can question the selection of Wayne Rooney in the English team right now. Even though nowadays, he plays in a completely different position from his natural role, he still performs for Manchester United. He is one of the most hard working players in the world right now and also the most complete player. In this England team, he will feature in the number 10 position behind the two strikers.
Harry Kane Charlie Austin
Harry Kane and Charlie Austin are the two best English striker in the Premier League 2014/15 season. Both the strikers have scored 13 goals so far for Tottenham Hotspurs and Queens Park Rangers respectively. Harry Kane is in his form of his life as he surpassed big names in the Tottenham squad and is being regularly chosen as the first team striker. Charlie Austin to is in great form and is playing superb football irrespective of his team's dismal show in the league.