Alexis Sanchez's future at Arsenal has been uncertain since the start of the season, as the Chilean player hasn't signed his contract extension with the Gunners just yet, and seeing this situation, other teams want to steal the former Barcelona player from North London. Manchester City is reportedly interested in Alexis, so it won't be a surprise if we see Sanchez playing under the lead of Pep Guardiola in the future.
And, just in case this signing is actually completed, we'll try to figure out Manchester City's starting XI having in count the amount of good players they have, especially on midfield. Let's see how Alexis can fit in at the Etihad Stadium.
Formation: 4-2-3-1
Claudio Bravo: Perhaps the Chilean player is not going through his best moment in Guardiola's team, but despite his mistakes, Bravo has shown his quality playing for his team, and that's why he is Pep's first option to save City's net.
Pablo Zabaleta: Zabaleta has become in one of the most important players for Manchester City since his arrival at the club. It is not a coincidence that Pablo has been captain of the team in various games, as he is considered a leader both inside and outside the field.
John Stones: The former Everton man is seen as the long-term replacement of Vincent Kompany and despite his slow start at Manchester, Stones is tipped to be a world class defender in the coming years. 
Nicolas Otamendi: Otamendi has had a not so happy journey in Manchester, but the Argentinean is set to show a different level this season, and he already started since we've seen plenty of good performances from the former Valencia player.
Aleksandar Kolarov: Kolarov is a very versatile player, and Pep has used him as a centre-back or even playing on the center of the field, but everybody knows his natural position is on defence, as a left-back. Kolarov has been a regular starter this season, and this doesn't appear to stop.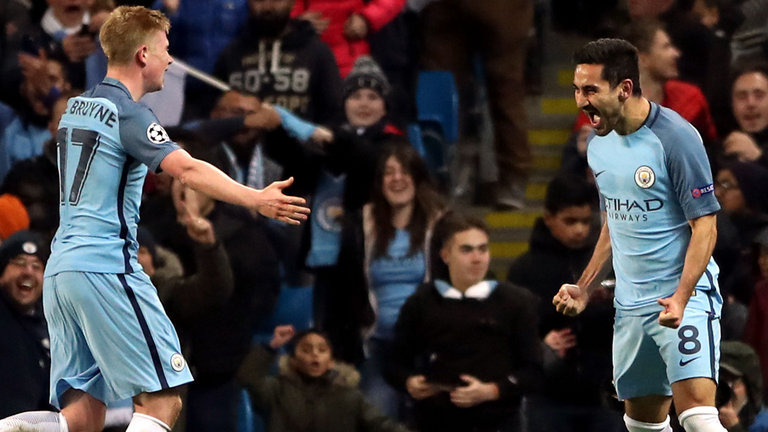 Ilkay Gundogan: Despite his injury, Ilkay will be a great piece for this team when healthy. We all could see his quality while he was playing at Borussia Dortmund and now in Manchester City.
Fernandinho: The former Shakhtar Donetsk player has been a great addition to Guardiola's squad, as he already became a perfect replacement for Yaya Toure. 
Raheem Sterling: Sterling is having a wonderful moment at Etihad, as the young lad has displayed the game people expect from him and more. Right now he is the most important player in Manchester alongside De Bruyne.
Alexis Sanchez: Sanchez can easily play as a No.10 player, behind the centre-forward. People might think this is crazy, but Alexis had his best performances playing in this position back in his days with Udinese, making a great association with Antonio Di Natale.
Kevin De Bruyne: De Bruyne owns the City midfield, and he can play wherever he wants, but with Alexis in the team, the Belgian could cause the most damage playing from the flanks. 
Sergio Aguero: Well, you all people know who Sergio Aguero is. Arguably the best striker in Manchester City history, Aguero has been the referent of this team since his arrival at Etihad. Having those talented three players behind them, Aguero surely will score a large number of goals during his stay with Manchester.