Here is the roundup of all the deadline day activities that has been going around this morning.
Wild rumours, speculation, last minute deals; its all part of a day where eyes cannot be drawn away from Twitter, anticipation rises with slender hopes of that new signing, frustration mounts as sagas drag on endlessly and dwindle away to nothing, and Jim White gets overly excited to an unbelievably unprofessional level. This is transfer deadline day.
It started the night before. Kaka rumoured to be heading back to Milan after Real Madrid signed Gareth Bale out of the blue. Of course, I jest-the Bale saga was irritable to say the least, and had been all summer. But Kaka to Milan on a free transfer set up Monday's madness perfectly. On the back of this, Mesut Ozil to Arsenal was another rumour surfacing heading into Monday morning.
So it arrives, 8.00am and Kaka to Milan is a "done deal"; a term used widely to secure a second hand car and seems to fit when depicting a player securing a move worth €4m per annum on wages. The Kaka move conjures images of his past with Milan; a great midfielder who lost his way as have many "Galacticos" prior. A move which can only improve Milan, surely.
9.00am passes with news of Ozil's transfer looking unlikely; Arsenal offering around €45m, which Madrid accepted, but the German is looking to fight for his place. The playmaker was a key player for Los Blancos last term, but Isco and Bale's arrival signals a departure or two, and Mesut may need to go the route of Kaka and vacate the Bernabeu.
Another done deal arrives in soon after with Paris Saint-Germain allowing Mamadou Sakho join Liverpool. The move for Sakho, together with an earlier deal for Tiago Ilori, has cost Liverpool £25m. Brendan Rogers clearly making a statement having defeated Manchester United at the weekend and still having Luis Suarez to return. Sakho is a strong defender who is comfortable with the ball at his feet-seems to be a good fit for an ever improving Liverpool side.
Nearly 9.30am and finally, a rumour many Juve fans have been waiting for. Fabio Quagliarella, a player Juventus seemingly cannot discard, is linked with a move to both Roma and Lazio. This, combined with the interest from Norwich and West Ham Utd, should surely see the Italian International leave Turin. Obvious joy is the emotion of choice at this time; a decent player just not needed at this time for the Old Lady. Matri joining Milan the Saturday before sees Juve finally trimming the striker count for the current season, along with the wage bill.
With 10.00am approaching, no news of great interest has been reported other than Kaka will wear his No.22 shirt again at Milan; an announcement fans could have seen coming a mile away. This pause in activity allows one to refill the cafetiere with Lavazza, grab a biscotti and unwind, and deservedly so. Transfer deadline days are tiresome and require the utmost attention at all time-periods like this can be rare and must be capitalised upon.
Hang on, hold that biscotti. The emergence of Blackpool's interest in Stephen Hunt, who is a free transfer, is sure to re-ignite the morning's events somewhat. Expect a barrage of transfers to be completed on the back of this one. That Lavazza break could be a tad premature.
But no. The Stephen Hunt rumour was nothing but a tease; it whetted the appetite and produced nothing. Cue more filler that Karim Benzema will not be moving from Madrid. Hardly surprising really, after Gonzalo Higuain moved to Napoli and striker wise, they only have Alvaro Morata and Jese Rodriguez-two inexperienced youngsters. All in all, a non-story.
With 11.00am gone, we have a "done deal" finalised with Liverpool signing Victor Moses on a season long loan from Chelsea. He arrives with ambition, stating, "The target is to get into the top four and for the club to compete in the Champions League – and I'm delighted to be here." Perhaps not the most prestige transfer, but indications of Liverpool's intent this season are continuing as they add depth to the side.
After assuming the Bale news would be over, Real set a time of midday to show off their Welshman. As a result, this has invaded the day's news and a very 'Real Madrid image' pops up of Bale passing his medical; thumbs up on a hospital bed with ECG electrodes still attached. The queue at the Bernabeu increases to a vulgar proportion; a proportion still not as vulgar as his transfer fee, however. Expected midday news-Bale.
After the BBC bewilderingly choose to show a drab image of the entrance to the Everton training ground (a road with a fence and red/white barrier, similar to the entrance of an office unit within an industrial estate), seemingly to further indicate the lack of transfer activity from them, the confirmed transfer of Josuha Guilavogui to Atletico Madrid for £8.5m arrives. A talented 22 year old who has recently been capped by France, Guilavogui arrives to strengthen Atletico who aim to push for the top 3 in La Liga. A good player, and a good price it seems.
With lunchtime approaching, and the inevitable Bale press conference reaction, quotes and all, Arsenal have been linked with Chelsea striker Demba Ba, which does seem a little uninspiring considering the links with Suarez and Higuain earlier in the window. Seems perhaps we could be on for another Arsenal panic buy at the last minute. Looks like a season long loan, but doesn't seem like its the type of move to get the fans purring. Unlike the move for Ozil, which comes through just on time to get the Gunners really animated. €50m agreed to sign the 24 year old German; a genuinely big transfer for Arsenal. And a genuinely talented player, quite the coup for the Premier League considering the players who have left over the years (and recent hours). Although not 100% complete, all agreed and looking more than likely.
With Liverpool's Fabio Borini loan move to Sunderland breaking, a glance to the top of the screen sees Gareth Bale's press conference and unveiling about to begin, signalling lunch, coffee and a spot of relaxation, along with a heavy dollop of dissatisfaction at the movement in Italy.
Part 2:
Full cafetiere warming as we speak, and the Bale conference is over. Eagerness setting back in as to what the afternoon will bring.
To my surprise (not really), Peter Odemwingie is in the deadline day news again, this time with a proposed move to Cardiff. Should be a popular move for all concerned there, assuming he has not initiated the move himself again. Fellaini to Manchester United has popped up again, at this time, all rumour. And at last, a piece of Italy news. Stephan El Shaarawi is staying with Milan. Great. Other lunchtime missed news sees Andrea Dossena, formerly of Liverpool, interesting Sunderland and Lazio having a bid of €15m rejected for Burak Yilmaz of Galatasaray.
Another slight dip in activity allows me to have a moment of reflection on the mornings dealings. Arsenal have stolen the show with Mesut Ozil. A big bid was needed, and they got their man. Of course, Spurs helped with this in a big way by allowing Bale to talk to Madrid, effectively signalling the end for Ozil at the Bernabeu. But such a quality player needed a meaningful and substantial bid, and that is why they smashed their transfer record to bring the German to the Emerates. Liverpool continue to buy and improve, leaving Man Utd trailing somewhat; although Fellaini and Herrera are linked, nothing has been negotiated and after the weekend, movement seems to now be a necessity for Moyes. English sides are the most active so far, with the continent very quiet at this time.
After this reflection, and more coffee, a breaking piece of news explains that the long transfer, and quite ugly story, of Florian Thauvin from Lille to Marseille over in France. Ugly, because of the accusation from current club Lille that Marseille have acted rather underhandedly in their pursuit. Finally, however, £12.7m looks likely to be the fee to move the 20 year old to Marseille. One to look out for, definitely.
With 2.00pm just gone, the newsroom really is quiet and images of Kaka arriving in Milan and Bale with headphones on are circulating. Some Juve news sees a co-ownership deal agreed with Sassuolo which will mean Luca Marrone sold in the co-ownership terms for a fee of €4.5 million, and Juventus take striker Domenico Berardi on the same terms back the way. Co-ownership ladies and gentlemen, utterly pointless in today's game.
In normal, sensible and straight forward Italian transfer news, Everton now are interested in Cagliari's centre back Davide Astori, with the club assessing the bid. A good, solid defender is Astori, and perhaps signalling some available Fellaini cash at Goodison? Still no news on Man Utd's bid for the Belgian, although widely expected to complete. To finish the Italian round-up, now in full swing, Verona continue to add to their squad in the hope that they stay up by adding Juan Iturbe on loan from Porto.
Back to Manchester United and the €36m bid for Bilbao's Ander Herrera seems to be on as he indicates he is interested in a move; the player has even lowered his wage demands to make this possible, but the Spanish club are holding out for the release clause to be me at the €36m. Both Fellaini and Herrera are being looked at by the Manchester club, but nothing conformed as of yet.
Nearly 3.00pm coffee time and nothing as good as this morning confirmed yet. Although, Swindon Town confirm the signing of former Leicester City and Millwall striker Dany N'Guessan, so deals are still being done it seems. Speaking of Swindon Town, former manager Paolo Di Canio seems to see Stephane Sessegnon as surplus to requirements at the Stadium of Light as the striker has been seen at West Brom's training ground and a move likely to complete there. Sessegnon has great ability and is a great physical presence, but it looks as if he will be moving clubs this afternoon. In the end, a good signing for West Brom it must be said.
And as that refill of coffee is pondered, Stephen Ireland has been confirmed as a new Stoke City player as he arrives on loan from Villa. Another player looking to rediscover past abilities, Ireland teams up with Mark Hughes once more and who knows, maybe we will see the best of him once again.
So, the coffee has been refilled and at last, this afternoon provides news of some interest. 3.46pm and L'Equipe have announced that Chelsea's Juan Mata is a target for Paris Saint-Germain. If true, Chelsea could lose a genuine talent and it would be interesting to hear Chelsea fans take on this as the Spaniard, still only 20, is a firm favourite at Stamford Bridge. PSG haven't enjoyed a greatly impressive start to the Ligue 1 season, and a move for Mata could be a shrewd piece of business for the Parisians; assuming, of course it is a viable option and not just deadline day hysterics.
With dinner approaching, the afternoon period would be classed as very quiet after a hectic morning. The main theme has been the lead up to Arsenal's announcement at around 5.00pm, where they intend to confirm all Ozil transfer details. Still the biggest transfer of the day, although more appear to be on their way. A tad monotonous, the afternoon failed to live up to the expectations of deadline day, however, the evening period to the deadline is always the most frantic, where clubs rush to push through deals, and this evening is lining up to be no exception.
 Here is the final round up of deadline day activities: 
Around one hour for dinner with the iPhone under the table checking on the news, and a good few updates to be had. The afternoon's sluggish ride into the evening is still taking its toll but there are hopes for a more intriguing end to the night.
Breathe in….
In Italy, Burak Yilmaz's on-off move from Galatasaray to Lazio seemed is now definitively off, but could be on again later; such is the way this one has went today. Aston Villa confirm the signing of Czech international striker Libor Kozak from Lazio on a 4 year deal. Arsenal have confirmed Emiliano Vaviano will join from Palermo on a season long loan, with an option to buy.
No update on Juan Mata to PSG; a deal which could be the coup of the day if completed, and Scottish playmaker Barry Bannan joins Crystal Palace on a three year deal, another smart move from Ian Holloway. As mentioned earlier, Odemwingie has joined Cardiff, with consent from West Brom this time, which is nice, and Shane Long's surprise link with Hull City means West Brom really need the Anichebe rumours to come true. And Demba Ba, linked with a loan move to Arsenal earlier, is now subject to an interception manoeuvre from West Ham….and breathe again.
This activity occurred during dinner, so this evening should be compelling. Should be.
7.15pm and compelling it shall be. Fenerbahce forward Moussa Sow, a powerhouse of a forward, linked with Sunderland and Newcastle; clearly the North-East has something which Istanbul doesn't. In all honesty, this sounds like a non-starter, but you never know.
As far the good old "done deals", Swansea have just confirmed Spanish Under-21 international Alvaro Vazquez from Getafe on a season-long loan. Michael Laudrup mentioned on MOTD2 on Sunday that The Swans were looking to tie up one more deal, and this would appear to be it.
From nowhere we have a Nicholas Bendtner alert! Who is the unlucky team linked with the Dane this window? Its Crystal Palace, sorry guys. Holloway looking to tie this up tonight and link up Chamakh and Bendtner to create one of the potentially most devastating strike partnerships the Premier League has….I can't do it, sorry. Looks like a catastrophe of a front line.
Speaking of frontlines, Arsenal will not be adding to theirs with Demba Ba with Chelsea having no desire to loan to a rival club. I do not think Arsenal fans will be too disheartened by this announcement, but I suppose Bendtner will now not move to Palace due to the lack of time left to find a new striker. Stranger things have happened however.
Still on strikers, and Chelsea say Romelu Lukaku will be the most likely striker to leave on loan, and considering his features so far this season for Chelsea, this seems a tad surprising. West Brom's ears must be twitching after allowing Shane Long to leave for Hull City (Tigers?) for £5m.  He is undergoing a medical at the moment-8.45pm- but any deal is subject to the Albion adding Stephane Sessegnon or Victor Anichebe. Movement to come, of that I am sure.
9.00pm and a fantastic piece of news coming from Spain. Manchester United have had a €40m bid for Sami Khedira rejected by Real. Another La Liga player fail for the Red Devils; David Moyes is fast becoming a laughing stock with these rejected bids, and time is ticking. Remember, no Fergie time this year either. Herrera and Fellainiseem must buys now.
Other news from Spain is announced and Atletico Madrid have now confirmed the signings of defender Toby Alderweireld and midfielder Josuha Guilavogui from Ajax and St Etienne respectively. Diego Simeone still improving the squad, and Alderweireld in particular is impressive. Two hours to go.
Good news for Palace fans. Arsenal's inability to secure Ba means the Great Dane Bendtner will remain at the Emirates as back up for Oliver Giroud. That mouth watering partnership of Chamakh-Bendtner will not materialize it seems, as unfortunate as that is.
Florian Thauvin's transfer to Marseille from Lille, mentioned in part 1 (seems like an age ago) has been confirmed by the club's official website. 5 year contract for the youngster and as I mentioned, one to keep an eye on. Mainly because he will want a move to England soon, very soon going on his previous behaviour at Lille.
A strange occurrence arising tonight is that Brazil's No.1 goalkeeper, Julio aCesar, is currently back-up at a Championship side with 'arry Redknapp announcing on 5Live that no one has been interested. Seems absurd that not one Italian club fancied an experienced goalkeeper who, with games being played regularly, will feature in next years world cup. Madness. But madness can be the dish of the day on deadline night. 60 minutes to go.
With this hour to go, Man Utd have failed to sign Hererra it has been reported. All day they have battled for both Fellaini and Herrera, and Khedira,  but reports suggesting only Fellaini will sign. Even at that, little time to push this through, although the Belgian has requested a transfer. Everton look likely to bring in nobody and David Moyes first transfer window has to be seen as a failure.
With this news arriving, it marks the close of the market in Italy. All in all, a fantastic overall window for Serie A with fantastic signings of world class calibre. Carlos Tevez, Fernando Llorente, Gonzalo Higuain, Mario Gomez and Kevin Strootmanto name but a few, A quiet night tonight, but business all completed previously and Serie A looks to be in great shape for the new season. Well played you.
Back to England and the Borini loan to Sunderland has completed as well as Andrea Dossena from Napoli. This follows a gentle reminder that Man Utd have not signed a senior player. Juan Mata to PSG could rear its head also in the coming minutes as more French reports suggest this is on.
Images are the best source of confirmation, and Stephane Sessegnon holding a West Brom shirt says it all really. Confirmed and the deal sees the Baggies break their transfer record for him, although undisclosed. Not sure how that works, but their word shall be taken on this. Definite improvement for Steve Clarke's side. 30 minutes to go.
Although it was all agreed and tied up earlier today, Arsenal finally announce the signing of Mesut Ozil from Real Madrid. A real genuinely exciting player and one which will be the pick of the deadline day bunch. What a way for Arsene Wenger to finally spend some money, and a real coup for the Premier League.
Arsenal manager Arsene Wenger: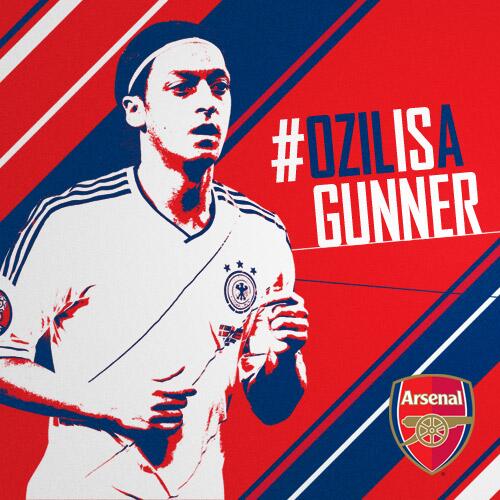 "We are extremely pleased to have signed Mesut Ozil. He is a great player, with proven quality at both club and international level. We have watched and admired him for some time as he has all the attributes I look for in an Arsenal player.

"I have said throughout the summer that we have been working hard to bring in top quality players to this football club. This has involved many many people across the club and I have always had the full support of the club in making decisions on the football side.
11.00pm. The curtain has fallen on another deadline day with all that goes with it. Main things to take away from the day? Well, Mesut Ozil to Arsenal says it all really, easily the biggest signing of the day. Reports in Spain suggest Man Utd are trying to sign Fabio Coentrao as well as the below transfers all still in need of clarification, but Arsene Wenger finally comes out of a transfer window with a real coup.
Here are some of the other last minute signings:
Shane Long to Hull – Failed
Victor Anichebe to West Brom Done deal
James McCarthy to Everton – Done deal
Romelu Lukaku to Everton- Done deal
Gareth Barry to Everton – Done deal
And finally Marouane Fellaini to Manchester United is a done deal. Manchester United have signed Everton midfielder Marouane Fellaini for £27.5m late on transfer deadline day. The deal was confirmed 51 minutes after the 23:00 BST deadline on Monday. The Belgian, who made his international debut in 2007, was also booked 10 times in his first 17 games, but avoided a lengthier suspension by attending a personal hearing with Keith Hackett, England's chief referee, where the player gave his side of events but also vowed to improve his behaviour.