Read the Part one of our Deadline day coverage here:
And our post lunch update here:
Here is the final round up of deadline day activities: 
Around one hour for dinner with the iPhone under the table checking on the news, and a good few updates to be had. The afternoon's sluggish ride into the evening is still taking its toll but there are hopes for a more intriguing end to the night.
Breathe in….
In Italy, Burak Yilmaz's on-off move from Galatasaray to Lazio seemed is now definitively off, but could be on again later; such is the way this one has went today. Aston Villa confirm the signing of Czech international striker Libor Kozak from Lazio on a 4 year deal. Arsenal have confirmed Emiliano Vaviano will join from Palermo on a season long loan, with an option to buy.
No update on Juan Mata to PSG; a deal which could be the coup of the day if completed, and Scottish playmaker Barry Bannan joins Crystal Palace on a three year deal, another smart move from Ian Holloway. As mentioned earlier, Odemwingie has joined Cardiff, with consent from West Brom this time, which is nice, and Shane Long's surprise link with Hull City means West Brom really need the Anichebe rumours to come true. And Demba Ba, linked with a loan move to Arsenal earlier, is now subject to an interception manoeuvre from West Ham….and breathe again.
This activity occurred during dinner, so this evening should be compelling. Should be.
7.15pm and compelling it shall be. Fenerbahce forward Moussa Sow, a powerhouse of a forward, linked with Sunderland and Newcastle; clearly the North-East has something which Istanbul doesn't. In all honesty, this sounds like a non-starter, but you never know.
As far the good old "done deals", Swansea have just confirmed Spanish Under-21 international Alvaro Vazquez from Getafe on a season-long loan. Michael Laudrup mentioned on MOTD2 on Sunday that The Swans were looking to tie up one more deal, and this would appear to be it.
From nowhere we have a Nicholas Bendtner alert! Who is the unlucky team linked with the Dane this window? Its Crystal Palace, sorry guys. Holloway looking to tie this up tonight and link up Chamakh and Bendtner to create one of the potentially most devastating strike partnerships the Premier League has….I can't do it, sorry. Looks like a catastrophe of a front line.
Speaking of frontlines, Arsenal will not be adding to theirs with Demba Ba with Chelsea having no desire to loan to a rival club. I do not think Arsenal fans will be too disheartened by this announcement, but I suppose Bendtner will now not move to Palace due to the lack of time left to find a new striker. Stranger things have happened however.
Still on strikers, and Chelsea say Romelu Lukaku will be the most likely striker to leave on loan, and considering his features so far this season for Chelsea, this seems a tad surprising. West Brom's ears must be twitching after allowing Shane Long to leave for Hull City (Tigers?) for £5m.  He is undergoing a medical at the moment-8.45pm- but any deal is subject to the Albion adding Stephane Sessegnon or Victor Anichebe. Movement to come, of that I am sure.
9.00pm and a fantastic piece of news coming from Spain. Manchester United have had a €40m bid for Sami Khedira rejected by Real. Another La Liga player fail for the Red Devils; David Moyes is fast becoming a laughing stock with these rejected bids, and time is ticking. Remember, no Fergie time this year either. Herrera and Fellaini seem must buys now.
Other news from Spain is announced and Atletico Madrid have now confirmed the signings of defender Toby Alderweireld and midfielder Josuha Guilavogui from Ajax and St Etienne respectively. Diego Simeone still improving the squad, and Alderweireld in particular is impressive. Two hours to go.
Good news for Palace fans. Arsenal's inability to secure Ba means the Great Dane Bendtner will remain at the Emirates as back up for Oliver Giroud. That mouth watering partnership of Chamakh-Bendtner will not materialize it seems, as unfortunate as that is.
Florian Thauvin's transfer to Marseille from Lille, mentioned in part 1 (seems like an age ago) has been confirmed by the club's official website. 5 year contract for the youngster and as I mentioned, one to keep an eye on. Mainly because he will want a move to England soon, very soon going on his previous behaviour at Lille.
A strange occurrence arising tonight is that Brazil's No.1 goalkeeper, Julio aCesar, is currently back-up at a Championship side with 'arry Redknapp announcing on 5Live that no one has been interested. Seems absurd that not one Italian club fancied an experienced goalkeeper who, with games being played regularly, will feature in next years world cup. Madness. But madness can be the dish of the day on deadline night. 60 minutes to go.
With this hour to go, Man Utd have failed to sign Hererra it has been reported. All day they have battled for both Fellaini and Herrera, and Khedira,  but reports suggesting only Fellaini will sign. Even at that, little time to push this through, although the Belgian has requested a transfer. Everton look likely to bring in nobody and David Moyes first transfer window has to be seen as a failure.
With this news arriving, it marks the close of the market in Italy. All in all, a fantastic overall window for Serie A with fantastic signings of world class calibre. Carlos Tevez, Fernando Llorente, Gonzalo Higuain, Mario Gomez and Kevin Strootman to name but a few, A quiet night tonight, but business all completed previously and Serie A looks to be in great shape for the new season. Well played you.
Back to England and the Borini loan to Sunderland has completed as well as Andrea Dossena from Napoli. This follows a gentle reminder that Man Utd have not signed a senior player. Juan Mata to PSG could rear its head also in the coming minutes as more French reports suggest this is on.
Images are the best source of confirmation, and Stephane Sessegnon holding a West Brom shirt says it all really. Confirmed and the deal sees the Baggies break their transfer record for him, although undisclosed. Not sure how that works, but their word shall be taken on this. Definite improvement for Steve Clarke's side. 30 minutes to go.
Although it was all agreed and tied up earlier today, Arsenal finally announce the signing of Mesut Ozil from Real Madrid. A real genuinely exciting player and one which will be the pick of the deadline day bunch. What a way for Arsene Wenger to finally spend some money, and a real coup for the Premier League.
Arsenal manager Arsene Wenger: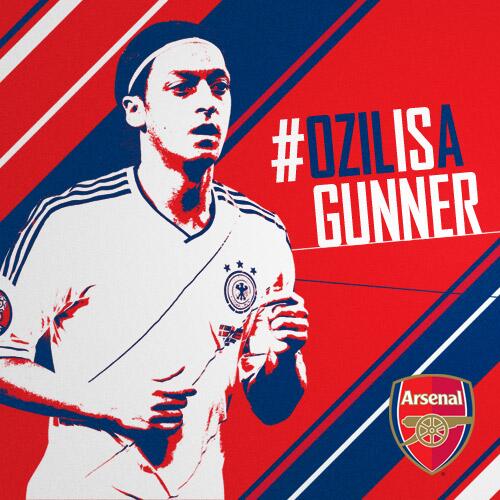 "We are extremely pleased to have signed Mesut Ozil. He is a great player, with proven quality at both club and international level. We have watched and admired him for some time as he has all the attributes I look for in an Arsenal player.

"I have said throughout the summer that we have been working hard to bring in top quality players to this football club. This has involved many many people across the club and I have always had the full support of the club in making decisions on the football side.
11.00pm. The curtain has fallen on another deadline day with all that goes with it. Main things to take away from the day? Well, Mesut Ozil to Arsenal says it all really, easily the biggest signing of the day. Reports in Spain suggest Man Utd are trying to sign Fabio Coentrao as well as the below transfers all still in need of clarification, but Arsene Wenger finally comes out of a transfer window with a real coup.
Here are some of the other last minute signings: 
Shane Long to Hull – Failed
Victor Anichebe to West Brom Done deal
James McCarthy to Everton – Done deal
Romelu Lukaku to Everton- Done deal
Gareth Barry to Everton – Done deal
And finally Marouane Fellaini to Manchester United is a done deal. Manchester United have signed Everton midfielder Marouane Fellaini for £27.5m late on transfer deadline day. The deal was confirmed 51 minutes after the 23:00 BST deadline on Monday. The Belgian, who made his international debut in 2007, was also booked 10 times in his first 17 games, but avoided a lengthier suspension by attending a personal hearing with Keith Hackett, England's chief referee, where the player gave his side of events but also vowed to improve his behaviour.