Arsenal's Sead Kolasinac vs Tottenham's Ben Davies – A Statistical Comparison
No club wins anything simply by having a pair of good full-backs, but what the trend highlights is the importance of full-backs to the tactical side of the game. Just like right-backs, the importance of left-backs who can defend as well as attack is key to success in the modern game.
A left-back should know the art of defending first before focusing on the attacking side of the game. From stopping opposition crosses from the wings, to helping their side in the build-up play with overlapping runs and providing assists, this position in a team is very crucial.
The use of 3-4-3 system has arguably changed the way football is now played in every league. In this formation, the importance of full-backs cannot be stressed enough as they are moved few yards ahead on the pitch to contribute more to the attack.
Since Antonio Conte's Chelsea won the Premier League in 2016-17 with the 3-4-3 structure, many teams have started playing with the same formation, where a three-man defence needs to be ever so efficient and alert.
Fierce London rivals Tottenham Hotspur and Arsenal have been among the few Premier League clubs to have adopted the concept of 3-4-3. With left wing-backs playing a significant role in this system, let us have a comparison between high-flying Spurs' Ben Davies and Arsenal's Sead Kolasinac in terms of their impact on their team.
Speaking about Ben Davies first, the Welshman is enjoying his longest spell in the Tottenham first-team since joining from Swansea in July 2014. He has grabbed the opportunity with both hands, playing 6 out of 9 league games.
In contrast, Arsenal's Sead Kolasinac, signed on a free transfer from Schalke this summer has played 8 league games so far this season. At times, Kolasinac has been ignored but whenever he has been given the chance, the Bosnian has not disappointed.
According to Squawka, Davies and Kolasinac have the same number of assists – 2. However, Davies has created 15 chances, just more than double to Kolasinac's 7. The Spurs wing-back also has 2 goals to his name, while the Arsenal full-back is yet to open his account in the league.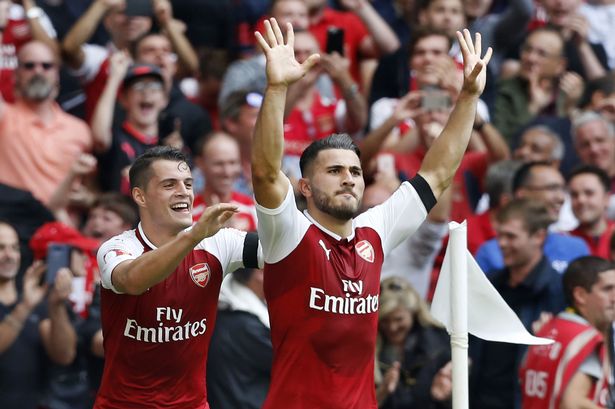 Defensively, the picture is entirely vice-versa. In terms of tackles won, Davies has won 8 compared to Kolasinac's 13. The Arsenal man has made 7 interceptions, while his Spurs nemesis has nothing. Kolasinac has won 14 aerial duels in comparison to Davies' 8. However, both have a similar pass completion rate of 82%.
With the aforementioned stats, it is easy to understand Davies is miles ahead than Kolasinac when it comes to attacking side of the game. With Rose out injured, the Welshman has looked far more aggressive and impactful, helping Spurs amass 20 points in 9 games.
On the other hand, Kolasinac has adapted to the Premier League quite well after many deemed him to be a "non-impactful" signing. Defensively, he is head and shoulders above Davies but given his belligerent nature while going for the attack, which is highlighted through his Schalke days, there is a lot of expectations from manager Arsene Wenger and fans.