2-3 Years ago, writing something such as this would have surely been made me feel about myself, let alone the English skipper. As his 30th birthday is celebrated, Wayne Rooney is slowly becoming a mere shadow of himself and the gulf between his peak and his current form is certainly widening up. The man who stands 3rd in United's list of highest goal scorers and tops the list of English goalscorers is a tale of the past, a fork stuck in the road. He's lost a yard of pace and the freshness and quickness that lurked in his game, that always agitated defenders, has now diminished big time. And as a colossal Manchester derby beckons on Sunday, the question that suddenly comes in our minds is that whether the 30-year-old must get to play in that game or not.
Rooney has racked up 2 Premier League goals this season, and both have been pure striker-esque finishes. One came against Sunderland and was created by an Anthony Martial run down the right flank while the second came against Everton after Ander Herrera's threaded through pass found Rooney clean through on goal. Rooney has failed to rack up even a single assist and has created just 10 chances.
On the other hand, there's the exciting and head turning French teenager Anthony Martial. The 19-year-old has defied the logic and the people who referred to him as 'overrated' and has saved Louis van Gaal's face about what was deemed as a 'panic buy'. Martial has scored thrice and whenever he's been on the ball, we know something's gonna happen, such has been the electrifying and engaging nature of his game. He always tries to do something. He's got immense pace, excellent ball control and finishing skills that seem too good for a teenager. He has provided Manchester United with an impetus of much-needed pace and acceleration that has made Louis van Gaal's men far more threatening than they were last season.
With Rooney playing, or with Rooney playing up top, United have looked sluggish and slow, much like the skipper. Rooney hasn't been as active and someone who keeps the defenders of their toes, this season. He has lacked the movement that a striker usually has and keeps on troubling the defenders with his movement. Either he drops deep needlessly, or stands up front, hardly doing anything.
Whenever he has got possession of the ball, he's looked uncomfortable and nervous on it. Losing the ball cheaply or fluffing a pass that could've been easy to deal with, has become regular sighting.  It's down to Rooney's disappointing showings that United have been relying on Marouane Fellaini and Anthony Martial a bit too much, resorting to their Plan B in the former's inclusion.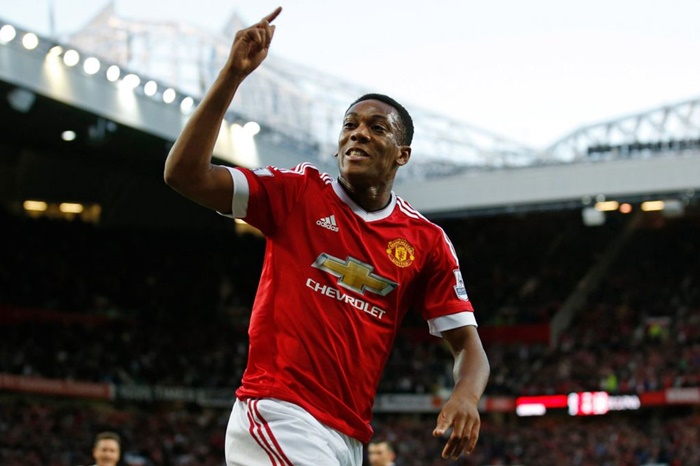 Simply, whatever that Rooney has lacked has been displayed rather tangibly by Martial, despite being 19 and in fact, has done it better than Rooney could've actually done himself. He isn't taking his spot in the team for granted at all, unlike Rooney, who's performances are slipping off either because of age or due to taking his spot in the side for granted.
And come Sunday, at Old Trafford, during the massive Manchester derby, there won't be any room to hide for any player from any of the two sides. They'd have to be up for it, just as ever, and have to play the game as a derby- intense and competitive. The game's going to be close, or closer than it ever has been in the modern times, shall we say and the room for error would be negligible. And no mistake would be spared by any side.
Playing just as he has been over this season, Wayne Rooney should never have been in the fray to face the neighbours from Lower Manchester. But, he's 30 and along with compatriot Michael Carrick, has a high amount of experience of competing in this fierce derby. He has scored numerous times against City and is one of those players who bring or can bring some intensity and fire into the game that would need it. City would be without Sergio Aguero and David Silva, handing United the advantage, and they are players who bring in that hunger and intent into games as crucial as this.
This happens to be Martial second derby game for the Red Devils, with the first one being against Liverpool, in which he announced his arrival with a truly magnificent solo goal. He scored against CSKA Moscow days ago and has become a vital cog in Louis van Gaal's wheel. He has the pace that can unsettle full backs, drag centre-halves out of position and go past them with electrifying technique and pace.
So, dropping an experienced campaigner in Wayne Rooney in a game where the color of the City of Manchester is decided would be like watching the Harry Potter series without Daniel Radcliffe. In games such as these, form goes out of the window and what matters is how a player features that very day. There's a need for players who have played the game before and know what it takes to compete against such an opposition. So, excluding any of the two United stars won't make sense, at least in the derby. If United would've played say, Norwich or Watford, I'd have gone ahead with excluding Rooney from the lineup.