Chelsea season review
It has been a whirlwind season for Chelsea who started strongly after their triumph over Bayern Munich in the Champions league final in 2011/2012. The Blues lost inspirational striker Didier Drogba, but made several astute deals in the transfer market, including the capture of precocious Belgian starlet Eden Hazard. The Chelsea back room have done a great job of buying new foundations to this Chelsea team, but Robert Di Matteo had to prove he was worth the shot.
Arguably, it would seem that despite a strong start (where Chelsea were briefly top of the table), draws and losses against Juventus and Shakhtar Donetsk in the Champions league prompted a swift change in managerial faith. It would be Rafa Benitez (much to the ire of fans) who made the cut as interim manager while Robert Di Matteo was shown the door despite winning the Champions league and FA Cup the season before.
While Rafa Benitez endured a shaky start, his aptitude in balancing a relatively small Chelsea squad paid dividends in the end. Under Benitez, the Blues shored up their leaky defence and played in a more disciplined and rigid structure. Striker Fernando Torres also managed to play better, breaking the 20 goal duct in his 3rd season, albeit most of the goals coming from the Europa league.
At the end of the season, Chelsea saw off competition from Arsenal and Tottenham to finish at 3rd place, guaranteeing Champions League football for the next season. While Rafa Benitez steered Chelsea to a triumphant win over Benifica in the Europa league to become the first ever back to back European Champions. Ironically, that title still brings more derision that pride. Nevertheless, Rafa Benitez could call his Chelsea stint a job well done.
Let us now have a look at the player highlights of the season.
The Virtuoso Magician and the Brazilian Madman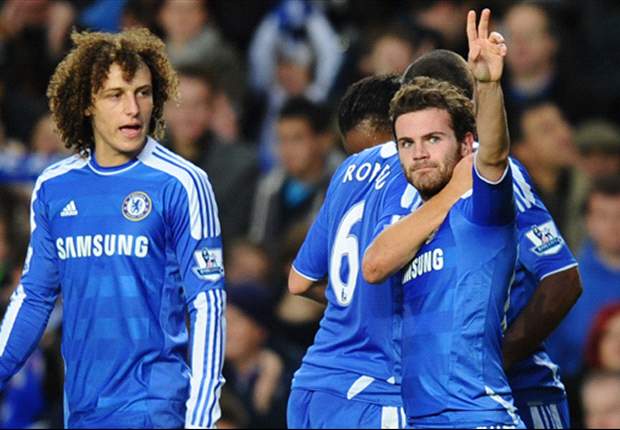 Juan Mata has certainly come a long way since starting his career at Real Madrid's youth team. The then starlet moved to Valencia in a bid to gain more game time. His good performances at Valencia earned him a move to Chelsea as one of Andre Villas Boas's buys. It has been smooth sailing ever since.
There's a lot to like about the Spaniard and little to hate. As a person, fans are drawn to his calm and mature persona. The Spaniard is a gentleman on and off the pitch unlike other more controversial players in the league. On pitch, his skill and vision as a central playmaker has seen him rack up a season total of 21 goals and 29 assists. A whopping 50 goals scored or assisted in a single season. All these were racked up in 60 games giving a return of nearly 1 goal created or scored in a single match! Such statistics are a testament to his stamina and consistency to the team. And at only 25 years of age, it would be hard to bet against him replicating such form in the next season.
Meanwhile, David Luiz also finished the season well. The Brazilian international has endured a torrent criticism during the first half of the season at Stamford Bridge, where pundits and fans were quick to disparage him for the side's leaky defence. It was arguably the shift to center midfield during an injury crisis that saw him contribute spellbinding performances. Who could forget his long range "Ronaldo" like free kicks or his thunderbolts and curlers from beyond the penalty box?
Much later in the season, a return to fitness of other midfielders led to the Brazilian retaking his place in the defence, where his performances improved markedly. Luiz is undoubtedly a gem in this Chelsea side that wears his passions for the club on his sleeve. Many Chelsea fans are already in agreement that he would be a fantastic captain when John Terry leaves.
Undoubtedly, the Brazilian will be a crucial cog in the Chelsea team no matter where he plays.
The living, playing Legend
He has done it, 203 goals scored; breaking Bobby Tambling's all time goal scoring record. When Frank Lampard made his move from West Ham, who would have known that the young midfielder from West Ham would eventually break that record at 34 years of age, 12 years later?
Lampard has finally cemented his place as Chelsea's greatest goal scorer. This accomplishment attained by Lampard this season would be the highlight of many fans that have grown up seeing super Frank in blue colours. The midfielder has been an omnipresent conductor in the Chelsea Engine room and has never failed to be a first choice player under any manager.
Lampard's achievement was made even more impressive, given that he has played the whole of his career as a midfielder and in the past few seasons, as a deep lying playmaker. While the Midfielder has set new records for himself, the club has made the right decision in retaining Lampard for another year.
Although he is in the twilight of his career, Lampard continues to hit double figures in goals every season. Furthermore, his stamina and consistency is nothing short of spectacular. An underrated side to his game that could help Chelsea would be his vision and playmaking abilities, a crucial quality that will be needed if Chelsea fails to find an adequate box to box midfielder.
The German Experiment
Marko Marin arguably earns the title of being the most unfortunate Chelsea player in terms of game time and performance. While the German dazzled in preseason, injuries and poor form have seen him relegated to the bench. Despite Chelsea playing a huge number of games, the German has only been able to make a handful of starts, most of which he played badly in.
The German is not the worst player in the Chelsea team in terms of skill and ability. After all, he was once heralded as the "German Messi" for his dribbling and playmaking ability. When on song, Marin offers a superb range of passing abilities and incisive dribbling. He can be a strong backup and provide competition to the 3 amigos (Aka Mata Hazard and Oscar).
Sadly, with rumours stating that Marko Marin will be swapped for German striker Andre Schurlle, Stamford Bridge could bid farewell to yet another German player who failed to make the cut.
The New kids on the Block
With a huge influx of young talented players, it is Eden Hazard and Oscar in particular who have stood out among the rest. The duo has formed a dangerous triumvirate with club talisman Juan Mata this season. Commonly referred to as the "The Three Amigos", each Amigo brings his own unique quality to the Chelsea attack. Eden Hazard pace, trickery and directness continues to turn defenders inside out on the flanks. On the other hand, Oscar's wide range of passing and silky dribbling complements that of Mata as the duo look constantly to find gaps in the opponents defence. Together, they have formed a unique blend of pace, trickery and incisive passing which has been the bane of numerous defences this season.
Another revelation this season would have to be Cesar Azipilicueta, the young Spanish right back from Marseille. Cesar impresses with his industry and defensive strengths. With him at right back, Chelsea have been able to rein in the likes of premier league danger men Gareth Bale and Ashley Young. Strong performances have cemented him as the side's predominant right back, displacing Branislav Ivanovic from a role which he has made his own in previous years.
An honourable mention goes to Victor Moses, the Nigerian Winger who has seen his fortunes take a turn for the better under Rafa Benitez.
Originally bought from Wigan for a mere 9 million pounds, Moses was a relatively quiet arrival compared to the likes of Oscar and Hazard. Many had even wondered whether he could fit into the team. While Robert Di Matteo fancied Moses mostly as an impact substitute, it was Rafa Benitez who saw potential in Moses and trusted him with numerous starts.
In the subsequent games, Moses's trickery, pace and attacking strengths repaid Benitez's faith in him. The Nigerian even managed to displace Brazil wonder kid Oscar from the starting line-up. His success is mainly due to his play style, being the only out and out winger in the squad. What he brings in attacking width and effectiveness makes him so indispensable for Benitez.
Our eyes remain glued on how these 4 players improve on their progress next season.
Player to Watch
Nathanial Ake joined Chelsea in a controversial transfer from Feyenoord in 2011, fighting off competition from several European clubs such as Man City. In the Chelsea, youth team he was a regular starter for the Blues in their 2011/12 FA Youth Cup triumph. These good displays promoted him to the club's reserve side during 2012.
Rafael Benitez has given Ake the chance to step up in to the first team this season. He made his first appearance on Chelsea's bench in their 5-1 defeat of Leeds in the League Cup on the 19th December. One week later he made his Premier League debut as a late substitute against Norwich. Replacing Juan Mata in the 90th minute he became Chelsea's youngest player to play this season.
Ake's strength lies in his dribbling and defensive acumen. He is also noted for being well capable of playing in numerous different roles for his club. Ake can be seen as a possible back up to the defence of midfield, although his better performances this season has come from the middle of the pitch, where he fairs better away from rough challenges (an aspect he struggles in due to his size).
Should Ake stay next season, Chelsea fans might finally see the first youth team player in a long time to make the cut in the first team. Although a loan move to gain experience would seem more likely than a punt in the first team at Stamford Bridge.
A Final Thought
With the season coming to a close, Chelsea can thank themselves for the hard work put in to win the Europa league and achieve Champions league placing. The best game played would arguably have to be the Europa League final, where a looping header by Ivanovic spelled an end to a closely fought game. While it was "only" a Europa League final, the confidence and determination in the Chelsea players showed that day, one that reminded many fans of Chelsea's impressive run towards becoming Champions League winners last season.
There is tremendous potential in this Chelsea team, and the real challenge lies in taking full advantage of it. While this year can be marked as a transitory one, the real challenge lies in the next season, when Jose Mourinho starts off where he left.
In a way, Mourinho will have Rafa Benitez and Roberto Di Matteo to thank, for helping him steady a shaky Chelsea ship full of mercurial talents. In one season, the Spaniard and Italian have experimented to find out the best and worst of this Chelsea side. The time is right, for Mourinho to add his own flavour into the Chelsea squad, and challenge for greater heights next season.