Chelsea will be buoyed by their performances this season. After a relatively mixed start to the season, the Blues have come up trumps, trampling every opponent on their way to leading the table. But one player that isn't quite getting a look in at Chelsea is the Brazilian midfielder, Oscar. He has been overlooked by Antonio Conte due to superior options at his disposal.
Oscar's preferred position does not find a place in Conte's formation of 3-4-3, which has been uber-successful since its integration. A Brazilian international like Oscar is sure to feel hard done by, as he hasn't even been used as a substitute on many occasions. Such a situation might force Chelsea's hands into losing someone they once got in for 20 million pounds.
A lot is down to Oscar too, as he has not always put his best foot forward in the English league. A few flashes of brilliance have been seen, but there's nothing substantial to satisfy the kind of hype that surrounded his arrival alongside Eden Hazard, who has gone onto establish himself as a lethal player despite last season's slump in form.
This season, Oscar has found his first team opportunities really hard to come by as there are several players ahead of him in the pecking order. He has only played a total of 10 games in all competitions, with most of them being substitute appearances from the bench.  Clearly, Conte doesn't see him as an integral part of the team and it is looking more and more likely as if Oscar will be on the move in the January transfer window.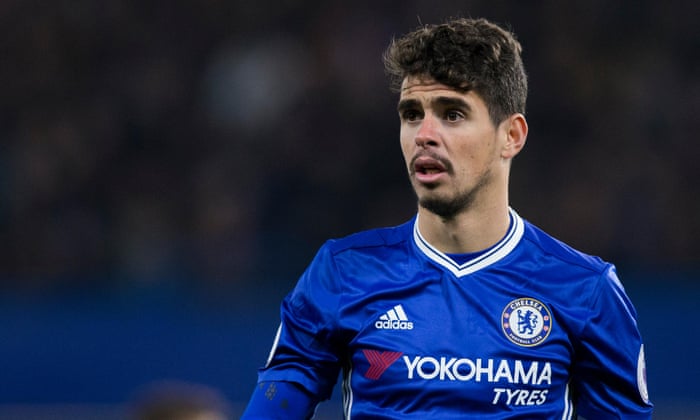 Oscar was altogether omitted from the 18-man squad for Chelsea's visit to Sunderland, which The Blues won 1-0 thanks to a solitary first half goal from Fabregas, whose future has also been thrown into the open, but not as much as Oscar's. After the game, Conte spoke about Oscar and how he doesn't fit into his new system and it is likely that he will be on the move sooner rather than later. Significant interest has been shown by Chinese side Shangai SIPG, who have made a staggering 60 million pound bid for the Brazilian attacking midfielder.
Oscar himself has spoken of the move and said that it was "90% done, with only a few bureaucratic details left". The Chinese side are managed by former Chelsea manager Andre-Vilas Boas, who moved to China after a successful managerial stint with Zenit in Russia.  AVB left Chelsea before Oscar came in, but the fact that he is Portuguese will definitely help Oscar. Following his impending move to the club, Oscar might not feel as lonely as he has his compatriots Hulk and striker Elkeson who will be delighted with the fact that another Brazilian is joining the ranks at Shangai SIPG.
The Chinese league has seen an influx of big money moves for big players such as Jackson Martinez, Demba Ba and Ramires, who moved from Chelsea at the beginning of this year. Oscar might have preferred to stay in Europe, but the chance to make a quick buck might be too hard to resist. Seeing the success his compatriots are having in China might eventually convince him about the move.
Nevertheless, it's looking likely that Chelsea will accept the offer as it is clearly a lot of money and they stand to make three times of what they spent originally to bring in Oscar from Brazilian football. That money could go into investing on a defender, a position that needs strengthening at Chelsea with both John terry and Ivanovic in the twilight of their careers.