The Bundesliga 2012/13 season will be remembered for one team and one theme. Bayern Munich and their unprecedented dominance. 29 wins, 4 draws and just a solitary defeat gave 'FC Hollywood' their 22nd Bundesliga title and broke all manner of records. They, understandably, dominate my end of season review with as much of an iron fist as they did in the German league.
 Top 5 Highs: 
Jupp Henyckes leads Bayern to all records: 
Bayern coach Jupp Heynckes has achieved a lot in his managerial career, but before this season he was more likely to be remembered for his stellar playing career with Borussia Mönchengladbach than any achievements in the dugout. Despite winning the 1998 Champions League with Real Madrid, Heynckes was generally regarded as a coach who could never quite deliver major success. Uli Hoeneß and the Bayern hierarchy clearly agreed, and the decision not to renew the contract of Heynckes was made. Lone behold, Henyckes proceeded to lead his side to a remarkable treble, breaking records and dispelling any myths about his managerial credentials.
Robert Lewandowski and Marco Reus: Borussia Dortmund won many hearts in the Champions League this season, but their league campaign never fully reached the seismic heights of the previous two title winning campaigns. The main positive to take from Dortmund's league campaign surely was the form of Robert Lewandowski and the resigned Marco Reus. Lewandowski delivered 24 league goals for BVB in 2012/13. The big Pole cemented his reputation as one of Europe's most prolific and well rounded forwards. Reus replaced Shinji Kagawa on the left of Dortmund's front four piece and continued to prove himself one of the most dynamic and versatile attackers in the Bundesliga. They were both magnificent for Jürgen Klopp's outfit and their stock has never been higher.
'The two F's' Freiburg and Frankfurt:
When focussing on the Bundesliga at the start of the season, any analyst or self-professed expert who would have predicted Eintracht Frankfurt or Freiburg finishing in the European places would be considered insane. That is precisely what transpired though. In a frantic final day of the season, both Freiburg and Frankfurt could possibly have snatched a Champions League spot from Schalke. Freiburg needed to beat 'Die Knappen' in the last game to jump into the fourth spot. It was not to be, but fifth position was a magnificent achievement for Christian Streich's side. Newly promoted Eintracht defied the odds to finish sixth. An incredible achievement, although both sides have already been raided by other clubs around them for players.
Julien Draxler:
In German football, Schalke are one of the giants. A club with a 60,000 seater stadium and a massive support base. This season, they struggled to impose themselves and were always on the brink of missing out on the Champions League. Enter Julien Draxler. The 19 year old has already amassed over 100 appearances for the Ruhr club and his displays in 2012/13 largely kept Schalke in contention for fourth. He scored 13 goals including a vital goal in the derby against Borussia Dortmund, and he has garnered the attention of many of the top clubs around Europe. Expect great things from the Gladbeck native in the coming years.
Leverkusen 2-3 Dortmund: 
Possibly my favourite match all season. The Bundesliga's second and third sides met in a much anticipated clash. It really did not disappoint. Dortmund led 2-0 after ten minutes. Marco Reus put them ahead after good work by Robert Lewandowski, who then won a penalty which was converted by Jakub Błaszczykowski. Sami Hyypia's side responded brilliantly, attacking with real aggression and intent. Stefan Reinartz scored twice from set pieces to put Leverkusen level, but Lewandowski put Dortmund back ahead in the 63rd minute. Błaszczykowski missed a penalty and Leverkusen had a host of chances to level, but Dortmund held on. It was a terrific advert for the Bundesliga.
5 Lows:
 Hamburg: 
One of Germany's great clubs under performed again. Expected to challenge in the upper echelons of the league, Hamburg were out of the running for Europe with a few games left. Manager Thorsten Fink regularly got his tactics wrong and tried to play an offensive style ill-suited to the players at his disposal. The 9-2 annihilation at the hands of Bayern was one of the most humiliating results in their history. Speaking of the players at Fink's disposal, the man who scouted and signed most of the squad was Dane Frank Arnesen. Arnesen's reputation was sullied during his spell as Chelsea's director of football, and he was equally as inefficient with the red shorts. He was relieved of his duties in May, and it remains to be seen how long Fink will last.
The future competitiveness of the Bundesliga:
The 2013 season in general will be regarded as a landmark season for the Bundesliga, with the top two clubs in the final of the Champions League and a pleather of terrific matches domestically. The wider concern is the future competitiveness of the league. The obligatory anecdote is to compare the Bundesliga to the law of the jungle. The big fish eating the small fish and so on. Bayern are of course the biggest fish and they are gorging themselves on the cream of talent from their rivals.
Last summer it was Dante from Borussia Mönchengladbach, this summer they've signed Mario Götze and possibly Robert Lewandowski from Dortmund. A similar situation has come about lower down the table. Freiburg have lost Max Kruse to 'Gladbach, Cédric Makiada to Werder Bremen and Johannes Flum has joined Frankfurt. The pertinent question is how competitive the league is going to be next season.
Greuther Fürth:
Poor old Greuther Fürth. They had grand visions of success in the top flight, but only four wins (none of which were at home) sent them straight back to 2.Bundesliga. In the process, they became the first side in Bundesliga history to finish a season without a victory on home soil. At least they beat Nuremberg in the derby.
 Uli Hoeneß:
Bayern's greatest year on the pitch was almost overshadowed off it by their esteemed president. In April it was alleged that Hoeneß had held a Swiss bank account to evade paying tax and could owe anything between €3.2million and €7million to the German government. Conveniently, Bayern announced the signing of  Mario Götze the next day. It temporarily defused the media storm, but it will likely come into focus again next year.
 Werder Bremen & Thomas Schaaf: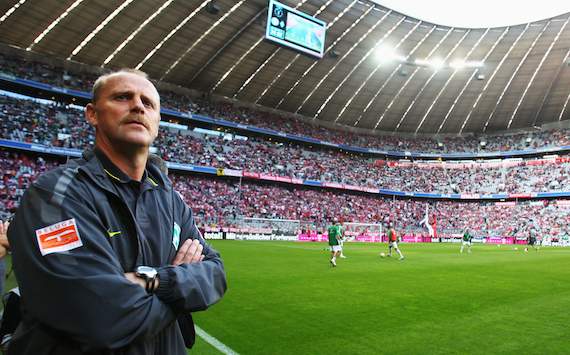 So the Bundesliga's longest serving manager has departed. It was an auspicious end to a glorious fourteen years in charge for Thomas Schaaf. He won a Bundesliga title in 2004, reached a UEFA Cup final in 2009 and brought Champions League football to Bremen consistently. This season was notable for the average performances of 'Die Werderaner', a fourteenth placed finish was well below expectation. Despite the influx of talented youngsters like Kevin De Bruyne, Schaaf failed to adapt. Their season petered out, just like his lengthy reign. Schaaf's glorious moustache will be nowhere to be seen in the Bremen dugout from August. Lets mourn that loss for a minute.