The Peacocks continue to solidify their playoff spot on the Championship log, as a victory over bottom-placed Rotherham United saw them maintain their 5th position and edge closer to 4th with only a point separating them from Huddersfield Town.
Leeds played out a frustrating 1st half, as the visitors defended doggedly and also came close to scoring only for Adeyemi to hit the bar and almost gave Rotherham what might have been another win having only lost once in their 7 previous visits to Elland Road.
The hosts couldn't record a single shot on target all through the first period, and things were kept on level heading into the break. But things soon changed after the restart, as Monk's withdrawal of Sacko for Vieira yielded the change in play the match direly needed.
The Brazilian inspired from the middle of the pack, and a brace from Chris Woods after Bartley had opened the scoring 2 minutes after restart helped seal Leeds' 6th win in the last 8 Championship games.
Here is how Leeds fared in their 14th win of the season:
Green
Pulled off 2 great saves in the first period and was very calm in collecting Rotherham's crosses.
Proved why he is a veteran and can help keep things tight at the back as Leeds push for promotion.
Rating: 9/10
Bartley
Scored the opener after powering in a header from Hernandez's corner minutes after the 2nd half kicked off.
Was also the best defender as the visitors threatened to tear Leeds backline apart, but he made some crucial challenges to keep things level at first half.
Rating: 9/10
Ayling
He helped contribute to the attack once in a while as the visitors kept him limited in his forward dashes.
Nevertheless, he did well with his ball at his feet and did complement the forwards well.
Rating: 8/10
Berardi
Deputised well in Taylor's absence and also almost got his first Leeds goal after making a run into the visitors' box only to hit a strike that went inches wide.
Put in a great job at the back and proved Monk have enough cover in that section of the defence.
Rating: 8/10
Jansson
The Torino defender played his 20th game for Leeds and proved why he would be a great permanent signing, with some solid display in the 2nd half after having been troubled at the back by Rotherham forwards for a large period of the 1st half.
His loan deal from the Serie A club allows Leeds to buy the Sweden international for around £3.5million once he has made 20 appearances, and there isn't a reason why that clause won't be triggered.
Rating: 8/10
Roofe
Had a below-par performance in the first period but was a complete opposite of that in the 2nd half, as he gave the visitors backline a tough time and put in a fine cross inside their box to assist Wood's last goal.
Rating: 7/10
Pablo Hernández
Played a deeper role in the first period but soon moved forward after Monk made changes, and it paid off as he continuously split the visitors apart with his passes.
His corner looked solely directed at Ayling's head and that resultant goal took the pressure off the hosts.
Rating: 8/10
Bridcutt
Had an average performance in the first half as he was under too much pressure after being left isolated in midfield against the visitors.
Got better with each passing minute of the 2nd period, though.
Rating: 6/10
Sacko
No doubting the talent of the youngster, but Monday's game was perhaps his worst in a Leeds shirt.
Hardly made any meaningful move for the whole 45 minutes he spent on the pitch.
Rating: 5/10
Wood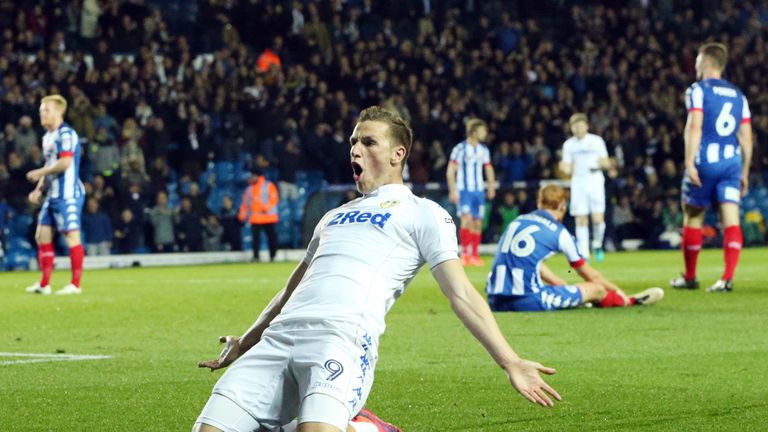 Took his season's tally to 13 goals with a brace, and was too much to handle once he got in full gear in the 2nd half.
His first goal is arguably his best of the season.
Rating: 9/10
Doukara
Was neither poor nor spectacular, but he did look to make something happen in the first half.
Rating: 6/10
SUBSTITUTES
Vieira
For whatever reason, he has been left on the bench in recent games but might have forced his way back into the starting XI after coming on to change the course of the game, singlehandedly.
Rating: 9/10
Dallas
Late Sub.
Rating: N/A
Antonsson
Late Sub.
Rating: N/A