Brighton opinion: Should the Seagulls win the race for Neal Maupay?
One of Brighton's biggest issues this last season was their lack of proper goalscorers. That's why the club dropped from a mid-table finish to barely managing to survive the Premier League. Somewhere around February, the Seagulls sat in a rather comfortable 13th place and far off the relegation zone.
But cut to four weeks later and they've dropped two places, with things not looking good. Then came an even worse spell with the club winning just one game, losing five and drawing three. If it wasn't for the fact that Cardiff City failed to capitalize, Brighton would have got relegated.
However, while then manager Chris Hughton did get sacked immediately after the end of the season, there really wasn't much he could do. The former Brighton boss had squeezed every ounce of attacking energy he could from the club and it showed.
Barring Glen Murray, no attacker had even come close to scoring five goals, with everyone struggling. The 35-year-old Murray netted 13, with centre-back Shane Duffy netting five and Pascal Gross adding 3 more. The closest centre-forward was Florian Andone and he managed just three in 23 appearances.
It was one of the many reasons why Hughton struggled in those final few months and that needs to change. But appointing Graham Potter, the former Swansea City manager, shows that the Seagulls really want to change.
Yet, he cannot be their only addition in the summer window as they really need a more reliable striker. There is only so much Glenn Murray can do on his own and it's why a move for Neal Maupay makes a lot of sense.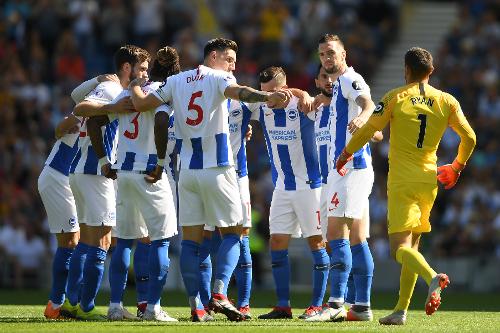 The Burnley Express has reported that the Brentford front-man is the club's top target, which should come as no surprise. His ability in front of goal has been simply incredible this season with Maupay finishing just four goals behind top scorer Teemu Pukki.
This included three double-figure hauls, a stretch where he would score and assist 11 goals in six games. But despite all his efforts, Maupay would fall just short, with Pukki taking the lead with a rather incredible finish to his season.
Yet, that shouldn't put Brighton off the 22-year-old, as he could be their answer to a reliable striker. At the age of 22, Maupay has already clocked well over 200 career appearances, scoring at a rather consistent rate. But he only truly hit his stride over the last few years.
He scored 11 for former side Stade Brest 29, 13 last season for Brentford and 28 in all competitions this season. It shows a consistent rise and with time, it shows just how lethal the young striker can be.
This more than anything is why Brighton have to win the race, otherwise, they may not be able to survive next season.
Read More Brighton news, click here: Brighton latest news
Conclusion

Brighton need reinforcements and their first task will have to be adding a new striker. Glenn Murray has been the picture of consistency since rejoining the club and someone like Neal Maupay can be just the man to help out.