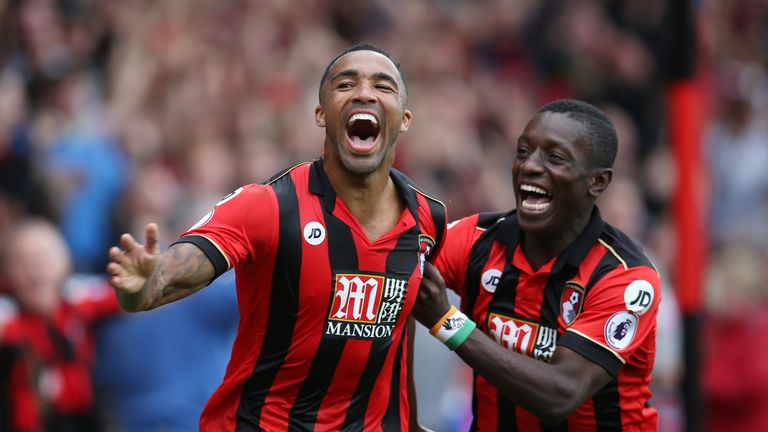 Despite heading into the new year having snatched a vital win in their last game of 2016 at the expense of Nottingham Forest and temporarily returning to top of the table with that victory after Brighton had their fixture against Cardiff City rescheduled as a result, a defeat against Blackburn Rovers in their first game of 2017 saw Newcastle drop to 2nd place.
The division's highest goalscorer Dwight Gayle, who had helped eased the pressure on the Magpies, bagging a brace – the 2nd and 3rd goals in the 3-1 rout against the Forest couldn't hit the net on Monday evening, and as the 2nd half of their Championship campaign gets underway, Benitez would be in need of more firing power within his attacking ranks.
If there is a player that can perfectly be a good option for Newcastle in that regards, it's Bournemouth's Callum Wilson. Benitez has been vocal about his plans to get few Premier League players on loan for the remainder of the season, and this club's long-term target and former Gayle's teammate at Dean's Court fits the bill.
A temporary or even a permanent deal is on the cards considering Newcastle are Premier League-bound at the end of the season and they represent a bigger club than Bournemouth. Dropping down a division to help make that EPL dream return come true and play under one of the best tacticians could be appealing, pending the time he makes a big move.
Given that Wilson is a veteran as far as Championship matters go would help Newcastle's cause a lot. In Bournemouth's title winning 2014-15 Championship campaign, the 24-year-old scored 20 goals in 45 league appearances, with only 2 players scoring more, and he had shown signs of hitting the ground running in the top flight until an injury ruled him out for the larger chunk of the season.
At the moment, Wilson boasts of experience on both fronts, and would definitely deliver the goals that will see Newcastle win the Championship if his move is secured. In 30 Premier League appearances, he has 11 goals to his name, and it's safe to say that return is commendable enough for a player that has struggled for fitness in the last 12 months.
Wilson's arrival will definitely see the workload and constant pressure to deliver on Gayle reduce, as these former teammates can equally share the burden of scoring the goals. With the 2 being too good for the bench, Benitez will very likely switch to a 2-man striking system to accommodate the duo, and that partnership would be catastrophic on opponents beyond measure.
Both complement each other well, with one making up for the weakness of the other. For every Dwight Gayle's inability to cross and make key passes, Callum Wilson brings those exact characteristics and strengths to the table. Wilson's weaknesses to contribute defensively and hold on to the ball are rectified by Gayle's commendable efforts in those areas.
Their partnership isn't only capable of unsettling Championship defences, the 2 can as well lead Newcastle to enviable heights on the club's inevitable return to the Premier League next season. Wilson is definitely a very great option for the Saint James' Park outfit and signing him would be worth every penny.