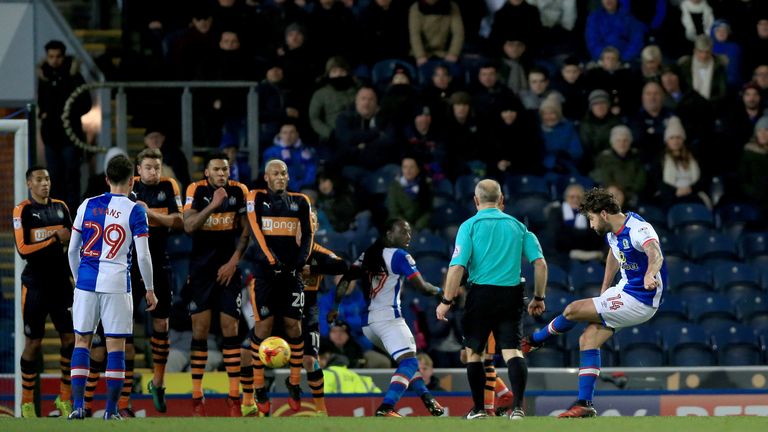 Newcastle suffered their 7th loss of the season at the Ewood Park as they missed several chances while the hosts needed just a shot on target to hand the visitors another defeat after having won by the same 1 – 0 scoreline at the Saint James' Park in late November.
Gayle, Gouffran, Diame and Clark all came close to scoring, but the striker was in an offside position and also got denied by Jason Steele, Diame could only hit the bar, Clark's goal was ruled out having had his hand on the ball before scoring, while the French winger couldn't beat Steele in either half.
Despite seeing very little of the possession and chances, Charlie Mulgrew's 75th-minute free kick was all Rovers needed to secure their 2nd Championship win in 6 weeks against Newcastle, with the Scotland international repeating his heroics again.
With that defeat, Newcastle slipped back to 2nd place – 2 points behind a Brighton side still with a game to spare after getting their clash against Cardiff City postponed due to bad weather.
Benitez's men had luck against them, and a look is taken at how they fared against Rovers.
Darlow
Had no single save to make for much of the game but couldn't keep out the free kick, as he was beaten the only time he was tested all game.
Rating: 6/10
Hayden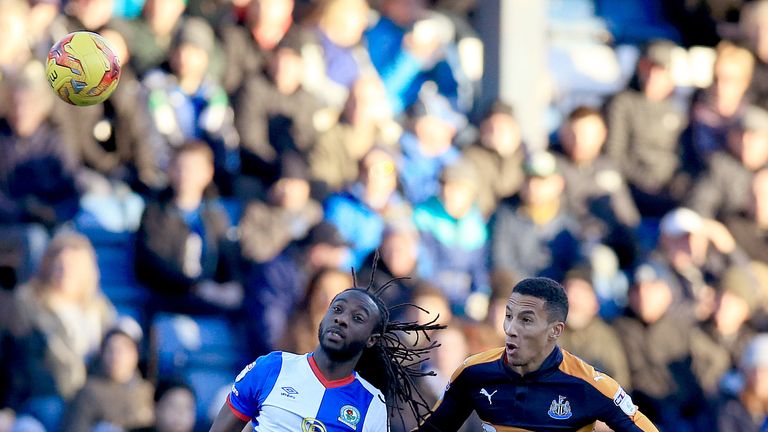 Tried to make things happen in the attack as he attempted some efforts on goal and also carved in some passes.
Could have gotten an assist for himself only for Clark's goal to be disallowed for handball.
Rating: 6/10
Lascelles
The centre-back wasn't able to contain the hosts' physicality as he barely went forward.
But he did manage to keep it tight at the back until the free kick.
Rating: 6/10
Clark
Unlucky again after being denied another penalty that might have changed the course of the game.
Referee Andy Woolmer chose not to ignore his hand slightly coming in contact with the ball for a goal that could have secured a winner for Newcastle would have been the biggest blow.
Rating: 6/10
Dummett
The left-back was making his 100th appearance for Newcastle but couldn't celebrate it with a much-needed win despite putting in a solid performance.
He made 4 clearances and 3 interceptions – the most of any player on the pitch, but they weren't enough.
Rating: 7/10
Anita
Was handed another start and perhaps a last chance to impress but he still failed to make anything happen while going forward.
This performance might have served as the final straw.
Rating: 5/10
Gouffran
Squandered 2 chances as he didn't do enough with his finishing to allow Steele block his efforts from going in.
Another below-par performance from the French winger.
Rating: 5/10
Diamé
Hit the bar but was impressive and tried to inspire Newcastle to victory.
Wasn't his day nor the club's.
Rating: 6/10
Colback
Struggled again in midfield and committed a needless foul at the edge of the box that handed Rovers the winner.
How Newcastle badly miss Shelvey!!!
Rating: 4/10
Ritchie
A bad day in the office for the winger and he appeared frustrated as nothing seemed to go Newcastle's way.
Rating: 6/10
Gayle
Was clearly offside when he finally found the back of the net and had Steele deny his efforts.
Not his day.
Rating: 6/10
SUBSTITUTES
Perez
Replaced Colback in the 77th minute but couldn't do anything to inspire an equaliser.
Rating: Not Available
Atsu
Came on for Gouffran with 5 minutes to go.
Rating: Not Available
Murphy
Came on for Anita with 3 minutes to go.
Rating: Not Available