As the year comes to an end, we should look back at the players who were transferred during the summer and made their first impression the best impression! So much to look forward to in the coming months.
1. Robin Van Persie
The 29 year old Dutchman proved to be a great asset to Manchester United during the first half of the season! With as many as 12 goals and 5 assists thus far, he has put them in a good position overlooking the other clubs by nearly 10 points! The forward has gained so much of experience at Arsenal that it took him no time to settle down.  Also, the superstar combination of Rooney and Persie has proved vital for United's forward play. The entire midfield works around the two, creating so many chances. Sir Alex Ferguson is so impressed with Persie, that he has even compared him to United Legend, Eric Cantona! Final verdict – 24 million well spent!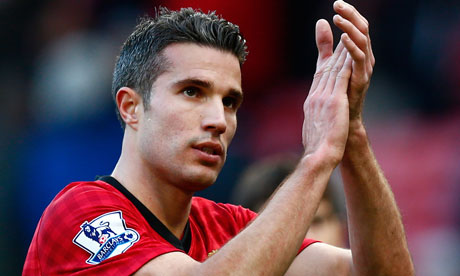 2.  Miguel Pérez Cuesta
Known to everyone as Michu, this Spaniard has been the driving force for Swansea City this season! In his debut against QPR, he scored 2 goals and 1 assist which ended in a 5-0 win. From then on, there was no looking back. In his 16 appearances, he has scored 12 goals, making him the League's Top Scorer. Initially, Swansea intended for him to fill the gap behind the striker, but it turns out the striker position was the gap for him! His stellar performance has even attracted the attention of Spain coach, Vicente Del Bosque, who is close to making the first cut! Bought for 2 million. Now if anyone's interested, they're gonna have to pay 20 million!
3. Santi Cazorla
This Spanish play-maker has had his performances! In Arsenal's recent encounter with Reading, he bagged a hat trick and an assist. After a Carling Cup loss to Bradford, he rose to the occasion and has given an immense boost for Wenger. After thrashing Tottenham 5-2, Jack Wilshere wanted his Arsenal mates to call Cazorla as 'Messi', perhaps Arsenal's Messi.  This 16 million signing has done justice to Arsenal. Even so, there is a lot of potential for him to improve. Along with Podolski, they could create a formidable front attack.