The 2-0 win over Bayern Munich has brought belief back for the Arsenal faithful as they now expect their team to make it through to the knockout round of the UEFA Champions League. Two losses in the first two games had put them in a precarious position and they could have missed out on the knockout round for the first time under Wenger, but a brilliant performance at the Emirates has given them a great chance of finishing second in the group as well.
Arsenal aren't doing badly in the Premier League as well, the 3-0 win over Watford kept them in second play and with just two points between them and Manchester City, many expect Arsenal to be in the run for the Premier League title. Arsenal have had a habit of tailing off in the later parts of a season but this time, if they keep their players fit, they should be in with a shout of winning a first title since 2004.
That side were probably one of the best teams ever set out by the London team; they were even history makers as being the team that created the record of the 'invincibles'. Arsenal do have, what we do call, as one of the strongest teams in the Premier League era and that is a credit to Arsene Wenger, who has not only had to balance the books with a new stadium being built but had to deal with many top players leaving the club.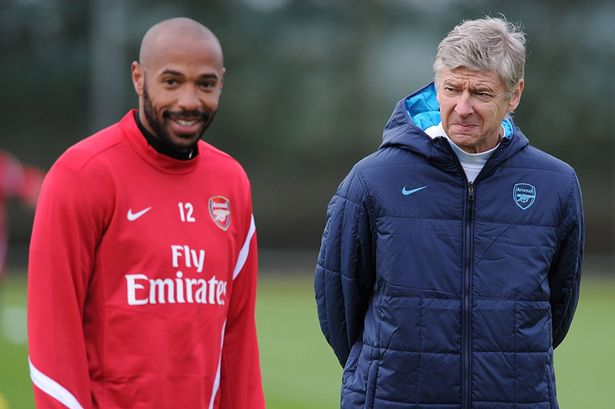 Henry, Fabregas, Van Persie and Alex Song are just some of the top players who have left Arsenal but if you do look at the team, it is filled with world class talent and great young players with a great potential to be world class.
Petr Cech, Alexis Sanchez, Mesut Ozil, Jack Wilshere (when fit), Santi Cazorla are all world class players, you could make an argument for Koscielny and Ramsey in that list as well. Arsenal also have a handful of youngsters who seem to be getting better day by day.
Francis Coquelin, Hector Bellerin, Alex Oxlade-Chamberlain and Gabriel Paulista certainly fall into that bracket, especially the likes of Coquelin and Bellerin, who has been exceptional for the teal ever since they broke into it.
Arsenal do seem to have a bright future but until they win the Premier League questions will be raised about the team and a lack of a strong mentality might come into question. That is where the likes of Petr Cech and Per Mertesacker come into play; their experience should help Arsenal out.
With a healthy mix of talent, experience and youth, and with a host of teams still trying to find their feet in the Premier League this season, Arsenal have a great chance of winning the league, if they can achieve this, people will call this one of the best Gunners sides in recent memory. They might be one of the best teams put out by Arsene since that 2004 side but until they win the league, it doesn't count for much.