The transfer window is wide open, so it's time for every single contending side to take a deep look into their ranks and their season in order to find their strengths and weaknesses to face the second leg of all those difficult competitions they face.
With at least 4 teams fighting for the top spot in the English Premier League and Antonio Conte's Chelsea leading the table by a respectable margin, Liverpool, Arsenal and Manchester City are set to face  a key transfer window, where every single move they do or don't could have a crucial effect on the outcome of their years.
After saying that they wouldn't reinforce any spot of the field nor sign any single player during this upcoming transfer window, it seems like Pep Guardiola and his team are changing their mind, as they're being linked with a lot of players at the time being, especially on the offensive end of the pitch.
Manchester City's offence, however, hasn't been the main issue so far this year, as the problems and inconsistency have come mostly on the other side of the pitch, but it seems like bringing another defender to the Etihad Stadium isn't a priority right now, as Guardiola trusts the guys he has to turn the tables and find chemistry and a way to win games.
A player who has been being strongly linked with a move to Manchester City comes from Guardiola's former team, as FC Barcelona star Ivan Rakitic is reportedly a target for the Citizens over the course of the next few weeks or at the end of the season.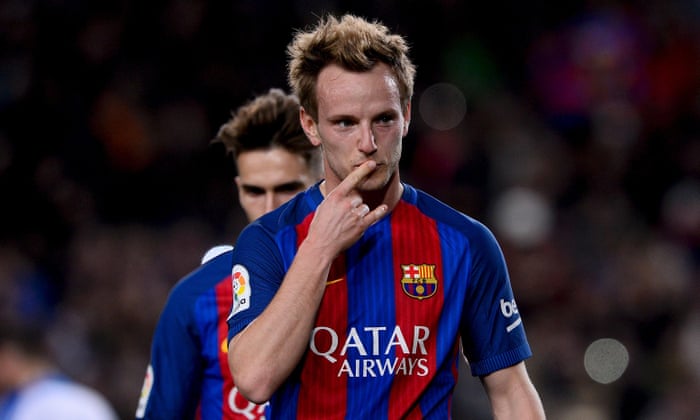 Rakitic isn't an undisputable starter right now at a struggling  Luis Enrique team and after owning a starring  role during most of his career, the Croatian would like to get fresh air elsewhere to continue his career.
The Croatian is one of the most talented offensive midfielders in the world, owning a visión of the pitch and a passing ability that have taken him to the elite of the football world over the past few years,  pairing himself with other elite talents as Luka Modric or the stunning trio of Luis Suarez, Neymar Jr and Lio Messi.
We all know how extremely gifted and talented the 28-year-old Croatian midfielder is, but is he actually a current need for Guardiola's team? Also, is he actually a good fit?
Rakitic can be a great addition for Manchester City, but considering that they already have Kevin de Bruyne and David Silva (With both having a starring role and a very good season), it'll be kind of difficult for the Croatian to find a consistent spot in Guardiola's starting XI.
Ivan can provide a lot of assists and set up beautiful passes for Raheem Sterling, Sergio Agüero and Gabriel Jesus and there's no doubt about his skills, but it feels like Manchester City should look for other kinds of players during this transfer window, and Rakitic should avoid a move to this team unless he's prepared to play off the bench most of the times.