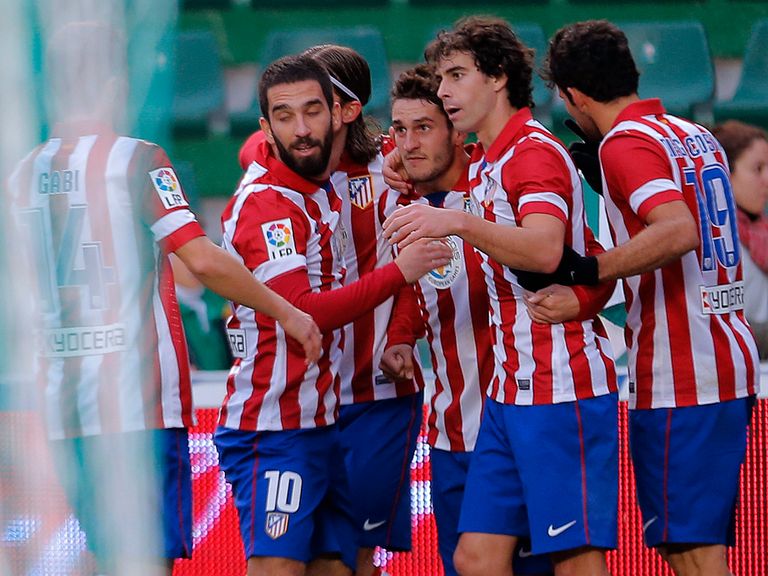 Atletico Madrid have celebrated Eastern seeing La Liga's title from a closer distance. They extended the gap with Real Madrid to six points, though the cross-town rival have a game in hands as they postponed the clash against Valladolid. Barcelona meanwhile won against Athletic Bilbao still remaining in the race, albeit four points behind the Colchoneros
However, with just four matches left, even if Real Madrid win that game, Atletico could afford to lose once and they will be the same the champions of Spain.
Atletico spent the Good Friday battling against Elche. On paper the visitors should have not created too many problems, but nobody foresaw Atletico to stay at top for so long. Elche are fighting the challenge to avoid relegation and grabbing points at Vicente Calderon could have made the difference with other teams. The first half saw them close to score but Thibaut Courtois made a great save blocking the header from Christian Sapunaru. Perhaps, with a view to Champions League's clash against Chelsea, were Atletico managing to conserve as much energy as they could ?
The break after 45 minutes gave  Simeone the chance to make some tactical changes and Raul Garcia's introduction was vital as thereafter the midfielder gained a penalty that David Villa failed. Then a tired Koke was replaced by Diego and David Villa by Jose Sosa. Atletico forced Elche into the box but struggled to score until the 72nd minute when centre-back Miranda headed home a corner. The Colchoneros eventually sealed the victory with Diego Costa that scored a late penalty: not a great win, but still a win, and that's important at this stage of the season.
While Real Madrid were resting after winning the Copa del Rey,  Barcelona faced Athletic Bilbao at home. Barça's week was quite dreadful. Not only they lost a title, but having slipped last weekend in Granada it means that they could seriously end the season without any trophies, apart from the Spanish Super-Cup achieved last Summer. The Camp Nou could feel this fear and Athletic Bilbao scarred Barça even more when they took the lead through Aritz Arduriz.
This week the Spanish press talked about a lot of factors. Among them, it was highlighted the lack of a real "number nine" in the squad and the name of the Basque was mentioned as one of ideal forwards Barça should have signed. If the game could count as trial, Arduriz gave such a good impression.
Barcelona were going into their second defeat in a row but suddenly redemption came. Pedro and Leo Messi scored between 72nd and 74th minute then they managed to keep Athletic far from the box. Maybe the victory couldn't be of any help, but Barça have the right to fight until the end of season. Although the hopes of winning La Liga are slim, they couldn't give up.