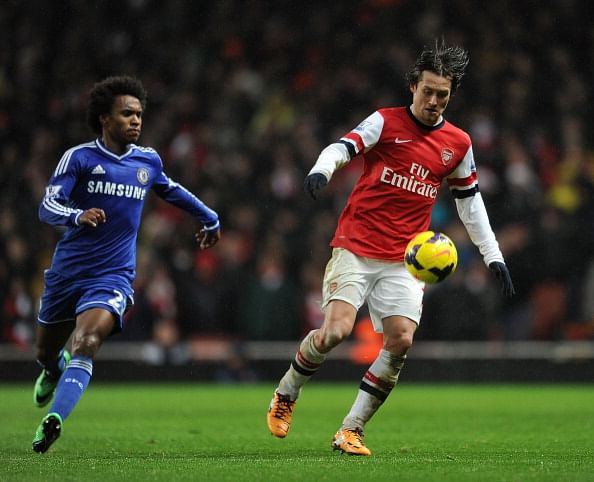 Arsenal midfielder Tomas Rosicky will be out for six weeks due to injury sustained during the FA Cup win against Burnley. The player was seen for the first time this season in the 71st Minute of the game against Burnley, however, he managed to injure himself in the little time that he played.
According to the Mirror, Rosicky will now be taking tests and scans to measure the extent of his injury. The injury will be a major setback for the player who is 35 years of age. It will be tough for him to re establish himself as the key player amongst the Gunners.
As such retirement may be an option for the player as considering his age and with the thigh injury he now suffered, it will be tough to get back into the same form as he would have been few years back.
"It's a thigh problem [for Rosicky]. How deep is the problem we don't know. He has a scan today. We'll know a lot more about it tonight."
Wenger also explained that he's assured England manager, Roy Hodgson, that Jack Wilshere's recovery is still going to plan.
"That's the wrong information," retorted the boss when quizzed on whether the 23-year-old had suffered another setback.
"He's looking quite good. Overall, I had a short chat with Roy Hodgson about him and assured him he's doing well.
"I'm a bit cautious [to put a timescale on his return], I would say four weeks."
Massive shame reference Rosicky, would of been great to have him around for the run in.

— Matt (@itsmattray) January 31, 2016
Rosicky has suffered yet another setback, and is going to miss at least six weeks! The guy is weak he's like a stick! Flick it and its gone!

— Arsenal4Life (@Related2Arsenal) January 31, 2016
Couldn't care less about Rosicky's injury, and starting to lose hope on Wilshere!

— Hamza Chahi (@ChahiHamza) January 31, 2016
Feel sorry for Rosicky, these injuries might just make him retire sooner than expected.

— Uzor Anyanwu (@UzorMarchieda) January 31, 2016
Rosicky has to retire at the end of the season

— ‎​‎ ‎​ ‎​ (@WeapzAFC) January 31, 2016
It's time for Rosicky to retire his body has given up on him

— Cɧαŋ (@Anwar_95) January 31, 2016