Arsenal vs Manchester United – Combined XI Featuring Stars From Both Sides
Arsenal and Manchester United are set to take each other on in a colossal Premier League clash at the Emirates Stadium on Saturday. As of now, 4 points are separating the duo in the league table, making the upcoming match a crucial one. The Gunners could considerably reduce the margin to amp up the pressure on Jose Mourinho but if the Red Devils emerge triumphantly, they can strengthen their position below Manchester City.
There are a couple of injury concerns for both sides and neither of them can afford to slip up in this game. Arsenal will come into this game after a 5-0 win against Huddersfield Town while United were lucky enough to pull off a 4-2 victory at Vicarage Road against Watford. However, it will ultimately all come down to how they perform this weekend. Let's take a look at a combined lineup of players from both these clubs.
Arsenal and Manchester United Combined Lineup In A 3-4-3 Formation
David De Gea (GK)
De Gea has rescued United out of many tricky situations this season and has been successful at maintaining clean sheets like always. He will be crucial for the Red Devils on Saturday.
Laurent Koscielny (CB)
With both Phil Jones and Eric Bailly doubtful ahead of the game, Koscielny comes next in line for his remarkable contributions for Arsenal this season.
Victor Lindelof (CB)
After a dismal start to his life in the Premier League, Lindelof has been quite impressive in the recent games against Brighton and Watford, making it likely for Mourinho to hand him a start.
Nacho Monreal (CB)
Monreal has truly been a beacon of reliability and consistency for Arsenal this season, making him a vital member for Wenger's back three.
Ashley Young (RWB)
Young has truly turned things around for himself at Manchester United with the splendid way he has settled into life as a wing-back. Hence, Mourinho is expected to include him in the lineup on Saturday.
Aaron Ramsey (CM)
As seen in Arsenal's game against Huddersfield Town, Ramsey was truly spectacular. He controlled the midfield in a dominant sense and will be crucial in Arsenal's attempt to establish control against Manchester United.
Paul Pogba (CM)
His presence was sorely missed by the Red Devils when he was injured but he is back and he continues to be a formidable presence. Adept at creating chances and dictating the pace of the play, it will be interesting to see how Pogba fares against Arsenal's midfield.
Sead Kolasinac (LWB)
Often dubbed as Arsenal's most influential summer signing, Kolasinac continues to put in all his effort at excelling for the Gunners and his impact will be necessary to stop United's activity on the left flank.
Anthony Martial (LW)
Martial scored against Watford and was clinical throughout the game, which is likely to earn him a starting spot in this one as well.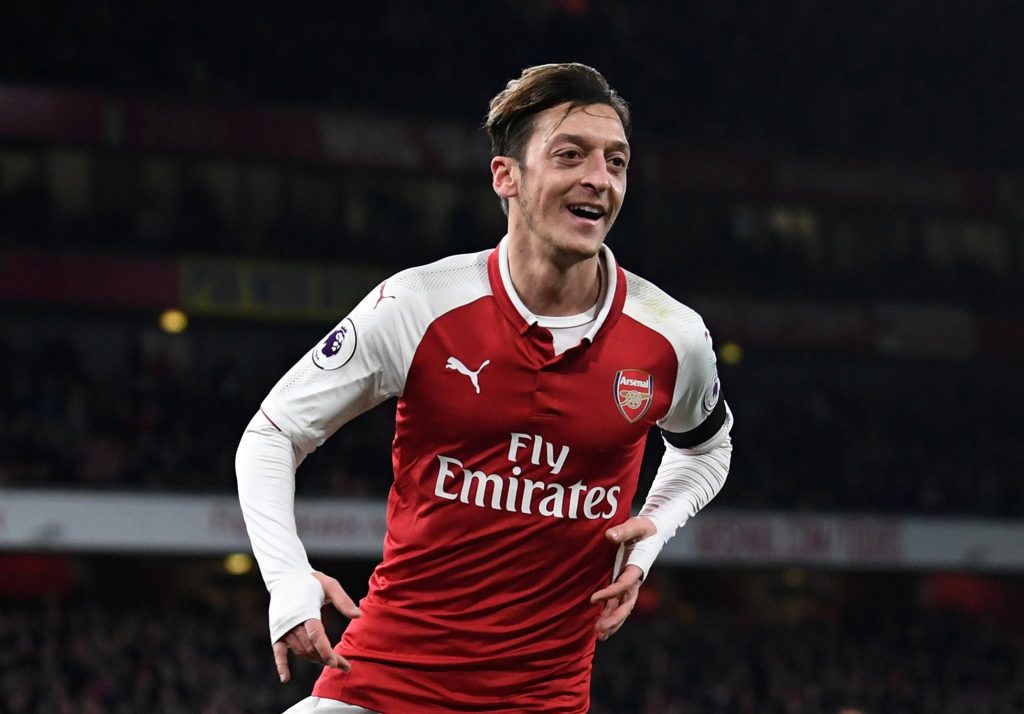 Mesut Ozil (RW)
If it is one thing we have all learned from Arsenal's recent matches, it is to never take Mesut Ozil lightly. He has been at his creative best lately and was Arsenal's best player by a mile against Huddersfield, especially in those magical 4 minutes where he provided 2 assists and scored a goal.
Olivier Giroud (CF)
Although Zlatan Ibrahimovic might get a start for United, Giroud deserves to be included in this combined lineup solely due to his current form. He came on to score a brace against Huddersfield and will be important for the Gunners in Alexandre Lacazette's absence.