What started out as one of the most promising seasons in recent years, has gone haywire for Arsenal. They were at the top of the league table for a very long period of time, but eventually managed to slide down and now stare themselves at the usual 4th place finish or if they do pull up their socks and fight harder, a potential third place is also on the cards. After getting mauled by Chelsea a few days ago, they failed to make any impact in the game against Swansea and ended up with a 2-2 stalemate.
Arsenal have been struggling against the top sides for a long time and many call it their mental blockage. This season alone they have been beaten by City with a scoreline of 6-1, Liverpool by 5-1 and most recently Chelsea by 6-0. And they face another staggering test this Saturday when they face Manchester City this time at the Emirates. As fans starting to grow impatient with the team and Arsene Wenger, three points against Manchester City will ease some of the tension or else their Champions League prospects for next season would be in jeopardy.
We take a look at three steps that Arsenal can take to ensure a promising result against Manchester City.
Not play a high line: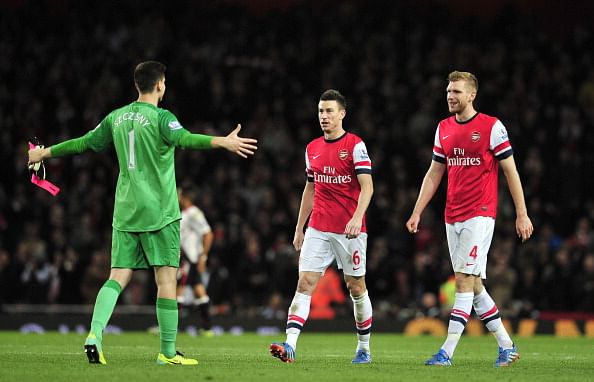 The primary blunder that Arsene Wenger did against Chelsea was too play a high line, expecting Chelsea to sit back and defend. Chelsea are known for their defensive sturdiness and it was not totally unnatural for Mourinho to drop deep, but he chose the other way and Arsenal lost the plot there. Manchester City, on the other hand are lethal in their strike force. They have some of the best attacking players in the league and their main strength lie in the heart of their midfield via the deadly trio of Toure, Fernandinho and Silva. Wenger should be aware of this and thus take the necessary steps while churning out the tactics. Playing a high line against City would be disastrous and they are capable enough to humiliate the Gunners more than what Chelsea did.